Car Strikes Charlottesville Crowd, 1 Dead
Charlottesville Police Chief Al Thomas said the crash claimed the life of a 32-year-old woman.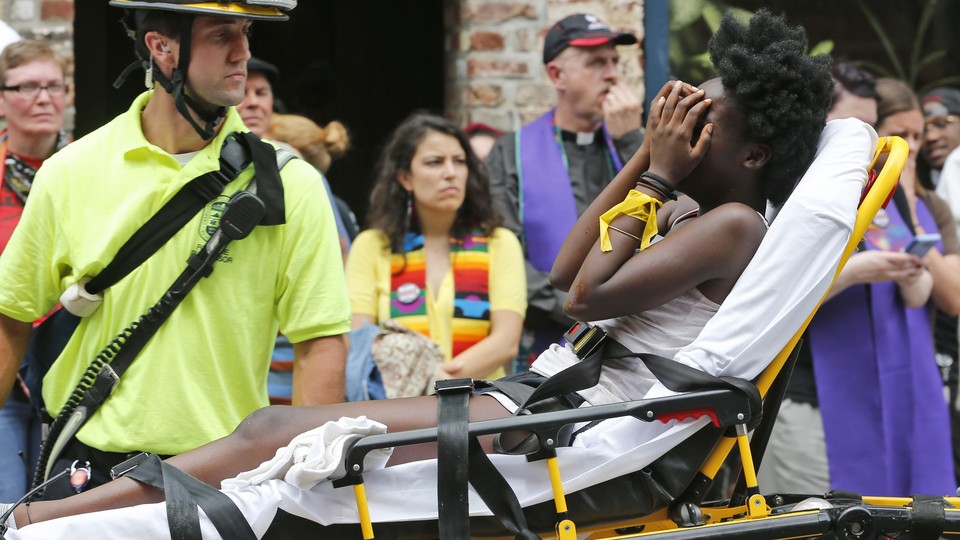 Updated on August 12, 2017, at 6:47 p.m. ET
A car plowed through pedestrians on the streets of Charlottesville, Virginia, amid protests Saturday, killing one and injuring 19 others.
The crowd had gathered to celebrate, an eyewitness told The Atlantic, because the white nationalists who'd gathered in the city had finally left. The mood was jubilant. Then, there were screams. Following the incident, state police urged people to avoid the area "to allow medics access to the crash scene."
During an afternoon press conference, Virginia Governor Terry McAuliffe said there had been three fatalities, one of which was a 32-year-old female pedestrian killed in the crash.
"As of late this afternoon, there have been at least 35 people treated for injuries by city personnel. Fourteen people have been treated for injuries resulting from individual engagements, non-pedestrians were treated for injuries in a three-vehicle crash at the intersection of fourth street and water street here in downtown Charlottesville. Their injuries range from life-threatening to minor," said Charlottesville Police Chief Al Thomas.
A video of the crash circulated on social media. The footage appeared to show a car plunging through a crowd of protestors, though officials have not said whether they believe it was deliberate.
McAuliffe had already declared a state of emergency, after white nationalists and counter-protesters clashed on the streets of Charlottesville in the run-up to the rally. The University of Virginia instructed students to shelter in place, Larry Sabato, the director of the University of Virginia's Center for Politics, told The Atlantic in an email. President Trump responded to the unrest in a brief press appearance from Bedminster, New Jersey. "We have to heal the wounds of our country," he said.
The incident quickly reignited a familiar debate. Often, in cases of domestic attacks, there are questions over what constitutes a terrorist attack. A vehicle hitting pedestrians, in particular, is reminiscent of attacks that have occurred in Europe.
But an attack that is understood to be terrorism, culturally, does not always meet the legal definition.
Terrorism, in particular, is difficult to pinpoint in legal terms. According to the U.S. Code of Federal Regulations, it's "the unlawful use of force and violence against persons or property to intimidate or coerce a government, the civilian population, or any segment thereof, in furtherance of political or social objectives."
---
Kasia Cieplak-Mayr von Baldegg contributed reporting.