Trump's Fill-in-the-Blanks Tax Reform Plan
The president is leaving the details to Republicans in Congress. Only they haven't figured them out yet, either.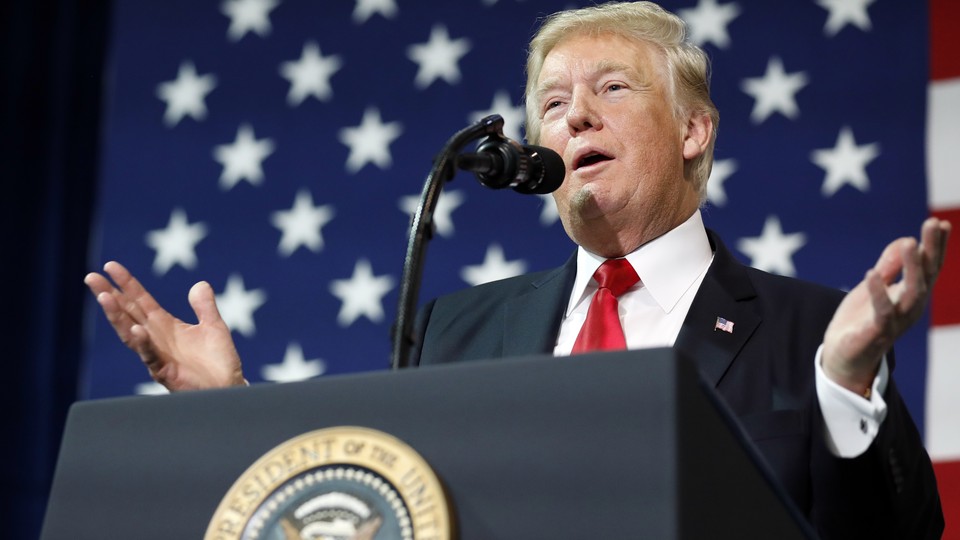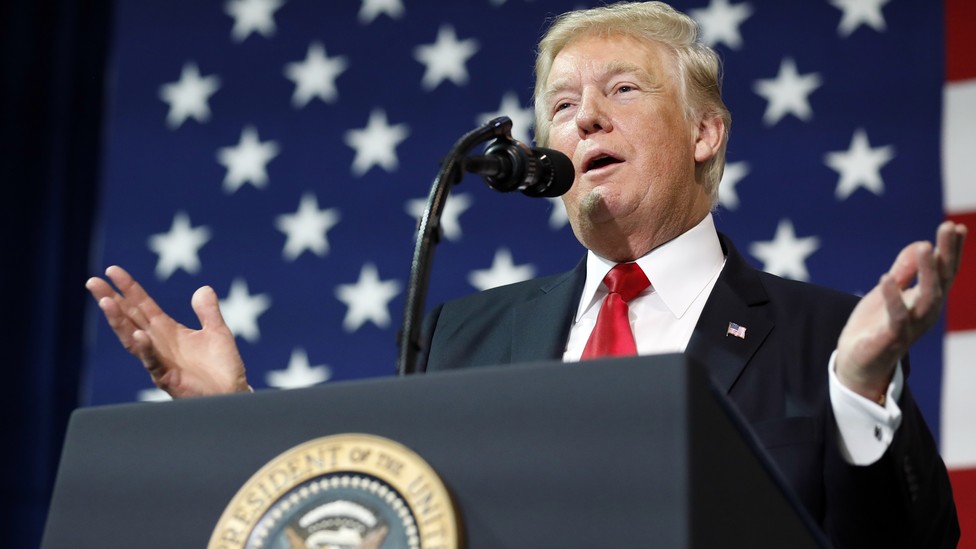 Four months ago, the Trump administration released the outlines of a tax-reform plan—a one-page list of ideas and principles that was notable mostly for how many questions it left unanswered.
On Wednesday, President Trump traveled to Missouri to expand on the need for tax reform, to lay the groundwork for a major legislative push in Congress this fall. But more than anything else, what Trump's speech revealed was that despite months of behind-the-scenes negotiations, Republicans aren't much closer to enacting the most significant overhaul of the tax code in 30 years than they were back in April.
Trump was pitching a plan that doesn't exist and demanding votes for a bill that hasn't been written. If anything, the address the president delivered was even less detailed than the skimpy blueprint the White House issued in the spring. The most specific item Trump mentioned—a 15 percent corporate tax rate, down from the current 35 percent—is something that Republican tax-writers on Capitol Hill believe is impossible to achieve under the parameters with which they must work. He talked in broad terms about simplifying the code so that it's easier for people to file their taxes, removing unspecified special interest loopholes, and encouraging businesses to bring back profits they've parked overseas—all policies that have been central to GOP proposals for years and offer little indication of the particular direction the party plans to go.
This was a bully pulpit speech. Having laid down his principles, Trump is once again leaving the dirty work to Congress, a strategy that even he seemed to acknowledge was as risky as it is politically necessary. "I don't want to be disappointed by Congress, do you understand me? Do you understand?" he warned at one point, a none-too-subtle reference to his recent hectoring over the GOP's failure to deliver on health care.
To the delight of Republican leaders, the one lawmaker Trump singled out for pressure was not one of their own; for the first time in weeks, the president picked on a Democrat, Missouri Senator Claire McCaskill, who is up for reelection in a state he won easily in November. If McCaskill doesn't vote for tax reform—whatever it turns out to be—"you have to vote her out of office," Trump demanded of the crowd.
Top Republicans were evidently pleased with the speech, or at least with the fact that the president stuck to the message they were told beforehand he would deliver. Within minutes after it ended, statements (undoubtedly prewritten) flowed in with glowing reviews. "President Trump is taking the case for tax reform straight to Main Street," House Speaker Paul Ryan said. "We are united in our determination to get this done." Representative Kevin Brady, the chairman of the Ways and Means Committee, said his remarks were "excellent." Even members of Trump's Cabinet that have no role in tax reform, like Health and Human Services Secretary Tom Price, or in domestic politics whatsoever, like Secretary of State Rex Tillerson, chimed in with praise.
Yet while Trump talked at length about the need for tax reform, he said little about how Republicans would get it done. And that's because they still don't know themselves. GOP leaders haven't made several crucial decisions. Will the legislation be a revenue-neutral tax reform that fully offsets the reduction in rates by eliminating costly—and popular—exemptions and deductions? Or will it be a more straightforward tax cut, that would likely have to expire within a decade to comply with Senate rules? How low will they try to push down the corporate rate? About all they've determined is that 15 percent is too low, but will it be closer to 20 percent or 25 percent? And on, and on.
The Ways and Means Committee is currently writing the tax bill, but the only timeline they've set is to get it done by the end of 2018. The longer they take to write it, however, the less realistic that deadline becomes. And as I explained earlier this month, Republicans must first pass a budget before they can even get to tax reform, which, to this point, has been no easy task.
These unresolved details have also tripped up Trump's messaging toward Democrats. Does he want their support, or are Republicans planning to do it alone as they tried to do on health care? In his speech, the president started out by saying he wanted to work with both parties to enact tax reform. Later on, however, he attacked Democrats as "obstructionists" and called out McCaskill. By the end, he was back where he began, saying tax reform was an issue on which lawmakers should put aside partisanship.
Democrats say there's been no outreach from the administration on taxes, and they've noted that Republicans are, for now, planning to use the same budget reconciliation process on tax reform that they used in trying to repeal the Affordable Care Act. That would allow them to skirt a Democratic filibuster and pass tax reform with a simple majority of 51 votes in the Senate. Unlike Obamacare repeal, some Democrats have expressed a willingness to work with the administration on taxes, so long as the GOP plan is not skewed to benefit the wealthy. With so few details, they were unimpressed with Trump's speech in Missouri. "Stepping to the podium to declare that we need tax reform does not signal leadership on this issue; rather, doing so without offering any proposals on how to achieve it is an abdication," said Representative Steny Hoyer of Maryland, the second-ranking House Democrat. "If the president is serious about tax reform, he should focus on the how, not the why."
Trump is not a detail-oriented president. That much is clear. But while he may be able to stick to broad strokes in rally-the-public speeches and leave the rest to Congress, his party will eventually have to make the tough decisions about who's going to pay more, who gets to pay less, and by how much. Until that happens, tax reform isn't going anywhere.