Trump's Business Dealings Come Back to Haunt Him
A failed attempt to start a development in Moscow—which the president has denied—shows the dangers of intertwining business and politics so closely.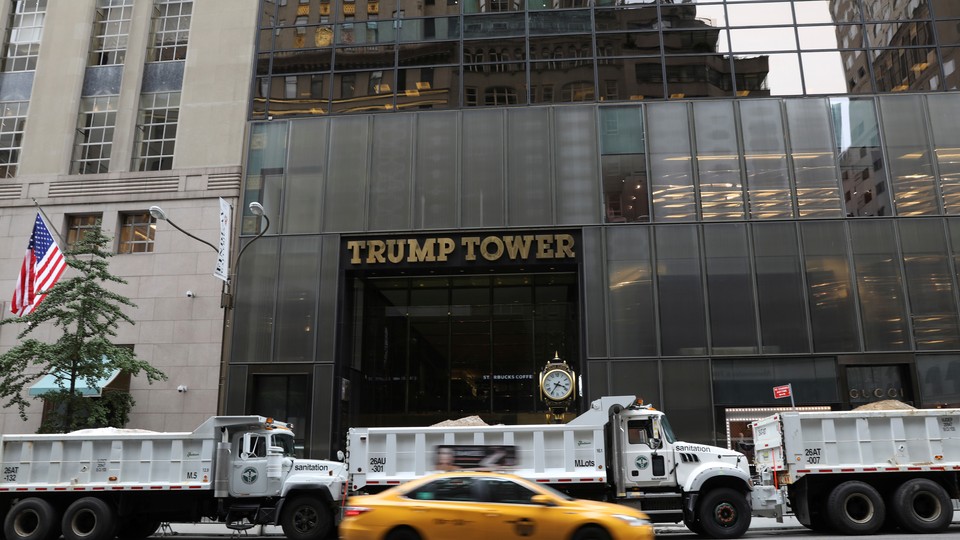 Donald Trump the man has always been indistinguishable from Donald Trump the business, and since winning the election last November, both have been indistinguishable from Donald Trump the president.
That creates a range of problems, from the legal to the ethical to the logistical. In the latest instance, the porous boundary between Trump's business and political lives is a new front in the investigation into his ties to Russia. Even as Trump was running for president in 2015, the Trump Organization was continuing a years-long effort to build a tower in Moscow.
Central to the effort were Felix Sater, a colorful Russian figure who had worked with Trump on Trump Soho, a debacle of a development in New York City, in addition to having done shadowy work for the U.S. government and having mob ties and a history of securities fraud; and his childhood friend Michael Cohen, a Trump attorney and hanger-on.
"I know how to play this and we will get it done," Sater wrote to Cohen in November 2015, in an email reported by The New York Times. "Buddy our boy can become President of the USA and we can engineer it. I will get all of Putins team to buy in on this."
Cohen said in statements on Monday that Sater had a tendency to exaggerate—a claim bolstered by an excellent profile by Andrew Rice earlier this month. Yet even if Sater was overstating the extent of his sway in the Kremlin, it's clear that the Trump Organization was interested in the project. In January 2016, Cohen attempted to contact Dmitry Peskov, Russian President Vladimir Putin's spokesman, to request his assistance with the project.
"Over the past few months I have been working with a company based in Russia regarding the development of a Trump Tower-Moscow project in Moscow City," Cohen wrote to Peskov, The Washington Post reported. "Without getting into lengthy specifics, the communication between our two sides has stalled." But the Times notes that Cohen's message was sent to a general inbox, rather than to a direct email address for Peskov. Cohen says he never received a reply from Peskov. He says he also never made the trip to Russia that Sater urged.
These developments do not fit into the story of the Russia investigation in any clean way. Sater's message to Cohen suggests close ties to the Kremlin, of course, and his choice of words is peculiar: Though the Times suggests that Sater believed that developing a skyscraper in Moscow would deliver the presidency to Trump, that makes little sense. Trump was already well-known for building skyscrapers, any project would have taken years to complete, and it's not like most American voters would ever see a high-rise in the Russian capital.
Given that emails about Donald Trump Jr.'s June 2016 meeting with a Russian lawyer at Trump Tower included the intimation that the Russian government supported Trump's run for office, Sater's statement that they could "engineer" Trump's election with the help of "Putins team" is peculiar, but it could also just reflect the poor political instincts of a man prone to wild and unrealistic schemes. And Cohen's amateurish outreach to Peskov, using a general account, suggests that in January 2016, at least, the Trump team had no easy access to Putin and his inner circle.
Yet as with the June 2016 Trump Jr. meeting, one thing that stands out is the eagerness among Trump's inner circle to get close to Russia, a major American geopolitical rival. Just as Cohen says he never heard back from Peskov, and scuttled the project that same month, Trump Jr. said he never received the promised damaging information about Hillary Clinton after the June 2016 meeting. If the Trump team did not collude with the Russian government, it was not because of its unwillingness to try. (As in that case, it is remarkable what figures around Trump were willing to put into writing, despite the shadowy nature of their work and Trump's long history of litigation, as both a plaintiff and a defendant.)
Moreover, the episode again underscores the problems with Trump's decision not to separate his business from himself. On the one hand, Trump used his supposed business prowess as the fundamental basis for his campaign, saying that his experience as a mogul both qualified him to run the government, and would also isolate him from the influence of special interests. Yet during the presidential campaign, Trump was lavishing praise on Putin even as he was attempting to complete a deal in Russia. And now that he is in office, Trump refuses to truly separate himself from his business empire, yet wants the public to accept that the actions his business took were entirely separate from his political work.
Take Cohen's outreach to Peskov. Trump's lawyer, Ty Cobb, says that Trump was unaware of the contact. That may very well be true, although if so it raises questions about Trump's claim to hire the smartest, best people. It also casts a poor light on his managerial acumen if aides were going around trying to contact foreign autocrats. But Trump was certainly aware of the Moscow project, signing a letter of intent about it in October 2015.
Nonetheless, Trump maintained publicly that he had no business in Russia beyond the 2013 Miss Universe Pageant in Moscow. "Russia has never tried to use leverage over me. I HAVE NOTHING TO DO WITH RUSSIA - NO DEALS, NO LOANS, NO NOTHING!," he tweeted on January 11. That was debatably true, if misleading, since he had attempted to do a deal there. Later that day, at his sole press conference as president-elect, he expanded on that. "I have no deals that could happen in Russia, because we've stayed away," he said, which was false. He added: "We could make deals in Russia very easily if we wanted to. I just don't want to because I think that would be a conflict."
Trump was also misleading in his statements about Sater. In December 2015, one month after Sater's note to Cohen about working with Putin, Trump told the Associated Press, "Felix Sater, boy, I have to even think about it. I'm not that familiar with him," even though Sater had been employed at the Trump Organization, a small team, and had been Trump's partner on Trump Soho, one of his largest projects of the 2000s.
Even as Trump's political team seeks to distance the president from what his company is doing, Trump has done little to assist them. During the campaign, Cohen was also heavily involved in the political campaign. In July 2017, he threatened reporters from The Daily Beast for reporting Ivana Trump's accusation (later retracted) of marital rape against Donald Trump. In August 2016, he engaged in a surreal interview with CNN in which he appeared ignorant of polling on the presidential race. Cohen reportedly expected to get a White House job after the election, but was shut out.
Nor has Trump created much distance between his business and political affairs since the election.
"I could actually run my business, I could actually run my business and run government at the same time," Trump said on January 11. That seems to be have been hubris: In an April interview with Reuters, he complained, "I loved my previous life. I had so many things going. This is more work than in my previous life. I thought it would be easier."
It's not clear that he ever really stepped away. After the election, Trump was expected to divest himself of his company or place his assets in a blind trust, as is customary among top office holders. Instead, Trump presented a plan that handed management of the Trump Organization over to his two sons for the duration of his presidency. Ethics experts inside and outside the government deemed the plan deeply insufficient.
For example, the plan suggests that his sons will run the business but not speak to him about it. Yet in interviews since then, Eric Trump has admitted that he continues to talk business with his father. Eric's wife, Lara Trump, is also a leader of Trump TV, the president's personal political propaganda network. Trump continues to reap profits from his empire, meanwhile, including from the Trump International Hotel, which has become a magnet for foreign dignitaries wishing to curry favor and GOP fundraisers alike. Ongoing litigation accuses Trump of violating the Constitution's Emoluments Clause through the hotel.
Meanwhile, Trump has tried to run the government like his business and generally found it doesn't work. He has fired employees who displeased him, and he has installed family members in top jobs, as he did at the Trump Organization, but beyond that has had less luck. He's been repeatedly frustrated by the checks and balances of the judicial and legislative branches—something a corporate executive need not worry about, but that the head of the executive branch does. The president reportedly asked Attorney General Jeff Sessions about dismissing a case against Joe Arpaio, but Sessions told him that would be a grave violation of protocol, so Trump just waited for Arpaio to be convicted and then pardoned him.
There's a good chance Trump didn't ever expect to win the election. Even as Sater was positing a deal in Russia as a way to make Trump president, Trump was envisioning a presidential run as a way to make his business bigger. My colleague McKay Coppins reported that Trump's team had prepared excuses for his leaving the primary campaign, but he kept beating his GOP rivals, so there was never a chance to use them. He later admitted to being surprised by his election-night win.
The latest revelations about Sater, Cohen, and the Kremlin don't prove collusion between the Trump campaign for president and the Russian government—though they do suggest poor judgment by Trump aides and an openness toward Russia, and given the porous boundary between the campaign and the Trump Organization, they certainly don't foreclose the possibility.
Yet the irony is that it may not matter whether investigators can prove collaboration between the Kremlin and the Trump campaign. It has become a banality to say that collusion is not a crime per se. But Special Counsel Robert Mueller's investigation has reportedly moved past merely looking at collusion and into investigating the Trump Organization as well as the work of Trump associates for a range of possible violations of law. That places Trump's private business dealings firmly in his crosshairs. Trump could never quite bring himself to separate his presidential and business lives, and now their fates may be permanently intertwined, whether he likes it or not.