Trump Works to Remedy His Empathy Deficit
After being criticized for showing insufficient emotion during a trip to Harvey, the president tried his hand at consolation on Wednesday.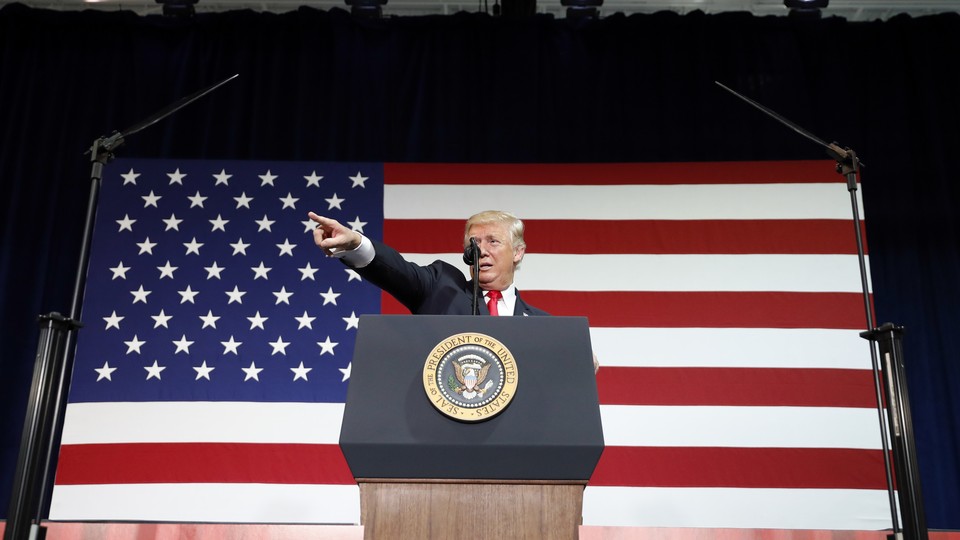 After receiving sharp criticism for his rhetoric about Hurricane Harvey during a short visit to Texas on Tuesday, President Trump offered a fresh message on Wednesday: I care.
In short remarks ahead of a speech promoting tax reform, the president tried to correct course, steering away from the rah-rah character of his tour in Texas and radiating more sympathy.
"In difficult times such as these we see the true character of the American people: Their strength, their love, and their resolve," he said. "We see friend helping friend, neighbor helping neighbor, and stranger helping stranger. Together, we will endure and we will overcome. To those affected by this storm, we are praying for you and we are with you every step of the way."
That was a departure from his tone in Texas. During stops in the state, he focused on inspirational praise for the indomitable American spirit and wonderment at size—both the size of storm, and in a strange moment, the size of the audience there to greet him. ("What a crowd, what a turnout.") It was left to Governor Greg Abbott to insist that Trump was "heartbroken."
As I wrote on Tuesday, presidents tend to respond to disasters with a mix of inspiration and consolation. Trump is good at celebrating resilience, but sympathy is not a mode that seems to come to him naturally, and there are few instances of him expressing it publicly during his political career. Also missing from his remarks was any comment on the deaths of civilians or first responders during the storm, an unusual omission.
On Wednesday, he corrected that. "To those Americans who have lost loved ones, all of America is grieving with you and our hearts are joined with yours forever," he said. "The citizens of Texas and the Gulf Coast need all the prayer, support, and resources our community has to offer. Recovery will be tough, but I have seen the resilience of the American spirit all over this country."
What changed between Tuesday and Wednesday? For one thing, Trump's omissions were noted and criticized, by me and by others. The president, for all of his public disdain for the press, remains obsessed with what it says, and he may well be reacting to those stories. Besides, as his defenders like to point out, he is learning on the job, and he may have been too awed by the destruction to process everything and appropriately express consolation.
There's another important factor, too: In Texas, Trump was speaking off the cuff. On Wednesday, in Springfield, Missouri, he was speaking from prepared remarks, reading off teleprompters, in a style not entirely his own. As I wrote last week, there's often a wide difference between the Trump who speaks from prepared remarks—staid, somber, respectful, maybe a little plodding, and not often using language that sounds like Trump—and the one who speaks off the cuff. The latter tends to be far more outrageous, pick more fights, and obsess about crowd size.
There's an irony to the fact that Trump had trouble emoting while in the flood zone, but delivered far more compassionate remarks on Wednesday—kicking off an event on a tax-reform proposal that will benefit the nation's wealthiest, even as the disaster continues to rage. But he is not the first president to be stung by criticism about his lack of public emotion and to try to correct it. Barack Obama struggled with frequent complaints that he appeared detached, "Spock-like," unable to show emotion. The patrician and cool George H. W. Bush once made the subtext text, telling an audience in New Hampshire, "Message: I care." Of course, putting things in such blunt terms only made him seem more removed. It may require a script for Trump to emote, but after years of criticizing Obama's use of a teleprompter, he too is learning how useful a tool it can be.