Trump, in Reversal, Explicitly Condemns White Supremacists
At the White House, the president offered a far stronger comment on violence in Charlottesville, Virginia, than his previous statement.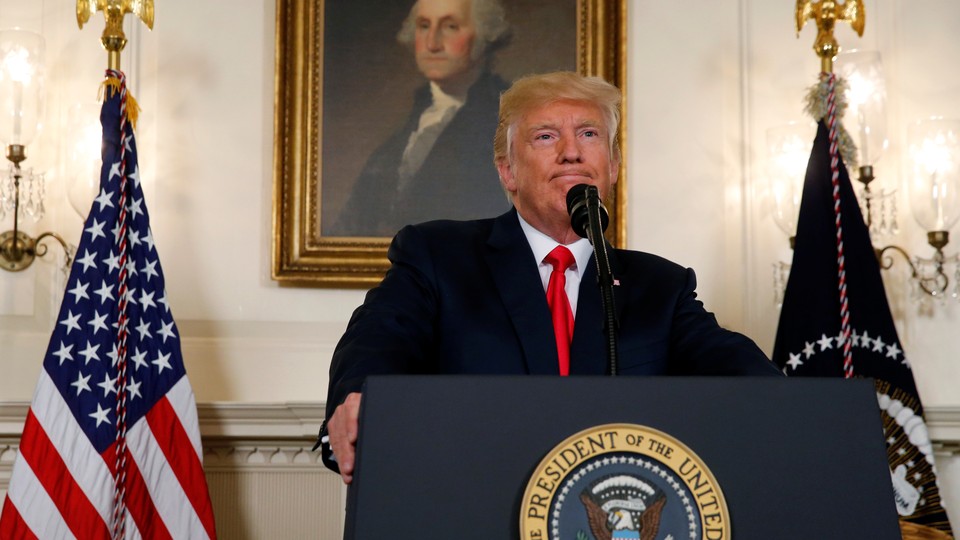 In a stark reversal, President Trump on Monday specifically called out white supremacists, neo-Nazis, and the Ku Klux Klan for inciting violence that left three dead over the weekend in Charlottesville, Virginia.
"We must love each other, show affection for each other, and unite together in condemnation of hatred, bigotry, and violence," Trump said in Washington. "We must rediscover the bonds of love and loyalty that bring us together as Americans. Racism is evil. Those who cause violence in its name are criminals and thugs including the KKK, neo-Nazis, white supremacists, and other hate groups that are repugnant to everything we hold dear as Americans. We are a nation founded on the truth that all of us are created equal. We are equal in the eyes of our creator. We are equal under the law. We are equal under our Constitution. Those who spread violence in the name of bigotry, strike at the very core of America."
That statement, delivered to cameras, was a departure in tone—Trump seldom speaks about love, preferring to praise strength and toughness—and also from his initial comments on Saturday. "We condemn in the strongest possible terms this egregious display of hatred, bigotry, and violence on many sides, on many sides," he said in New Jersey. Trump's choice of words, placing blame "on many sides," and his decision not to mention that the clashes took part amidst a white-supremacist march, stunned the nation, and drew sharp condemnation even from many members of Congress in the president's own party.
Trump added on Monday:
In times such as these, America has always shown its true character. Responding to hate with love, division with unity, and violence with an unwavering resolve for justice. As a candidate, I promised to restore law and order to our country. Our federal law-enforcement agencies are following through on that pledge. We will spare no resources in fighting so that every American child can grow up free from violence and fear. We will defend and protect the sacred rights of all Americans and we will work together so that every citizen in this blessed land is free to follow their dreams in their hearts and to express the love and joy in their souls. Thank you. God bless you. God bless America. Thank you very much.
The statement was also unusual for Trump in that he spoke from prepared remarks, from which he did not appear to deviate. The president tends to prefer to improvise, a habit that frays the nerves of his advisers and world leaders alike. Trump also did not take any questions after his statement, leaving out a chance to go off-script. Somewhat jarringly, he prefaced his remarks with a few words about the strength of the national economy, bragging about progress under his watch.
The topics of the economy and white supremacism have already collided. On Monday morning, the CEO of the pharmaceutical giant Merck announced he was stepping down from Trump's Manufacturing Jobs Initiative over Trump's tepid remarks on Saturday. Trump was much faster to denounce the executive than he was to denounce neo-Nazis, tweeting within an hour, "Now that Ken Frazier of Merck Pharma has resigned from President's Manufacturing Council, he will have more time to LOWER RIPOFF DRUG PRICES!"
Trump has long soft-pedaled his language when it comes to racists. During the campaign, he was often praised and endorsed by white supremacists. Confederate flags were not an uncommon site at campaign events in the South. He was notably slow to disown an endorsement from former Klan leader David Duke, and he retweeted anti-Semitic memes that originated in white-supremacist web forums and accounts with names like "@WhiteGenocideTM." Chief White House strategist Steve Bannon told journalist Joshua Green in late September that Trump avoided denouncing white supremacists and racists because the campaign had determined that it didn't sway anyone who wasn't already voting for Hillary Clinton. Left unsaid was the clear implication that condemning them might lose Trump some of his own supporters.
Even so, Trump's decision to cast blame "on all sides" came as a surprise, given that protesters in Charlottesville were openly carrying swastikas and other Nazi symbols, and given that one of the dead was killed after an alleged white supremacist drove into a crowd. (The other two were police who died when their helicopter crashed.) The Daily Stormer, a neo-Nazi site, praised Trump's reaction. "Trump comments were good. He didn't attack us. He just said the nation should come together. Nothing specific against us," one post read. "Really, really good. God bless him."
It also stood in contrast to Trump's comments in prior cases—after scuffles broke out at a planned talk by the alt-right provocateur Milo Yiannopoulos in Berkeley, California, in February, the president had a fast and unequivocal response: "Professional anarchists, thugs and paid protesters are proving the point of the millions of people who voted to MAKE AMERICA GREAT AGAIN!" Trump's reticence was notable because he had been harshly criticizing even his fellow Republican Senate Majority Leader Mitch McConnell in the preceding days. The appearance was that Russian President Vladimir Putin and white supremacists were the only people who could expect kid-glove treatment from the White House.
The White House seemed to grasp the president's error quickly. By Sunday, a spokesperson offered a new statement, but it was not attributed to Trump or anyone else. "The President said very strongly in his statement yesterday that he condemns all forms of violence, bigotry, and hatred," it said. "Of course that includes white supremacists, KKK Neo-Nazi [sic] and all extremist groups. He called for national unity and bringing all Americans together."
Meanwhile, various Trump aides dutifully defended the president's own statement. Vice President Mike Pence, speaking to NBC News, blamed the media for ginning up a fake controversy. Attorney General Jeff Sessions said on CBS News that people were making too much of Trump's omission. Not for the first time, Trump's Monday mulligan has hung aides (including Pence) out to dry by asking them to defend a statement even the president has now decided didn't cut it.
If Trump's new statement on Monday was a long way from what he said on Saturday, it was also a long way from the expectations attached to any other president, and nearly any other politician. Seldom has any officeholder received such breathless news coverage for having the bravery to declare that "racism is evil."