The Executive Branch's Sharp Turn to the Right
A new lawsuit captures the trench warfare unfolding as opposition groups protest the administration's rollback of regulations government-wide.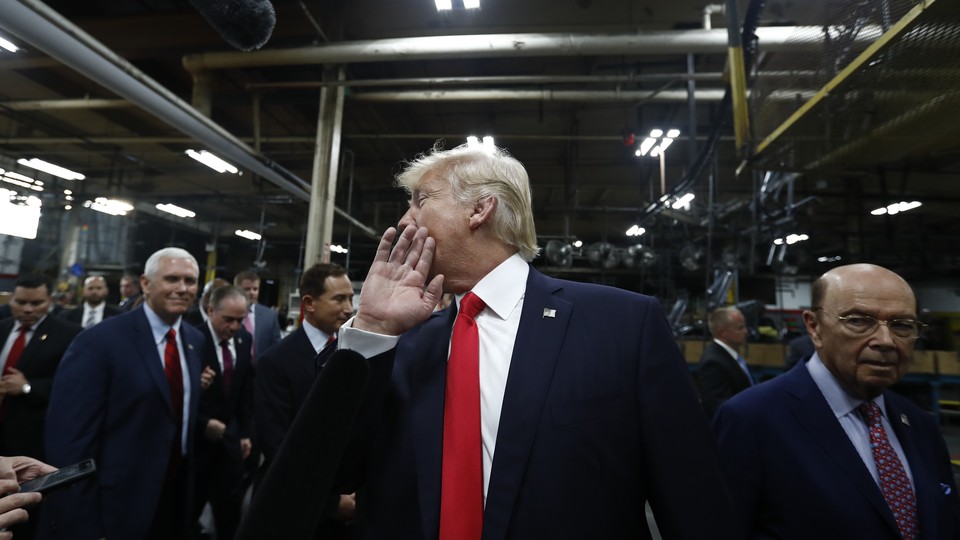 In the few hours on Monday between the installation of John Kelly as President Trump's new chief of staff and the dismissal of Anthony Scaramucci as his communications director, the Natural Resources Defense Council and two other environmental groups filed a lawsuit against the Federal Highway Administration.
The suit, concerning regulations that require state transportation agencies to develop plans for reducing greenhouse-gas emissions, attracted almost no attention next to Scaramucci's pyrotechnic flameout. And yet it illuminates the battlefield where the Trump administration has enjoyed the most success: its largely under-the-radar effort to systematically shift administrative and regulatory decisions in the executive branch to the right.
As my colleague David Graham has noted, these advances have been overshadowed so far by Trump's legislative failures. As a legislator, Trump has already demonstrated he's no Lyndon Johnson. In the health-care fight, he lacked the understanding of policy to shape the internal congressional debate. For all his fulminating on Twitter, he showed almost no capacity to move public opinion. And his historically low approval ratings left him unable to effectively pressure Democrats in either chamber to support the GOP repeal effort—even those from constituencies that voted for him in 2016.
Those deficiencies suggest that even with unified Republican control of Congress, Trump will struggle to post many, and perhaps any, landmark legislative victories. But far from the headlines, in decisions usually announced in the small print of the Federal Register, his administration is making a sharp turn to the right in virtually every federal department and agency. Cumulatively, these executive actions amount to an organized assault on Democratic priorities and a hard tilt toward corporate and conservative preferences.
"If there is something [already] on the books, the administration has enormous ability to establish its enforcement priorities," said Douglas Holtz-Eakin, the president of the American Action Forum, a center-right think tank. "They can switch an awful lot very quickly, and they have."
The lawsuit filed Monday captures the trench warfare that is now unfolding far from the daily dumpster fire of White House controversies. The suit is rooted in legislation Congress approved in 2012 that, for the first time, required states to establish quantitative benchmarks to measure whether federal transportation dollars were helping them achieve seven specific goals. Those included promoting safety, reducing congestion, and encouraging environmental sustainability. Toward that last objective, the Obama administration issued regulations just before it left office requiring states to track and report greenhouse-gas emissions on their highways, and to set goals for reducing them.
Deron Lovaas, an urban-issue specialist at the NRDC, explained that those regulations were intended to complement rules the Obama administration had issued requiring automakers to improve the fuel efficiency of cars and trucks. "This addresses traffic," he told me. "Over the long run, no matter how good and clean vehicles become … your gains [in reducing emissions] can be outstripped if traffic continues to increase unchecked."
With transportation now exceeding electricity generation as the largest source of U.S. greenhouse-gas emissions, environmental groups believe the highway rule could prompt creative thinking from local governments about how to reduce traffic—from promoting mass transit to reconsidering land-use patterns. A similar California state requirement has shown promise on exactly those fronts.
But after taking office, the Trump administration twice delayed the reporting requirement for highway emissions. Then in May, it shelved the rule indefinitely, while allowing other reporting and target requirements to proceed. The environmentalists' lawsuit, now in federal district court in New York, claims these decisions violated federal administrative procedure because they were taken without any opportunity for public input. (The highway administration said it does not comment on pending lawsuits.)
The highway-emissions reporting requirement joins a long list of Obama-era regulations that Trump appointees are working to unravel. Just on climate, the Environmental Protection Agency has announced it will reconsider the fuel-efficiency rules, as well as others requiring reduced carbon emissions for power plants and limiting methane emissions from oil and gas drilling. (A federal court this week ordered the EPA to enforce the methane rule.)
The EPA has been especially aggressive in rolling back Obama-era orders, but the same pattern persists across the government—from the Education Department's withdrawal of rules imposing tougher oversight on for-profit colleges to the Labor Department's undoing of expanded overtime-pay rules. (On Wednesday, one group identified 131 regulations the Trump administration has already moved to suspend or revoke.) In several cases, even when congressional Democrats may succeed in blocking a Trump legislative initiative, the administration has signaled it will try to achieve the same goal through executive action. While Republicans, for instance, are unlikely to marshal the 60 Senate votes necessary for a major unraveling of the Dodd-Frank financial reforms, the Treasury Department in June targeted nearly 90 banking and financial regulations for reassessment or repeal.
Democrats see these moves as a systematic abandonment of environmental and consumer protections. Ironically, Holtz-Eakin, who supports the deregulatory push, worries that Trump is offsetting any economic gains it might produce through his other executive actions constraining trade and immigration. "They are not going in a uniformly pro-growth direction," he said. "Where they will be on balance [on affecting growth] through executive action is going to be relatively modest."
Most observers are understandably judging Trump's policy impact by whether he can pass legislation through Capitol Hill. But his executive actions may be equally important in setting the country's direction—and on that front the critical question is whether he can fend off legal challenges symbolized by the environmentalists' suit against the highway administration. Regardless of whether Trump regains his footing in Congress, his policy legacy may be settled at least as much in the courts.