Mitch McConnell, Under Siege
The majority leader is already a conservative bogeyman in an Alabama Senate race. Now he's in a fight with President Trump after his Obamacare repeal failure.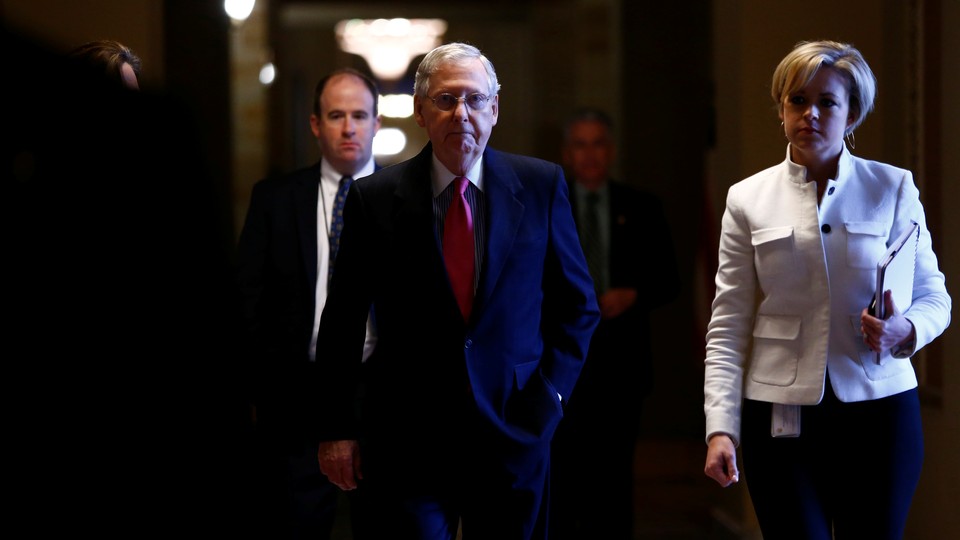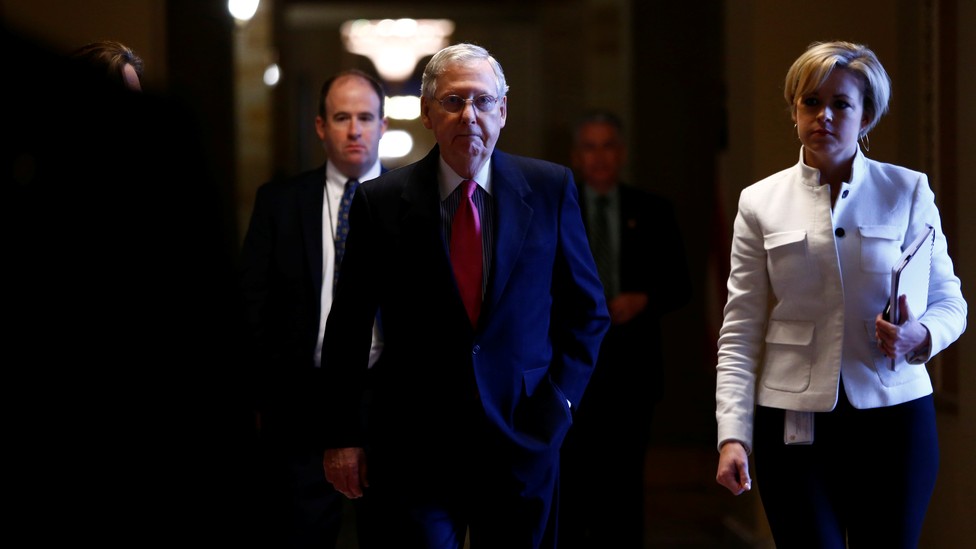 These are not easy times for Mitch McConnell.
The Senate majority leader's failure to pass health-care legislation last month not only dashed the Republican dream of repealing the Affordable Care Act, but it exposed the fragility of his reputation as a brilliant tactician who could keep his caucus in line.
McConnell is now under attack on multiple fronts. He has had to resist pressure from President Trump to change Senate rules and eliminate the legislative filibuster in response to the Obamacare defeat—a move that, as McConnell has gently reminded the president, neither has the votes to pass among Republicans nor would it have altered the result of the party-line health-care bill.
In Alabama, he has become an unlikely bogeyman in the Republican primary for a special Senate election to fill the seat vacated by Attorney General Jeff Sessions. Conservatives challenging McConnell's preferred candidate, the appointed fill-in Senator Luther Strange, have laced into the majority leader without abandon. Representative Mo Brooks, an anti-immigration hawk, has called his campaign a referendum on "swamp king Mitch McConnell" and has vowed to oppose him as party leader if elected. "Mo's tired of McConnell's failure, cowardice, and surrender, and so are you," a narrator in one Brooks TV ad intoned. Judge Roy Moore, the social conservative warrior who was suspended from his post as Alabama's chief justice, has adopted a similar strategy in his campaign. Urging Republicans to "send McConnell a message," Moore attacked his "D.C. slime machine" and said he "lied" about repealing Obamacare in a recent ad.
The ever-calculating McConnell has responded only indirectly to Brooks and Moore by pumping even more money into his super PAC, the Senate Leadership Fund, which is running ads assailing both of them and backing Strange.* But McConnell threw an elbow in Trump's direction on Monday, telling an audience in Kentucky that the president had "excessive expectations about how quickly things happen in the democratic process." He also repeated his criticism of Trump's Twitter habit. "I think it would be helpful if the president would be a little more on message," McConnell said.
Though restrained in comparison with some recent GOP critiques of Trump, McConnell's words infuriated the president's allies. First it was Sean Hannity:
Then on Wednesday morning came Dan Scavino, the combative White House social-media director:
A few hours later, the vacationing president broke away from a potential North Korean nuclear crisis to hit back at McConnell himself:
Senator Mitch McConnell said I had "excessive expectations," but I don't think so. After 7 years of hearing Repeal & Replace, why not done?

— Donald J. Trump (@realDonaldTrump) August 9, 2017
It's not clear what Trump's play is here. If he'd really wanted to go after McConnell, he could have endorsed one of Strange's challengers in Alabama. Each is vying for Trump's deep reservoir of support in the state by promising to support his agenda, even if that means standing up to McConnell. Brooks in particular has fans among the immigration hard-liners in the White House, although Strange's campaign and McConnell's super PAC have highlighted his criticism of Trump during last year's election.
But Trump did not endorse him, or Moore. Instead, he did McConnell a huge favor by tweeting his support for Strange on Tuesday evening, a day before going on the attack against the majority leader. The primary is Tuesday, and with polls showing the race up for grabs, there will likely be a run-off between the top two vote-getters, with the winner heavily favored to take the Senate seat in a state that Democrats have shown little sign of contesting.
There's understandable angst and finger-pointing throughout the Republican Party over the failure of health care, but Trump's outburst at McConnell is perplexing at a time when both men are trying to regroup for a major push on tax reform in the fall. "It's short-sighted in the sense that if the president wants to deliver on any of his key campaign promises, he needs Mitch McConnell and Senate Republicans," said Brian Walsh, a GOP strategist and former top aide at the National Republican Senatorial Committee. "There appears to be no strategy behind these quips from the White House."
Moreover, Walsh told me, any thought that Trump or his supporters could move against McConnell's leadership post is laughable. "The fact of the matter remains that McConnell has a great deal of support in the Senate, and there's absolutely no serious movement within the conference to replace him," said Walsh, who worked for years as a spokesman for Senator John Cornyn, the second-ranking Republican and a top contender to succeed McConnell when he retires. "The votes would never be there," he said. "It would never even be close."
If McConnell is fazed by the attacks, he's not yet showing it. A McConnell spokesman declined to respond directly to the president or his other critics, pointing instead to the majority leader's past statements on the harsh reality of trying to repeal Obamacare. And despite Trump's evident frustration with McConnell and the failure of his first major legislative push, his more revealing move may have been his endorsement of Strange. The taciturn Senate leader and the shoot-from-the-hip president couldn't be more different in style, but they are stuck with each other for a while. And Trump knows it.
---
* This article originally identified Majority Leader Mitch McConnell's super PAC as the Senate Conservatives Fund. We regret the error.