The Two Explanations for Trump's Meddling in the Russia Investigation
Either he's orchestrating a cover up, or foolishly interfering because he's convinced of his own innocence.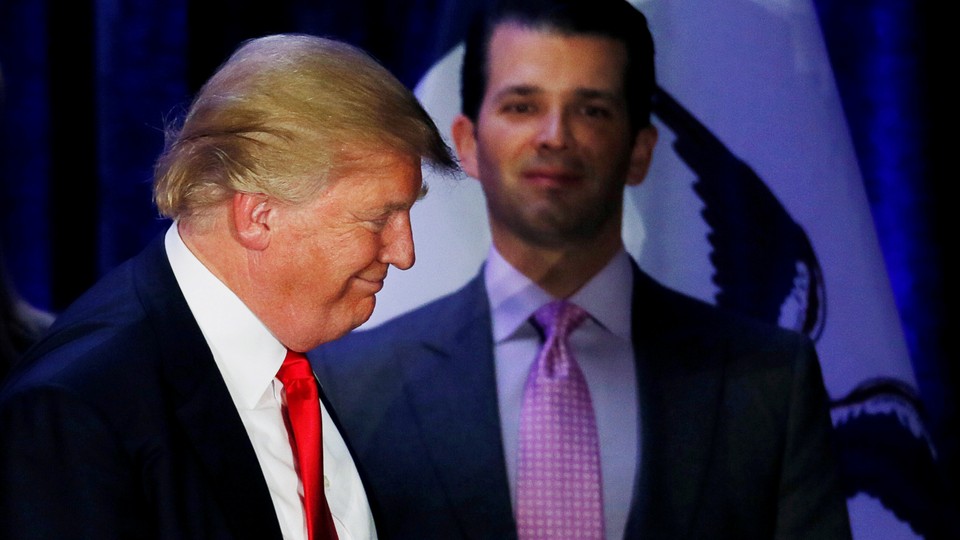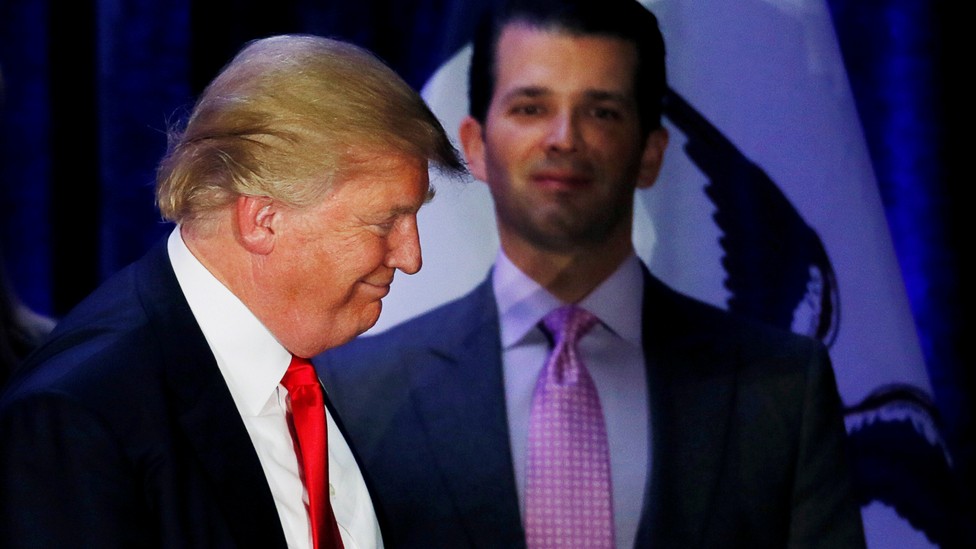 When news of Donald Trump Jr.'s June 2016 meeting with a Russian lawyer broke, his father was surprisingly quiet. As his son's explanation for the meeting crumbled, repeatedly, the president made little public comment, leaving it to his lawyers and White House press staff to say simply that he had not know about the meeting at the time. He eventually issued an unusually cool statement saying Trump Jr. was "a high-quality person."
Behind the scenes, however, Trump was reportedly far more involved. As The Washington Post first reported, and ABC News later confirmed, the president dictated the initial, misleading statement that Trump Jr. issued while on Air Force One returning from Europe. According to those reports, Trump aides initially favored Trump Jr. coming entirely clean, but were overruled. The result was several days of increasingly damaging stories, as it became clear that Trump Jr. had not been truthful and the press gradually learned more details of the meeting.
The president's eldest son said he had not known who he was meeting with, and that the meeting had covered only questions about Russian adoptions and had not pertained to the campaign. Eventually, every part of that statement was proven wrong when Trump Jr. released an email chain about the meeting. He'd been told that he was meeting with a "Russian government lawyer" who had damaging information about the Hillary Clinton campaign. "If it's what you say I love it," Trump Jr. wrote to an intermediary.
Trump's lawyer Jay Sekulow offered a non-denial denial, criticizing the Post story without actually rebutting any element of it. "Apart from being of no consequence, the characterizations are misinformed, inaccurate, and not pertinent," he said in a statement.
Choosing to make the incomplete statement in the first place was a political and public-relations disaster, drawing the story out and making it appear—correctly—that the Trumps had something to hide. It might also be a gaffe from a legal perspective. Special Counsel Robert Mueller is said to be investigating not only Russian interference in the election and whether the Trump campaign was involved, but also whether the president obstructed justice, for example by firing FBI Director James Comey over the Russia probe and asking him to end an investigation into former National Security Adviser Michael Flynn. Trump's personal intervention to insist on a misleading statement here again might seem to support the interpretation that he has something to hide.
An anonymous presidential staffer told the Post that the truth was different.
"He refuses to sit still," the aide said. "He doesn't think he's in any legal jeopardy, so he really views this as a political problem he is going to solve by himself."
That neatly sums up the two competing theories for Trump's behavior. The first is that Trump is guilty of, was aware of, or even allowed and encouraged, collusion with Russia during the campaign. The second is that Trump truly believes that what's going on is "the single greatest WITCH HUNT in American political history" and is determined to kill the investigations, which he believes are unfair and hobbling his presidency.
Trump's actions so far can fit neatly under either theory: firing Comey, complaining publicly about Attorney General Jeff Sessions's inability to kill the investigation, musing about firing Mueller, and dictating the misleading statement on Trump Jr.'s behalf. An innocent man who was politically wiser might say he welcomed the investigation and was confident it would clear him, but Trump might also look at the Whitewater investigation into Bill Clinton and take a different lesson: Though Clinton was cleared of wrongdoing in the land deal that gave the scandal its name, that investigation eventually led to his impeachment. Why take that risk—especially with the long history of rule breaking and bending in Trump's past?
The other thing that all of these incidents share is that they occurred against the advice of many of Trump's aides and lawyers. Steve Bannon and Reince Priebus reportedly thought firing Comey was a bad idea. Advisers seem to have talked Trump down from firing Sessions, at least for the moment. Trump Jr.'s lawyers wanted to come clean from the start. Virtually all of Trump's advisers—from intelligence chiefs to cabinet members—agree that Russia interfered in the 2016 election. But Trump keeps disregarding the counsel of those whose job is to help him. (That has to be a worrying precedent for new White House Chief of Staff John Kelly.) As Aaron Blake points out, the Post story is remarkable because even advisers who are supportive of Trump and dismissive of the collusion story admitted that the president sought to mislead the American people about his son's meeting.
The other thing about that the two theories—guilty as sin, or innocent and foolish—is that both could just as easily end in disaster. Even if the Trump campaign had no involvement in Russian interference, the president's insistence on sticking his fingers into every pie, and overriding the best advice of his staff, could still end with him facing charges for obstructing justice. Trump may believe that he's not in any legal jeopardy, but he doesn't seem to understand how easily he can change that—assuming he hasn't already.
---
Related Video