To Trump, All Protesters Are Alike
The president blames "many sides" for the violence that erupted in Charlottesville, Virginia.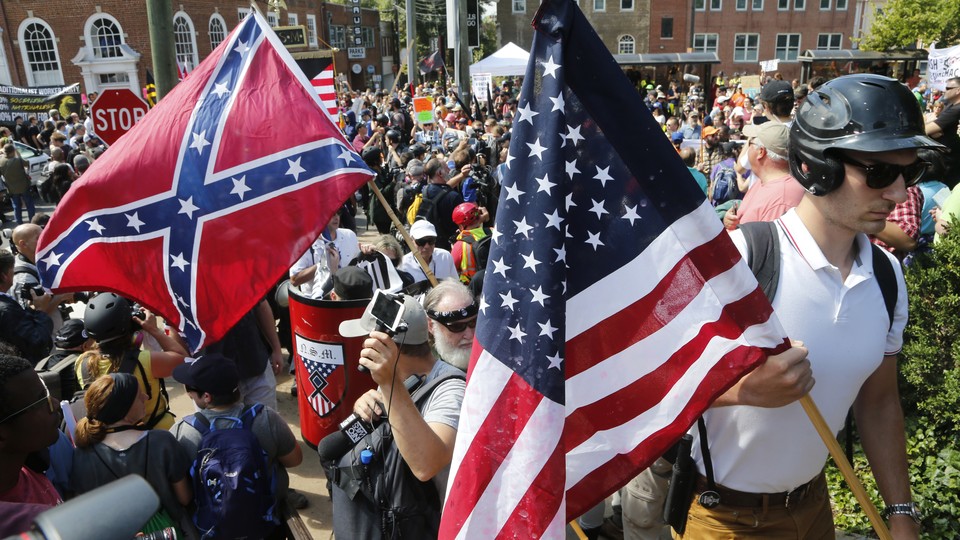 Updated on August 12, 2017, at 5:18 p.m. ET
President Trump denounced the violent protests in Charlottesville, Virginia, during a brief press appearance from Bedminster, New Jersey, on Saturday.
The remarks raised eyebrows for two reasons. One, the president focused much of his time on veterans affairs, despite the escalating violence in Virginia. (Shortly before Trump's announcement, state police reported that there were multiple injuries after a vehicle plowed through a crowd of protesters. Charlottesville Mayor Mike Signer announced on Twitter that a person died in the incident.)
Second, Trump seemed to blame protesters and counter-protesters alike.
"We condemn in the strongest possible terms this egregious display of hatred, bigotry, and violence, on many sides. On many sides. It's been going on for a long time in our country," Trump said. His comments came after a day of escalating violence in Charlottesville, where white nationalists gathered for a "Unite the Right" rally to protest a decision to remove Confederate statues.
NBC's Hallie Jackson followed up with the White House about what Trump meant by "on many sides." A White House official responded, saying "the President was condemning hatred, bigotry and violence from all sources and all sides. There was violence between protestors and counter protestors today."
The president ignored several questions, shouted by reporters after his remarks, about white nationalists who support his presidency and whether he has denounced them in strong enough terms. While leading politicians from both parties specifically denounced the white-nationalist cause of the protesters, Trump seemed careful to avoid doing the same.
"I love the people of our country," Trump said. "I love all of the people of our country. We're going to make America great again, but we're going to make it for all of the people of the United States of America," he concluded.