The War Against H.R. McMaster
Rumors have circulated for days that the national-security adviser's job is on the line, and the pro-Trump media have launched an all-out assault against him.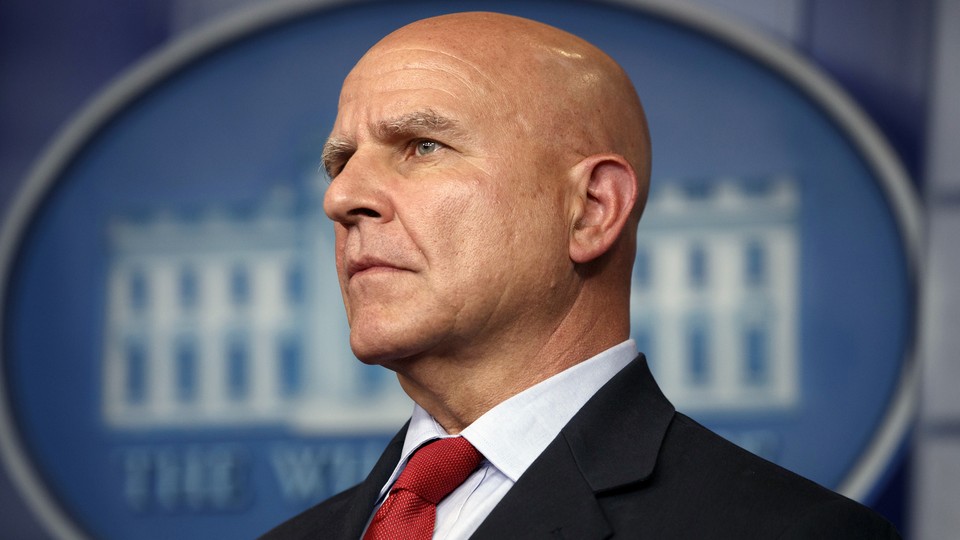 Updated on August 5 at 11:51 a.m. ET
Long-simmering tensions within the White House burst into public view this week after the firings of three National Security Council officials, resulting in National-Security Adviser H.R. McMaster becoming Public Enemy No. 1 of the pro-Trump online brigades.
McMaster has cleaned house at the NSC over the past few weeks. Via his deputy Ricky Waddell, he fired director of strategic planning Rich Higgins last month over a memo Higgins wrote alleging a deep-state conspiracy against President Trump. McMaster then dismissed two top officials brought on by the previous national-security adviser, Michael Flynn: the NSC's senior director for the Middle East, Derek Harvey, who was fired last week; and the senior director for intelligence programs, Ezra Cohen-Watnick, who was let go on Wednesday.
"I'm watching the elephants trample the grass as they fight each other," said one senior White House official. "There is some collateral damage when the elephants fight."
The dismissals have shaken up the NSC during a period of tumult in the White House. Press secretary Sean Spicer recently quit in protest of Anthony Scaramucci's installation as communications director. Scaramucci was himself fired because of a profane rant he delivered to a reporter about White House chief strategist Steve Bannon and chief of staff Reince Priebus, who was also let go. Priebus's replacement, former Department of Homeland Security chief John Kelly, has begun to formalize the chaotic Trump White House, limiting staff members' direct access to the president. His entrance also gives McMaster—who has been at odds with Trump and has battled in particular with Bannon—a powerful new ally.
But McMaster's show of force has set off alarm bells among Bannon allies in the pro-Trump media sphere, who favored Flynn and regard the national-security adviser as a globalist interloper. Other White House officials have in the past been targets of theirs—Priebus was, for example—but the vitriol against McMaster has been notable for its speed and intensity.
"It's noticed, how can you not notice it?" said a source close to McMaster, when asked if the former Army general is registering the pushback.
It's come from all corners. Breitbart News, the website Bannon controlled as executive chairman before joining the Trump campaign, has produced a flurry of negative stories about McMaster over the past two days, accusing him of "purging" dissenters and kowtowing to "holdovers" from the Obama administration. Fox News host Sean Hannity has tweeted about McMaster, saying he might need to go. Radio host Laura Ingraham has also weighed in, tweeting that "Obama holdovers at NSC or State Dept who are leaking shd do real time for these leaks. Why has McMasters fired actual Trump supporters?" The Daily Caller published an interview with two former NSC officials attacking him, accusing him of undermining the president's foreign-policy agenda. Circa, a site owned by the conservative Sinclair Broadcasting company, published a letter Thursday that McMaster sent months ago to his predecessor Susan Rice, in which he informed her that she could keep her security clearance. It's a standard letter, but it has caused a furor in light of the ongoing controversy over unmasking.
The provocative right-wing blogger and activist Mike Cernovich has launched a sustained attack on McMaster, including setting up a website called McMasterLeaks.com. When it launched, the main page displayed a large cartoon of the Rothschilds controlling a George Soros puppet, which in turn controlled puppets representing McMaster and former CIA director David Petraeus. (The hand labeled "Rothschilds" has since been relabeled "Saudis." Cernovich told me he changed it because complaints about the cartoon's anti-Semitism are "not a hill to die on," and "if everybody wants to complain, then fine—I'll just put the Saudis at the top.")
Cernovich's criticism isn't new: He has been going after McMaster for months, as well as other top NSC aides like Dina Powell and more junior staffers. Others in the right-wing media "are finally catching up to where I was three or four months ago," he told me. But the recent staffing changes spurred him to intensify his effort.
"I read that Rich Higgins article that you wrote and I got triggered, because I thought that memo was brilliant. And I thought, 'I'm gonna create McMaster Facts and I'm gonna start getting every leak I can about him,'" Cernovich said, referring to my story about Higgins's memo, which outlined an alleged plot by Islamists, globalists, and leftists to sabotage Trump.
The leaking threat isn't necessarily exaggerated. Cernovich appears to have sources within the White House and has broken stories that could only have come from people with direct knowledge of internal proceedings, though he has told me he uses burner phones and encrypted apps, and doesn't always know his sources' identities.
Cernovich said he hasn't coordinated with the other elements of the anti-McMaster campaign. "I've known about the Bannon-McMaster beef for a while, and frankly I don't care," Cernovich said. "Bannon's got Breitbart to be his attack dog, so I'm not gonna do anything for Bannon." (McMaster had Bannon removed from the NSC principals' committee earlier this year, and the two have sparred particularly over Afghanistan policy.)
Cernovich's assault on McMaster seems to be getting attention inside the White House. Even before this week's drama, the national-security adviser was aware of Cernovich and concerned about his access to information from the inside, sources said. As previously reported by Bloomberg, McMaster referenced Cernovich in an all-hands meeting in July, and batted down talk of the Obama "holdovers" who've become a point of contention both inside the White House and in the conservative media.
According to two sources with direct knowledge of the meeting, McMaster also mentioned Cernovich at an NSC senior-directors meeting that day, which roughly 20 people attended. "He did bring it up and said, 'This guy's been targeting our people, he is posting personal information that has to have come from the inside,'" the source close to McMaster said. McMaster "really gets upset when he thinks people under his command, under his chain of command, are being unfairly attacked."
Though the spate of departures from the NSC has looked like a purge of Flynn or Bannon allies given the timing, recent firings were motivated by different reasons. Higgins was fired for the memo he wrote, which he sent around using his government email account, a source familiar with the matter said. That was deemed an inappropriate use of government resources and contributed to him losing his job. (A source close to Higgins said he had only sent it from his personal computer to the office to print it.) As for Harvey, there were concerns about his management. Harvey was one of the biggest Iran hawks on the council and had had disagreements with McMaster. As for Cohen-Watnick, McMaster had tried to fire him months before.
Other recent moves within the NSC staff are apparently unrelated. Flynn appointee Victoria Coates, for example, voluntarily shifted to Jason Greenblatt's Middle East team.
But rumors of a list of Flynn appointees who are supposedly next to be fired have been circulating for days. The Free Beacon reported this week that such a list exists, but there is disagreement among my sources as to whether that's the case. McMaster contacted the people rumored to be on it and assured them their jobs are safe, according to the source close to McMaster.
But this hasn't fully calmed the waters. The ever-present threat of shakeups in the Trump White House, combined with the Bannon-McMaster tension and the proxy war in the media, has contributed to already poor morale.
Rumors that McMaster's job is on the line have continued to make the rounds. One source close to the White House said some people in the building were "livid" at him over Circa's story and my reporting about Higgins. Trump, who only fired Flynn when his position became untenable—and with whom McMaster has not had an easy relationship—reportedly mused about sending him to command the troops in Afghanistan.
But Trump issued a statement late Friday night praising McMaster: "General McMaster and I are working very well together. He is a good man and very pro-Israel. I am grateful for the work he continues to do serving our country."
And McMaster has clearly been empowered to make personnel decisions. The Cohen-Watnick firing in particular is significant. McMaster had tried to let him go back in March, but was blocked at the time by Bannon and the president's son-in-law, Jared Kushner, who appealed to Trump to keep him in place. One administration official attributed the change, at least in part, to Kelly, whose entrance on the scene "threw the balance of power off" by placing limits on Bannon and Kushner.
One source close to the White House said the "firestorm" had caused people in the White House to unite internally. "The attacks on [McMaster] have been over-the-top and people recognize that, at least inside," the source said.