The Senate Tests a New Approach on Obamacare: Bipartisanship
Health-care hearings next month will mark the first effort at collaboration between the two parties, even as the Republican repeal push sees one last gasp.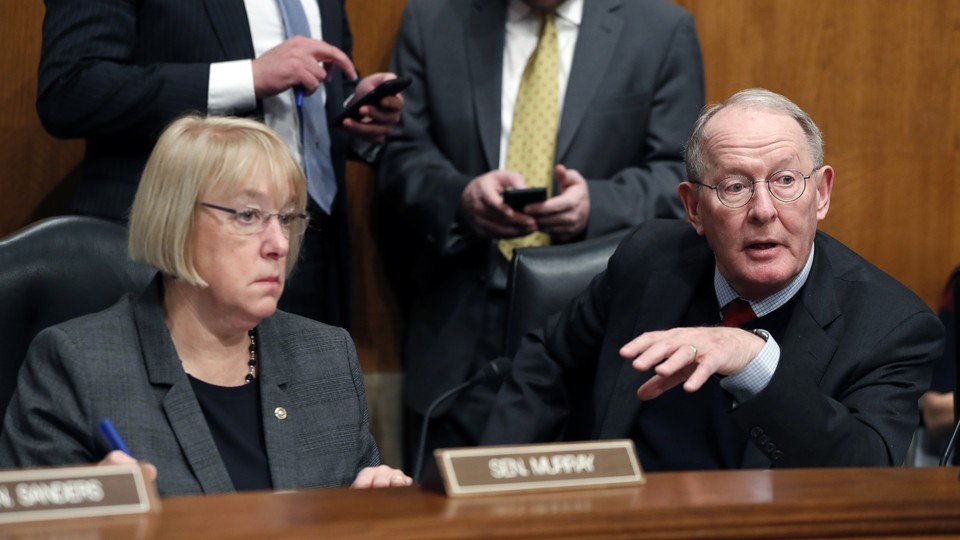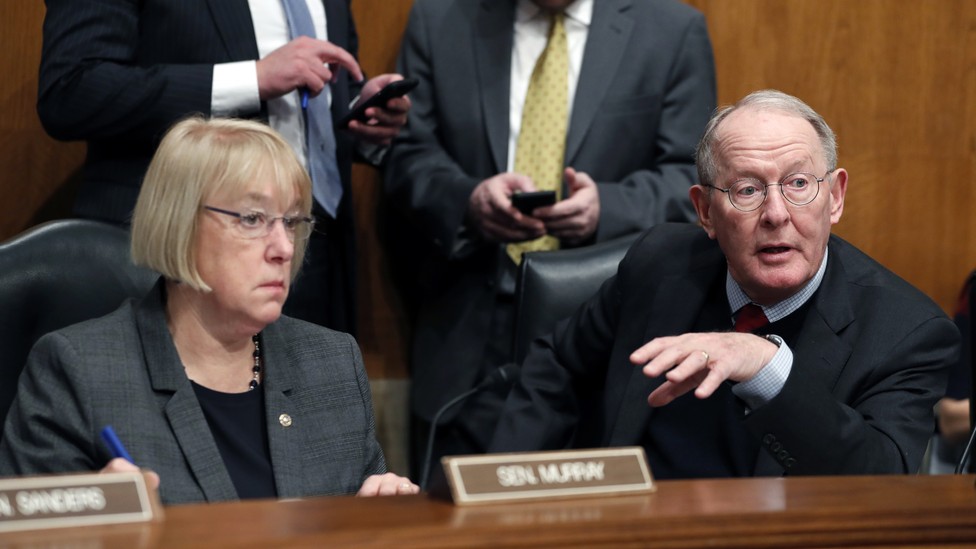 Next month the Senate will try a novel approach to break away from seven years of polarization on health care: actual committee hearings, with expert witnesses and input from lawmakers in both parties.
And if those go well, Congress could see an even unlikelier development—the advance of viable, bipartisan legislation to fix parts of the Affordable Care Act.
The hearings are the brainchild of Senator Lamar Alexander of Tennessee, the Republican chairman of the Health, Education, Labor, and Pensions Committee, who has been talking for months about the need to stabilize Obamacare's individual insurance market. What makes this effort different is that following the GOP's failure to repeal and replace the law, Alexander now has the blessing of his party's leadership and buy-in from the committee's top Democrat, Senator Patty Murray of Washington State.
The two senators have collaborated on significant legislation before, first to rewrite the George W. Bush-era No Child Left Behind education law and then on the 21st Century Cures Act to direct more money toward, and loosen restrictions on, medical research. Over the past few weeks, aides to Alexander and Murray have worked together to come up with a bipartisan witness list for back-to-back days of hearings on September 6 and 7. The first will feature testimony from state insurance commissioners (including those from Tennessee and Washington), while the next day the committee will hear from five governors representing states from different regions of the country. Aides said the committee hopes to have two more hearings on health care the following week.
Alexander, aides said, has an ambitious goal of moving quickly from hearings to drafting legislation that would, at minimum, guarantee the continued payment of cost-sharing reduction subsidies to insurance companies and allow states more flexibility to adjust insurance rules through an existing provision of the Affordable Care Act known as Section 1332. "I'm looking for the simplest bill possible that Republicans and Democrats can agree on that will stabilize the individual insurance market," Alexander told reporters earlier this month.
The cost-sharing reduction payments are a top priority for Democrats since they are a part of Obamacare designed to help insurers afford the cost of insuring expensive patients without jacking up premiums for everyone else. Because the payments have been tied up in litigation brought by House Republicans against the Obama administration, President Trump has threatened to withhold them on nearly a monthly basis, only to make them at the last minute. Insurers have cited the uncertainty in announcing their decisions to leave certain markets and raise premiums, handing Democrats ammunition to accuse the Trump administration of sabotaging the law. Even most Republicans have encouraged the president to make the payments, but new legislation is the only way to guarantee them since the legal question at issue is whether Congress authorized the money in the first place.
Granting states more flexibility from Obamacare regulations is a must-have for Republicans, and Democrats have signaled they are willing to at least listen to ideas as long as the changes do not threaten coverage for people with preexisting conditions or essential health benefits under the law. Murray's standard, according to an aide, is that Congress "cannot go backward" by removing core protections currently in place. While both parties have many other ideas about improving Obamacare, any initial bipartisan proposal is likely to be narrow. "We're very much looking for a smaller bill with lots of agreement," a Republican aide told me.
One key reason is time: Alexander wants to act by September 27, the deadline for insurers participating in the Obamacare exchanges to finalize their plans. Congress also has a number of items it must pass by the end of the month, and the best chance for bipartisan health-care legislation to be enacted might come if it is attached to one of those bills. The Obamacare marketplaces have already seen some improvement in recent weeks as insurers have stepped in to fill all of the counties that previously lacked coverage, undermining the GOP argument that the law is "collapsing." But legislative action in the next month could limit premium increases that companies are considering if congressional subsidies are not guaranteed.
Alexander and Murray face plenty of hurdles next month, the biggest of which is that many Republicans are simply not ready to move on from repeal. Trump is still steaming at the Senate's failure, lobbing insults at Majority Leader Mitch McConnell and urging Republicans to try again and again. Senator Lindsey Graham of South Carolina is pitching the White House and fellow senators on a proposal he's written with Senators Bill Cassidy of Louisiana and Dean Heller of Nevada that would repeal Obamacare's individual and employer insurance mandates while devolving the rest of the law to the states. It keeps all of the ACA's taxes and redirects a chunk of money to states that chose not to expand Medicaid. "I think we're going to pull a rabbit out of a hat on health care reform," Graham told the conservative commentator Hugh Hewitt on Thursday.
He and his allies are aggressively lobbying Republican governors in the hopes of generating momentum for the plan. But those that have praised the idea so far represent states whose GOP senators are already onboard with repeal efforts; there's little indication yet that Graham has persuaded his close friend Senator John McCain of Arizona or Senators Lisa Murkowski of Alaska and Susan Collins of Maine, who voted against the last repeal proposal earlier in July. More importantly, Graham's push has yet to win the backing of McConnell, who has a full plate of other issues in September and has said the path forward on health care is "murky." And Graham is likely to face more difficulty when Governors John Kasich of Ohio and John Hickenlooper of Colorado unveil their own proposal to stabilize the Obamacare system, which is expected next week.
The best thing Alexander and Graham have going for their competing plans is that their opponents are becoming increasingly worried about their viability. On the left, Andy Slavitt, the Democratic former administrator of Medicare and Medicaid, has called the Graham-Cassidy-Heller proposal "the most significant threat to repeal ACA." And on the right, conservative groups like Heritage Action have begun warning against what they call "a bailout" for Obamacare and insurance companies. "Obamacare is becoming a zombie law, and throwing more taxpayer money at Zombiecare is unacceptable," Heritage Action CEO Michael Needham said in a statement earlier this month.
For the first time all year, it appears that the bipartisan effort on Obamacare might actually have the edge. Republican senators have grown weary of their repeated failures on repeal and want to move on to tax reform. And while Democrats acknowledge that McConnell might simply be waiting for Graham's bill to gain traction before putting his weight behind it and bringing it to a vote, they say they're "cautiously optimistic" that the Alexander-Murray effort will prevail. "We don't take anything for granted," one senior Democratic aide told me. "I don't think you can ever fully trust McConnell, but we think he's learned his lesson."