The Search for a Magical Way to Stop Trump
In their desire to end the chaos of this administration, some critics are arguing for a cure that is the same as the disease.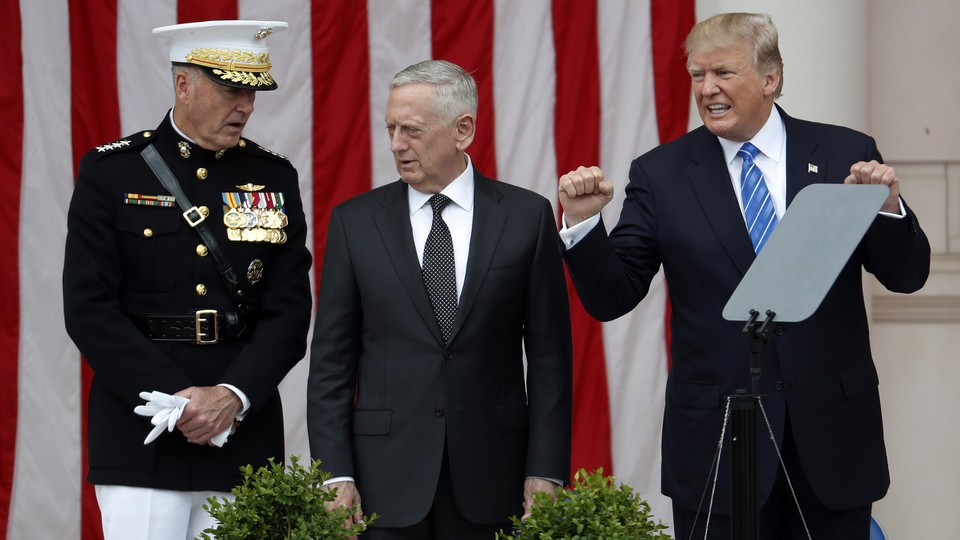 Chelsea Handler is an entertainer, not a political analyst. But now that she is debating conservatives on the subject of health care, she is a woman in the arena, and so her statements deserve scrutiny. Handler recently tendered this commentary on the current political situation:
To all the generals surrounding our idiot-in-chief...the longer U wait to remove him, the longer UR name will appear negatively in history.

— Chelsea Handler (@chelseahandler) August 11, 2017
This is a bad idea. To elaborate further: Military coups against democratically elected governments are bad.
Handler's bad advice for generals (does she mean the retired generals who serve as top appointees, or the active-duty ones who run the military?) is mostly notable as the most extreme expression of peculiar pleas by Trump opponents who seek some deus ex machina that will stop the president: generals simply disobeying the president, other civil servants refusing to follow through on orders, or even the invocation of the 25th Amendment to remove him from office. None of these is as radical as a military coup, but what they share is the conviction that the only thing that can stop a norm-destroying and possibly lawless president is by violating norms and possibly the law.
The threat of a nuclear war, which Trump seems determined to whip up, tends to bring out these kinds of unwise ideas. Shouldn't the generals do something to stop Trump? Shouldn't they prevent him from pushing the button? But the time for military aides to stop Trump is before he makes the decision, by persuasion and argument. Once the order is made, it must be followed; this is one basis on which deterrence, which has so far precluded the actual exchange of nuclear strikes, rests. If a president's ability to employ America's nuclear arsenal is cast into doubt, so too is its deterrent value.There was a minor controversy in July when Admiral Scott Swift told a questioner that if Trump ordered a nuclear launch against China (an attack that's all but unthinkable), he would comply, but he was simply affirming his chain of command.
The idea that the military answers to civilian leadership is an important part of American checks and balances, and fidelity to that principle is one reason that the U.S. has never had a serious case of a mutiny setting troops against the civilian government.
Problems of that sort have occurred even in what tend to be considered stable democracies such as France, where a regiment was disbanded following a failed coup in 1961, as Andrew Exum recently noted. They're a consistent danger in places where generals (and the people) come to view the military as a guarantor of stability and peace that sits apart from the government. Consider Turkey, where coups used to come practically on a regular schedule. Not only were those coups undemocratic—the dangers of taking a shot and missing are amply on display following last summer's failed coup, which only further empowered the increasingly authoritarian government of Recep Tayyip Erdogan.
Trump's erratic behavior has brought into common circulation an old anecdote about Defense Secretary James Schlesinger, who, worried by President Nixon's heavy drinking, instructed generals not to launch any military strikes without first running them through the secretary's office. Incidents like this are in a way reassuring because they suggest that someone sober (literally and figuratively) is in control, but also because they are safely in the past and because, as far as we know, there was never a case in which the generals actually disobeyed a lawful order from the president.
If this president, or any other, issues an illegal order, no one would expect the military to follow it. But if he issues a merely unwise order, that doesn't offer license to ignore it. Once there's a precedent that officials can ignore orders from the lawfully elected president—unelected officials, no less, whether Cabinet secretaries or military officers—where does the line get drawn? After all, if the president is unstable enough that a single order can be dismissed, isn't he too unstable to issue any order?
Sometimes, it is true, Trump makes it hard for officials to comply with orders. He announced his decision to bar transgender troops without much notice to the Pentagon and without any of the requisite details, leaving the Joint Chiefs to scratch their heads and maintain the status quo until the White House provided instructions specific enough to follow. As S.V. Date writes, incidents like that are becoming distressingly commonplace across the executive branch, thanks to Trump's inattention to detail and short attention span. But while that's a serious problem, intentionally disregarding orders isn't a good answer.
The chaos has Ross Douthat hoping members of the administration will invoke the 25th Amendment's provision stating that if the president is incapacitated, the vice president and Cabinet can act to have him removed. This, too, is a dangerous path. The provision was intended for situations in which the president has become too ill to work, and was enacted after John F. Kennedy's assassination, to answer the question of what might have happened if Kennedy were kept alive but unable to handle the duties of office. There have been other, similar situations in the past, like that of Woodrow Wilson, who was for months incapacitated by a stroke.
But there's no evidence that anything has happened to Trump since the election that has changed his fitness for office. He shows no new signs of illness. If Trump is unfit for the presidency in the estimation of Douthat or anyone else, he is no less fit than he was on November 8, 2016, when voters had their chance to to render a verdict. Pressing for the 25th Amendment solution in this case, with no evidence of a change in cognition or health, is de facto pressing for Mike Pence and the Cabinet to nullify the will of the voters.
When observers worry that Trump is destroying norms, this is precisely what they're referring to. The norm-destruction doesn't end with what Trump does and doesn't do, nor does it end with his loyalists. It's even more dangerous and far-reaching because his rhetoric and acts encourage his opponents to support responses that they would have found unthinkable even a year ago. Thus the smart and careful Will Wilkinson can be found arguing that in the name of stopping Trump's lawlessness, federal officials must lawlessly disobey him, even while acknowledging, "Yes, it's dangerous." Those praying for a deus ex machina aren't arguing for a cure that is worse than the disease. They're arguing for a cure that is the same as the disease.
This isn't to say that that Trump's critics should just take a seat for the next three years and hope there's not a nuclear war while they wait. There is a mechanism for removing a president that doesn't require disobeyed orders, military coups, or executive-branch appointees nullifying elections. That, of course, is impeachment. As Cass Sunstein argues, impeachment wasn't designed as a method of bringing criminal charges against the president. It's a fundamentally political process, created to prosecute political misdeeds. The president needn't have committed any criminal offense at all. In fact, many of the actions that have critics calling for the unwise steps laid out above could arguably be grounds for impeachment.
Is impeachment difficult? Of course it is. It should be—every attempted impeachment in American history has been a cataclysm in its own way. But it offers a process for handling presidents that is established, doesn't break longstanding norms, and doesn't seek to solve lawlessness with more lawlessness. Far better to exhaust the lawful remedies before anyone starts calling for soft, much less hard, coups.