Why the Justice Department Is Targeting Affirmative Action
Jeff Sessions follows in the risky footsteps of George W. Bush's Justice Department.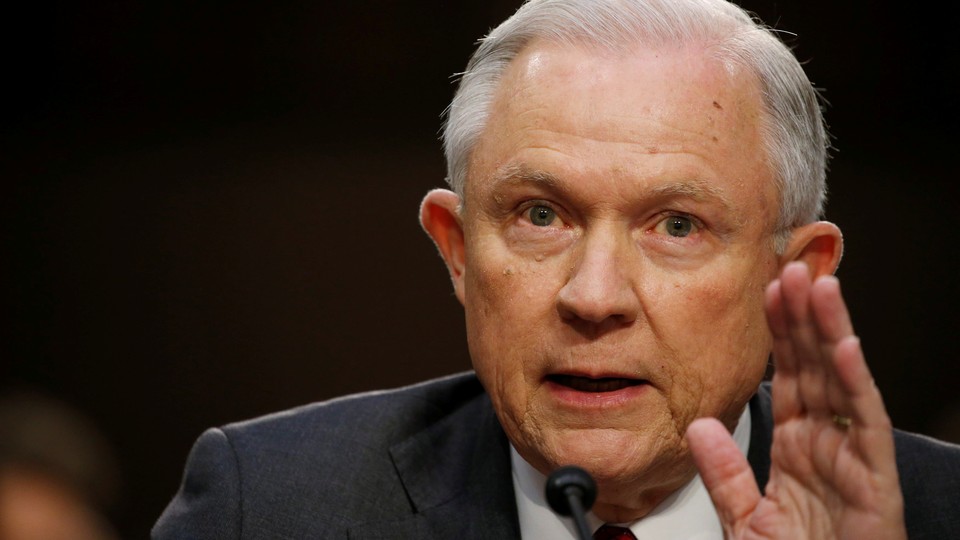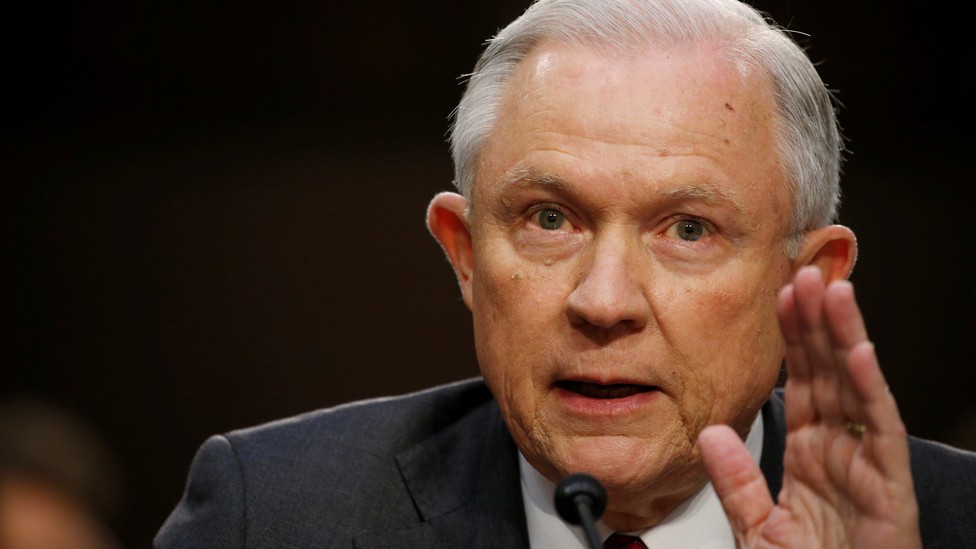 Updated on August 2 at 6:20 p.m.
You can tell a lot about an administration by what cases the civil-rights division of its Justice Department pursues. In the Obama administration, for example, the division made police reform a priority, reaching more than twice as many consent decrees to force police departments to change their practices as any previous administration.
According to a document first reported by The New York Times, the Trump Justice Department has decided to focus on investigating and suing universities with affirmative-action programs that the department deems to have discriminated against white students. The document uses bland language, saying a new project will focus on "intentional race-based discrimination," which obscures the magnitude of the shift involved.
The Justice Department said the stories were much ado about nothing, saying a job posting "sought volunteers to investigate one administrative complaint filed by a coalition of 64 Asian-American associations in May 2015 that the prior Administration left unresolved." A spokeswoman added, "The Department of Justice is committed to protecting all Americans from all forms of illegal race-based discrimination."
The Justice Department pursues cases of intentional race-based discrimination all the time, but those cases are almost entirely cases where minorities are the subjects of discrimination. While laws are, as former Republican DOJ staffer Roger Clegg noted to the Times, race-neutral in language, the laws were written to protect minorities, for the obvious reason that, as data show, systems from voting to schools to law enforcement have long privileged whites over minorities.
But some conservatives view that language neutrality as a mechanism for pushing back on what they see as undue efforts to aid minorities. This has been especially true in higher education, where a pair of lawsuits by Abigail Fisher argued that she had unfairly been denied admission to the University of Texas at Austin because of its affirmative-action policy—a claim rejected by the Supreme Court. Statistics don't suggest discrimination against white students; in fact, at top-tier schools, black representation has actually fallen in recent years. (Discrimination logically only comes into play at selective schools.)
But the Trump administration came to office with a message that catered directly to white grievances on cultural and economic issues. Trump spoke directly to white working-class concerns, used frequent dog-whistle language about minorities, and did little to court voters of color. He drew significant public support from avowed white nationalists. In a post-election poll, almost half of Trump voters said they thought whites faced "a lot of discrimination," more than voters that said blacks, Hispanics, Jews, or Muslims did—a result that's widely divergent from the populace overall, which deemed whites least likely to suffer from serious discrimination. A PRRI/The Atlantic poll in November asked white working-class voters whether "efforts to increase diversity almost always come at the expense of whites." Only 16 percent of Clinton voters, but 49 percent of Trump voters, agreed. (This might also explain the recent turn among Republicans against colleges.)
So even if there isn't really much discrimination against whites, it feels to Trump voters like there is, making initiatives like this one an effective means of satisfying Trump's core supporters. They also play interestingly into Trump's troubled relationship with Attorney General Jeff Sessions. Why would Sessions stay in the job even as Trump publicly rips him? Sessions has long been skeptical of affirmative action and other attempts to expand civil-rights protections, and now that he has control of the Justice Department, he is using it to forward many of his pet causes, including tough-on-crime policies, harsh sentencing for low-level drug offenses, and voter-ID laws. Even if the president is criticizing Sessions, he's still giving him a forum to do things like the anti-affirmative-action push.
Although the Trump administration is unusual for its embrace of white grievance and white nationalism, the Justice Department's policy initiative against affirmative action has some precedent. The Justice Department during the administration of George W. Bush also radically reoriented the civil-rights division, including using laws historically used to protect minorities in novel ways to police discrimination against whites. (These are sometimes referred to under the infelicitous and illogical rubric of "reverse discrimination.") Some veteran civil-rights attorneys were assigned to work on immigration and deportation cases. But those efforts ended in an attorney general's resignation, a devastating Inspector General's report, and a broken civil-rights division.
While every administration brings a new agenda—particularly when party control switches—Justice staffers and outside observers were surprised by how far Bush shifted matters. For example, Justice cut down the number of voter-discrimination cases that it brought. It also brought the first case of a voter-discrimination suit that alleged discrimination against white voters, in Noxubuee County, Mississippi. (A court ruled in favor of the government in that particular, egregious case, while voicing hesitation in general about using laws to fight for "the voting rights of historically privileged white voters who as a group do not suffer the effects of past discrimination" in general.) One of the leading lawyers on that case was J. Christian Adams, who is now a member of Trump's voter-integrity project, which critics have described as an excuse to make it harder for minorities to vote.
The department also aggressively sought out cases of voter fraud. (The parallels between the two administrations continue.) Yet despite years of searching, the department was unable to find any significant organized fraud. What's more, the effort to find fraud eventually led to the Justice Department improperly firing several U.S. attorneys who were unwilling to follow its political agenda. That scandal forced Attorney General Alberto Gonzales to resign.
Such "reverse-discrimination" cases served a dual purpose. They not only fit with the immediate ideological commitments of conservative activists in the department, but they also helped to push out career staff who objected. The Washington Post reported in 2005 that "Nearly 20 percent of the division's lawyers left in fiscal 2005, in part because of a buyout program that some lawyers believe was aimed at pushing out those who did not share the administration's conservative views on civil rights laws," adding that career lawyers complained about being left out of major hiring and policy matters.
When reluctant lawyers didn't quit on their own terms, they were sometimes removed. A 2009 Justice Department Inspector General's report found that Bradley Schlozman, an assistant attorney general in charge of hiring for the civil-rights division, had violated both department policy and federal civil-rights law in his hiring choices by improperly politicizing the process. The report also found he had lied to Congress. (The inspector general also blamed current Labor Secretary Alexander Acosta for failing to intervene.)
Schlozman didn't just seek to hire ideologically conservative attorneys; he also worked to force the existing ones out: "Schlozman frequently criticized the attorney staff in the Appellate Section and talked of his plan, when he 'came into power,' to move certain attorneys from the section to make room for  'real Americans.' Based on our interviews and our review of numerous e-mails, we found that Schlozman used the term 'real Americans' to refer to individuals with conservative political views."
Bringing the heft of the civil-rights division to bear on policing alleged discrimination against white students is likely to alienate career attorneys and push them out, whether that is by design or not. Meanwhile, the travails of the Bush-era Justice Department offer some warnings for Sessions and Trump. The voter-fraud push produced little, and the attempts to politicize the department ended disastrously. But the prospect of being able to weaken or defeat affirmative-action laws that conservatives have long detested make the temptation hard to resist.