The Hidden Meaning of Trump's Charlottesville Remarks
Reading between the lines of a denunciation of hatred, bigotry, and violence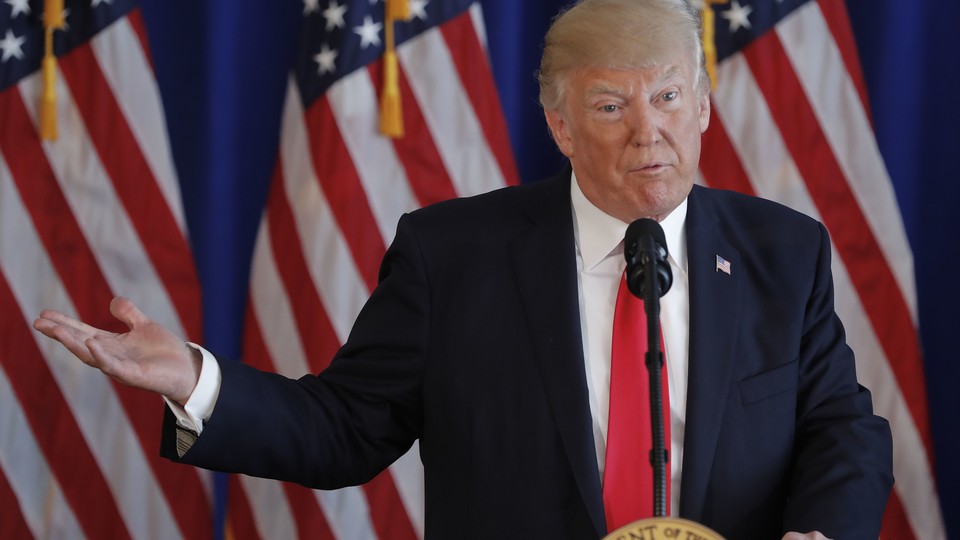 In the Trump presidency, pundits spend days debating the surprising—and often confusing—things Trump says in interviews and tweets. But often, the biggest questions are about what the president leaves unsaid.
After a day of violent protests in Charlottesville, Virginia, on Saturday, President Trump addressed the nation from his golf club in Bedminster, New Jersey: "We condemn in the strongest possible terms this egregious display of hatred, bigotry and violence on many sides, on many sides."
The white nationalists who gathered in Charlottesville and the protesters who turned out to challenge them blamed each other. But who, exactly, was Trump blaming?
Saturday's protests began as a group of white nationalists and white supremacists gathered for a "Unite the Right" rally to protest the city's decision to remove a statue of Confederate General Robert E. Lee from a local park. Shortly before Trump's remarks, a car plowed through a group of counter protesters, killing at least one person and injuring 19 others.
The president did not directly address the car attack—or specifically reference the white-nationalist rally that preceded it. Responding to an NBC reporter's follow-up questions, a White House official reiterated the president's statement, emphasizing that "there was violence between protestors and counter protestors today."
Trump's "many sides" statement suggests that there is blame to go around for the day's violence—that the counter protesters are as much to blame for hatred and bigotry as the "Unite the Right" attendees, whose speakers included former Ku Klux Klan Grand Wizard David Duke and self-identified white nationalist Richard Spencer.
Regardless of whether Trump's characterization is fair, it fails to acknowledge the partisan backdrop against which tensions bubbled over in Charlottesville. Even so, many Republicans and Democrats alike seem to hold only one side responsible for the day's events—the white supremacists who gathered in the first place—and some suggest that Trump's reluctance to condemn them specifically only serves to encourage them.
In a series of tweets, Senator Bernie Sanders called the demonstration in Charlottesville "a provocative effort by Neo-Nazis to foment racism." Former Vice President Joe Biden tweeted simply, "There is only one side." Florida Senator Marco Rubio, one of Trump's 2016 primary rivals, appeared to call out the president for not referring to the events as "a terror attack by #whitesupremacists." And Utah Republican Senator Orrin Hatch tweeted, "We should call evil by its name. My brother didn't give his life fighting Hitler for Nazi ideas to go unchallenged here at home."
Evan McMullin, a former CIA officer who ran as an independent against Trump in 2016, had among the strongest condemnations of Trump's statement of politicians on Twitter, saying Trump's vagueness about who is to blame signals "positively to the white supremacists whose support he enjoys."
Trump has been heavily criticized in the past for not doing more to condemn the hate groups that support him, including Duke and the Ku Klux Klan, which endorsed him during the campaign in 2016. And his presidential campaign was bolstered by the resurgence of the so-called alt-right and characters like white-nationalist Spencer.
Indeed, Duke later responded to Trump's statement on Twitter, telling him, "I would recommend you take a good look in the mirror & remember it was White Americans who put you in the presidency, not radical leftists."