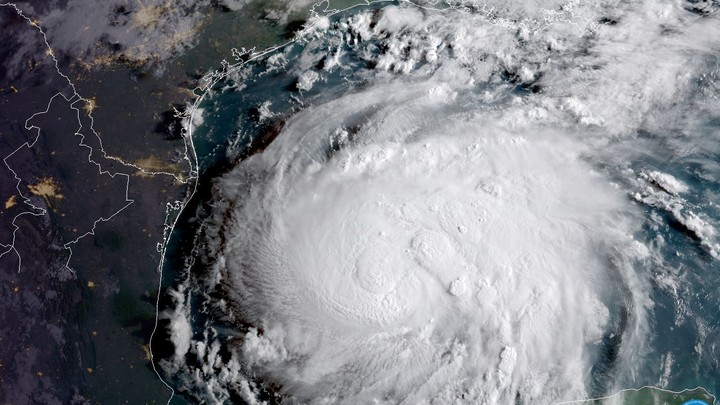 Today in 5 Lines
Hurricane Harvey is projected to hit the Texas coast on Friday night. Texas Governor Greg Abbott warned that the storm "could easily lead to billions of dollars of property damage and almost certainly loss of life." The Republican National Committee approved a resolution condemning white supremacists in light of the violence in Charlottesville, Virginia, earlier this month. In an interview with the Financial Times, Gary Cohn, Trump's top economic adviser, said the administration "can and must do better" in condemning hate groups. Federal Reserve Chair Janet Yellen defended regulations put in place after the 2008 financial crisis, maintaining that they are necessary in keeping the financial system safe.
---
Today on The Atlantic
Follow stories throughout the day with our Politics & Policy portal.
---
Snapshot
---
What We're Reading
Playing Defense: The 2018 midterm elections are fast-approaching. Here are the seven Senate seats that are most likely to flip. (Ben Kamisar and Lisa Hagen, The Hill)
Paul Ryan Under Pressure: A possible government shutdown, tensions within his own party, and an unpredictable president: The speaker of the House has quite a tough job. (Rachel Bade, Politico)
A 'Miniature Justice Department': Meet the various lawyers and intelligence experts that Robert Mueller has assembled to help with his Russia investigation. (Betsy Woodruff, The Daily Beast)
The Party of the Union: John Danforth, a former Republican senator from Missouri, argues that Donald Trump isn't a true Republican because he fails to unite the country. (The Washington Post)
A Bipartisan Ticket in 2020? Chris Cillizza considers the implications of an increasingly plausible bipartisan presidential ticket during a time when many constituents are deeply divided. (CNN)
From Christopher Columbus to Frank Rizzo: A growing list of sites dedicated to controversial figures are up for debate in local communities around the country. (Trip Gabriel, The New York Times)
---
Visualized
Eye on the Storm: Keep track of Hurricane Harvey's predicted path and projected rainfall. (The New York Times)
---
Question of the Week
On Monday night, President Trump offered a new strategy for the war in Afghanistan. He gave the Pentagon the authority to increase U.S. troops in the country by several thousand, but said he wouldn't talk specifically about troop levels. We asked if you agreed with Trump's strategy. Here's what you said:
Christopher Estep disagreed with the president's decision not to provide many details, timelines, or troop levels. "An informed citizenry, especially one in which civilian oversight of the military is so valued, is essential within our republic," he wrote.
Michael Reilly also disagreed with the plan:
There is a reason why Afghanistan is called "the graveyard of empires." History teaches us that from the time of Alexander the Great to the present, the unique geographical, tribal, and religious features of this country have frustrated and ultimately defeated the great armies that sought to conquer it. Unfortunately, our president doesn't study history.
Andrew G. Ahern III noted that there "is nothing really new about it, and it is wrong to continue to ask soldiers to face death or maiming in a fight that can't be won in any real sense of that word." Ahern said he marched against the Vietnam War for similar reasons: "We are not winning the hearts and minds of the Afghan people, and our continued presence there will not bring a better result."
Thanks to everyone who submitted responses, and stay tuned for next week's Question of the Week.
-Written by Lena Felton (@lenakfelton), Elaine Godfrey (@elainejgodfrey), and Taylor Hosking (@Taylor__Hosking)
We want to hear what you think about this article. Submit a letter to the editor or write to letters@theatlantic.com.
Lena Felton
is a former editorial fellow at
The Atlantic
.
Elaine Godfrey
is a staff writer at
The Atlantic
, where she covers politics.