The Atlantic Politics & Policy Daily: Everything Is Fine
When responding to a question about the "acrimony" between Trump and Congress, White House Press Secretary Sarah Huckabee Sanders said "the relationships are fine."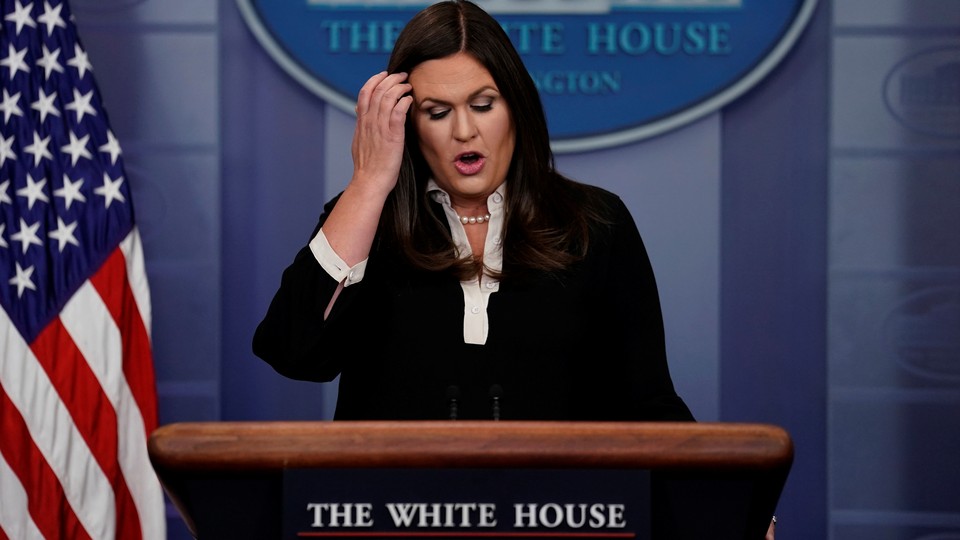 Today in 5 Lines
President Trump criticized Republican leadership on Twitter, calling the debt-ceiling debate "a mess." When responding to a question about the "acrimony" between Trump and Congress, White House Press Secretary Sarah Huckabee Sanders said "the relationships are fine." Sanders also condemned Senator Bob Corker's comments about Trump's competence as "ridiculous and outrageous." After a review, Interior Secretary Ryan Zinke announced that he won't eliminate any national monuments, but he is recommending changes to a "handful" of them. Cities in Texas have begun evacuating as Tropical Storm Harvey, which is forecast to become a category 3 hurricane, intensifies.
---
Today on The Atlantic
The Establishment Stands Behind Trump: The Atlantic asked 146 Republican state party chairs and national committee members about President Trump's response to the violence in Charlottesville, Virginia. Of the 22 who responded, only seven of them were critical. (McKay Coppins and Elaine Godfrey)

Shut it Down: On Tuesday night, President Trump threatened to shut down the government over funding for his border wall, something Republican leaders say they want to avoid. But is a government shutdown inevitable? (Russell Berman)

Unconstitutional: For the fifth time, a court has ruled that a Texas voter-ID law is unconstitutional—and the decision could have major effects for state-election laws down the line. (Vann R. Newkirk II)
Follow stories throughout the day with our Politics & Policy portal.
---
Snapshot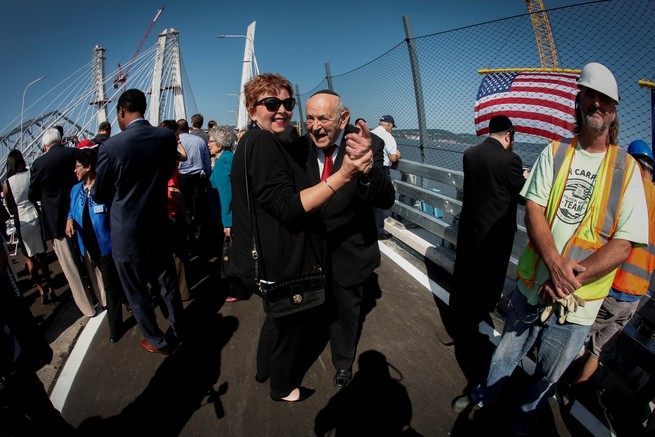 ---
What We're Reading
What Our Monuments Teach Us: In an interview with NPR, Jennifer Allen, an assistant professor of German history at Yale University, explains what Germany can teach the U.S. about reckoning with the past. (Leah Donnella, Kat Chow, and Gene Demby)
One Man's Trash: Rather than destroying Confederate statues, they should be moved into museums. After all, "when you find yourself at a crime scene, you don't destroy evidence." (Holland Cotter, The New York Times)
What Trump Sees: White House Chief of Staff John Kelly has introduced a system similar to those of previous administrations that will allow him to vet everything before it reaches the president's desk. (Eliana Johnson and Nancy Cook, Politico)
An October Challenge: This is what the Bipartisan Policy Center predicts will happen if Congress isn't able to raise the debt ceiling by October. (Jeanne Sahadi, CNN)
'Horsemen of the Trumpocalypse': From Scott Pruitt to Betsy Devos, John Nichols and Steve Brodner lay out the agendas of "the most dangerous people in America." (The Nation)
---
Visualized
Boots Around the Globe: The U.S. has roughly 200,000 active-duty personnel stationed around the world. This map shows where they are. (Lazaro Gamio, Axios)
---
Question of the Week
On Monday night, President Trump offered a new strategy for the war in Afghanistan. He gave the Pentagon the authority to increase U.S. troops in the country by several thousand, but said he wouldn't talk specifically about troop levels. The U.S. has been at war in Afghanistan for 16 years, but polls show that only about 23 percent of Americans believe that the U.S. is winning the conflict.
Do you agree with Trump's strategy? Why or why not?
Share your response here, and we'll feature a few in Friday's Politics & Policy Daily.
-Written by Elaine Godfrey (@elainejgodfrey)