The Atlantic Politics & Policy Daily: McConnell: Nothing to See Here
The majority leader said he and Trump are working together on "shared goals" and those who say otherwise are "clearly not part of the conversation."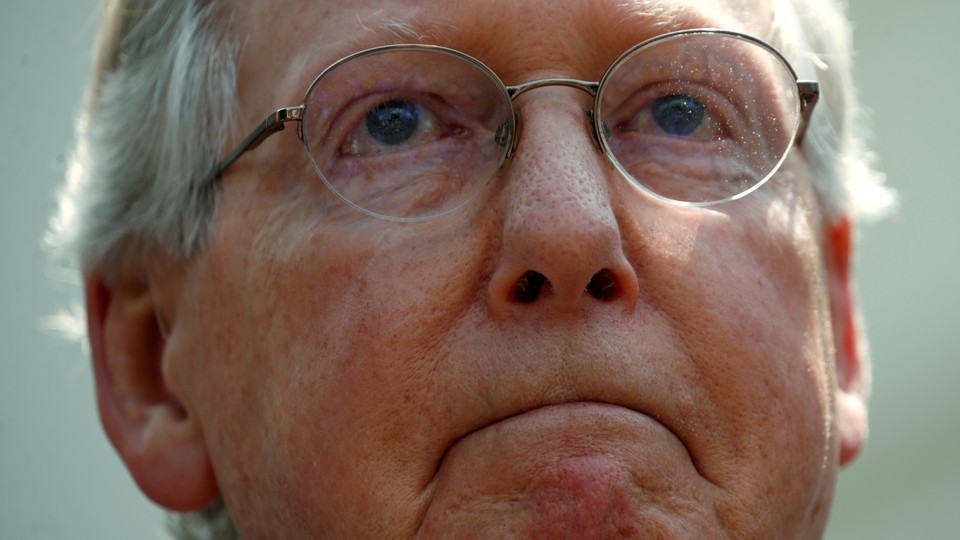 Today in 5 Lines
CNN reports that the White House has paperwork ready to pardon former Maricopa County Sheriff Jeff Arpaio, after President Trump hinted that he would do so at a rally in Phoenix on Tuesday night. House Speaker Paul Ryan said he doesn't think lawmakers are interested in shutting down the government over funding for Trump's border wall, as Trump suggested. Workers in Charlottesville, Virginia, covered up two Confederate statues to signal the city  mourning the death of Heather Heyer, who was killed August 12 when a white-nationalist driver drove his car into a crowd of demonstrators. Jared Kushner, Trump's son-in-law and adviser, met with Egyptian President Abdel-Fattah el-Sisi before traveling to Israel to continue Middle-East peace discussions. Despite Trump's recent criticism of Mitch McConnell, the majority leader said he and Trump are working together on "shared goals" and those who say otherwise are "clearly not part of the conversation."
---
Today on The Atlantic
Party of Enablers: As President Trump uses increasingly destructive rhetoric, "the stain and responsibility for [his] ungoverned tone stick more lastingly to the Republican establishment." (James Fallows)

What's in a Name?: There are 11,518 Robert Lees living in the United States. Julie Beck spoke with one of them about what it's like to share a name with the Confederate general.

Roosevelt vs. Trump: Seventy-seven years ago, former President Franklin D. Roosevelt gave a speech in Charlottesville, Virginia, that unified America, while President Trump's recent response to the violence in Charlottesville divided it. (Michael Fullilove)
Follow stories throughout the day with our Politics & Policy portal.
---
Snapshot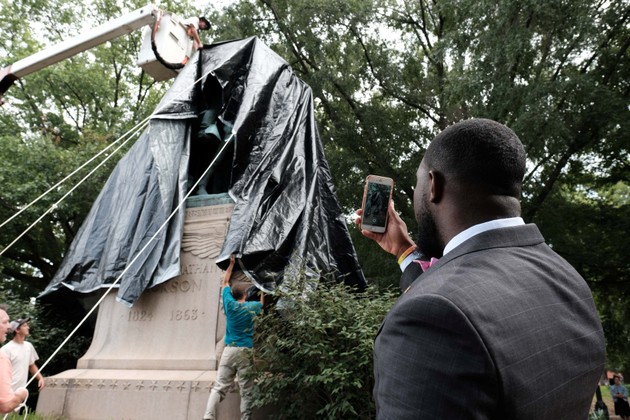 ---
What We're Reading
Who Is 'Michael the Black Man'?: The man standing behind President Trump at Tuesday night's rally in Phoenix holding the "Blacks for Trump" sign runs several conspiracy websites—and was once a member of a violent religious cult. (Katie Mettler and Lindsey Bever, The Washington Post)
A Losing Battle: During his time in the White House, Steve Bannon was constantly fighting for the "soul of Trumpism." Last week, Bannon lost that battle. (Ryan Lizza, The New Yorker)
'Either a Ballot or a Bullet': It's unacceptable to resort to political violence, argues Ben Shapiro: "Words can be awful; ideologies can be evil. But violence breaks a society in half." (National Review)
'12 Days That Stunned a Nation': NBC News spoke with nearly a dozen campaign operatives for Hillary Clinton and Donald Trump to understand how the former secretary of state lost an election everyone expected her to win. (Mark Murray)
Obama Alumni: In January, former President Barack Obama encouraged people to "run for office yourself" if they are unhappy with their elected officials. Now, dozens of former Obama staffers are doing just that. (Seema Mehta, Los Angeles Times)
---
Visualized
A War in Pictures: Check out this gallery for a glimpse into the United States' 16-year-long war in Afghanistan. (Rod Nordland, The New York Times)
It's Complicated: This timeline shows President Trump's long and complicated history with race. (Lisa Desjardins, PBS NewsHour)
---
Question of the Week
On Monday night, President Trump offered a new strategy for the war in Afghanistan. He gave the Pentagon the authority to increase U.S. troops in the country by several thousand, but said he wouldn't talk specifically about troop levels. The U.S. has been at war in Afghanistan for 16 years, but polls show that only about 23 percent of Americans believe that the U.S. is winning the conflict.
Do you agree with Trump's strategy? Why or why not?
Share your response here, and we'll feature a few in Friday's Politics & Policy Daily.
-Written by Elaine Godfrey (@elainejgodfrey)