The Atlantic Politics & Policy Daily: Moon Trumps Sun
Americans watched as the first total solar eclipse to cross the U.S. in decades swept across the country.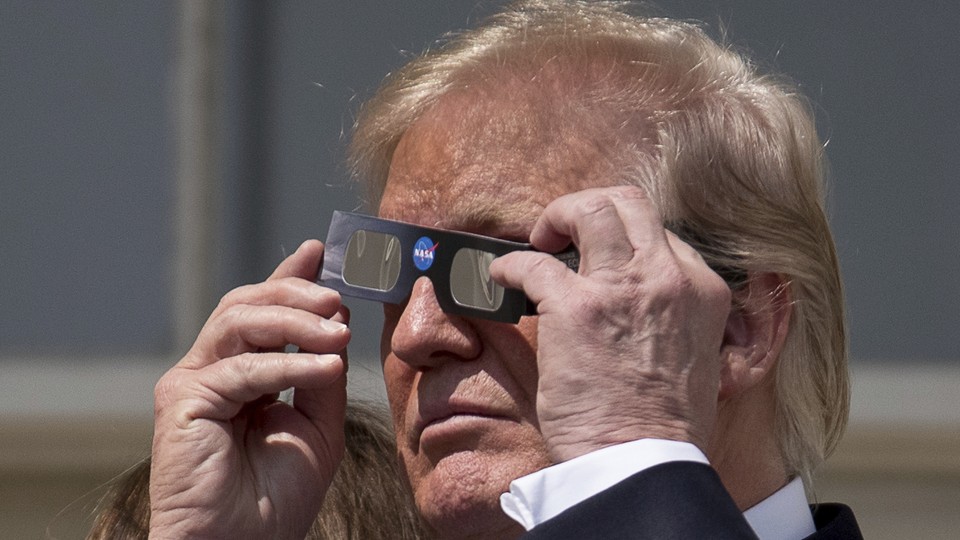 Today in 5 Lines
President Trump will deliver an address on the U.S. strategy in Afghanistan at 9 p.m. ET from Fort Myer in Arlington, Virginia. Americans watched as the first total solar eclipse to cross the U.S. in decades swept across the country. Federal authorities said Andrew Schneck, a 25-year-old Houston man, was charged with attempting to bomb a Confederate statue. The Navy's top admiral ordered a review of training after a collision between a Navy warship and a commercial vessel east of Singapore left 10 sailors missing. Spanish police fatally shot Younes Abouyaaqoub, the man suspected of driving the car that plowed into a crowd in Barcelona last week.
---
Today on The Atlantic
Old Is New Again: President Trump's endorsement of the RAISE Act, a measure that would drastically reduce legal immigration, has presented immigration-restrictionist groups with the best opportunity to overhaul the U.S. immigration system in a generation. (Priscilla Alvarez)

Do You Really Want Single Payer?: Progressives have been pushing for a "Medicare for all" system in the United States, but the idea has some potentially big downsides. (Olga Khazan)

Not Working Out: Despite his misdeeds, Republicans in Congress supported Donald Trump in order to push their agenda. But it appears that their "devil's bargain" may soon become a "devilish disaster." (Norm Ornstein)
Follow stories throughout the day with our Politics & Policy portal.
---
Snapshot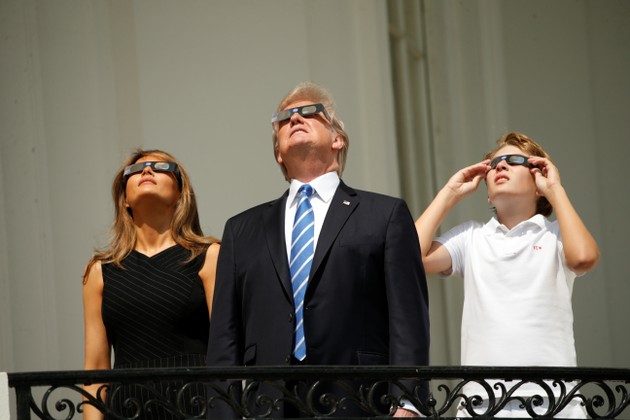 ---
What We're Reading
Out of Money: In an interview with USA Today, Secret Service Director Randolph "Tex" Alles said the agency can no longer pay hundreds of its agents, partly because of the high costs of protecting the Trump family and its multiple residences. (Kevin Johnson)
Winging It: The dismissal of White House Chief Strategist Steve Bannon puts President Trump at risk of losing his connection to his political base. (Robert W. Merry, The American Conservative)
The Mystery of 'Our': By calling Confederate monuments part of "our history and culture," President Trump has entered a contentious, centuries-long debate over who, exactly, is an American. (Eric Foner, The New York Times)
'They Don't Talk Anymore': Interviews with dozens of NASCAR fans at a speedway in Tennessee reveal a sharpening divide between people who support Trump—and people who don't. (Annie Linskey, The Boston Globe)
What the Left Gets Wrong: Amy Harder explains the three ways liberals are hurting their own efforts to address climate change. (Axios)
---
Visualized
Happy Eclipse: Use this tool to see how many total solar eclipses are left in your lifetime—and where you'd need to be to see them. (Denise Lu, The Washington Post)
Politicians—They're Just Like Us!: Check out these pictures of Attorney General Jeff Sessions, Texas Senator Ted Cruz, and the entire Bush family taking in the solar eclipse. (Caroline Kenny, CNN)
---
Question of the Week
On Monday night, President Trump is expected to announce that the United States will send 4,000 additional troops to Afghanistan. The U.S. has been at war in Afghanistan for 16 years, but polls show that only about 23 percent of Americans believe that the U.S. is winning the conflict.
Do you agree with Trump's strategy? Why or why not?
Share your response here, and we'll feature a few in Friday's Politics & Policy Daily.
-Written by Elaine Godfrey (@elainejgodfrey)