The Atlantic Politics & Policy Daily: Loose Bannon
President Trump fired Steve Bannon, the former Breitbart editor who helped fuel Trump's rise.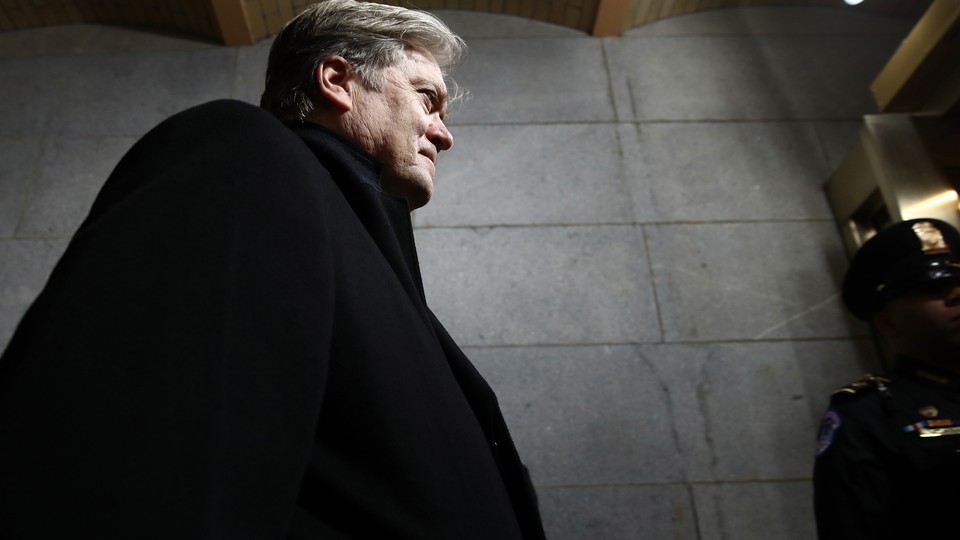 Today in 5 Lines
President Trump fired Steve Bannon, the former Breitbart editor who helped fuel Trump's rise. Friends of the ousted White House chief strategist told The Atlantic he's "going nuclear." Charlottesville Mayor Mike Signer reversed his position on taking down a statue of Confederate General Robert E. Lee, saying he will instead push for its immediate removal. In a letter, the members of the President's Committee on the Arts and Humanities announced their resignation from the advisory group, citing Trump's response to the violence in Charlottesville. Trump met with his national-security team at Camp David to discuss U.S. strategy in Afghanistan.
---
Today on The Atlantic
Follow stories throughout the day with our Politics & Policy portal.
---
Snapshot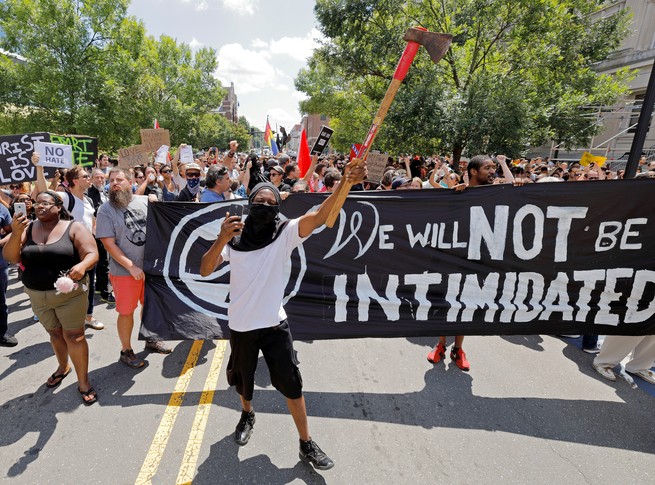 ---
What We're Reading
Rise and Fall: After nearly a year working for team Trump—including seven months of political infighting and high-profile legislative failures—White House Chief Strategist Steve Bannon has finally been ousted from the administration. (Tiny Nguyen, Vanity Fair)
How to Chauffeur a Congressman: An eight-page memo obtained by Politico provides detailed instructions for escorting Indiana Representative Todd Rokita around the district. Tip: Always have black coffee at the ready, and don't bother with small talk. (John Bresnahan and Rachael Bade)
What Is Antifa?: Members of the "anti-fascist" movement clashed with white nationalists during last weekend's mayhem in Charlottesville, Virginia. Many of its adherents believe "the ascendant new right in the country requires a physical response." (Thomas Fuller, Alan Feuer, and Serge F. Kovaleski, The New York Times)
To Remove or Not to Remove: On Thursday, President Trump tweeted that removing Confederate statues destroys "the history and culture of our great country." The statement might rank as one of his least controversial among the general public because many Americans aren't sure how they feel about the issue. (Clare Malone, FiveThirtyEight)
The ACLU Is Wrong: The Second Amendment is under attack, argues David French, despite the fact that white supremacists at the rally in Charlottesville "used virtually every form of weapon except guns." (National Review)
---
Visualized
Disappearing Act: This photo, captured on January 28, 2017, shows Donald Trump's rapidly disappearing inner circle. (Johnny Simon, Quartz)
---
Question of the Week
Often in moments of public crisis, people turn to books or readings to make sense of it. This week, we asked you what books or readings you turn to for comfort or reflection in uncertain times. Here's what you said:
Garrision from Virginia said Superman comics have always helped him to reflect:
From his earliest appearances in the 1930's, he has been a progressive figure fighting for all people. Action Comics #775, a story entitled "What's So Funny About Truth, Justice, and the American Way?" encapsulates this: When a new group of "heroes" become popular for their hyper violent methods, Superman takes the opportunity to show them, and the world, that there's always a better way—that violence doesn't have to be the answer … I like to think that Superman is right, and that "a world where dignity, honor, and justice becomes the reality we all share" can be made.
And Annie, from Massachusetts, says she likes to read "Anne of Green Gables" for a little joy and peace: "It enchants me each time I read it, and is my good medicine to mend any heartache, especially one I feel for our nation at the present time."
We also created a reading list of The Atlantic's coverage of the long legacy of Confederate symbols.
Thanks to everyone who submitted responses, and stay tuned for next week's Question of the Week.
-Written by Elaine Godfrey (@elainejgodfrey)