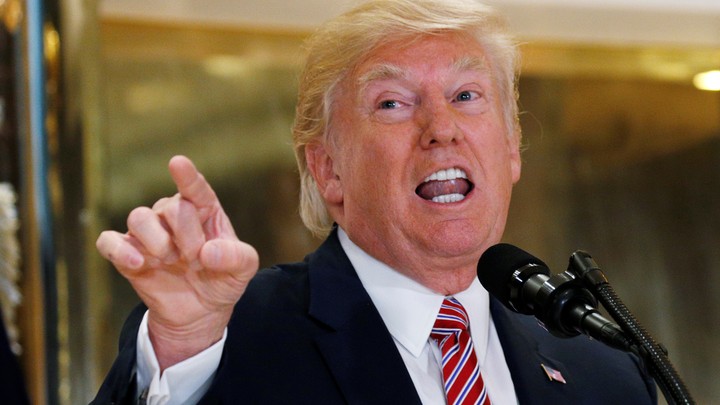 Today in 5 Lines
During a news conference, President Trump again asserted that there was "blame on both sides" for the violence in Charlottesville, Virginia, over the weekend, adding that the "alt-left" should also be held accountable. Earlier in the day, Trump blasted business leaders who have resigned from the American Manufacturing Council over his response to the weekend's unrest. He also reaffirmed his support for Alabama Senator Luther Strange, as voters headed to the polls to cast their ballot in the state's special election primary. Trump signed an executive order speeding up the approval process for the building of highways, bridges, and other infrastructure projects. The Congressional Budget Office projects that eliminating the Affordable Care Act's cost-sharing subsidies would increase premiums by 2018 and increase the deficit by $194 billion in the next ten years.
---
Today on The Atlantic
'From Trump Aide to Single Mom': As a campaign aide, A.J. Delgado helped lead Donald Trump's team to victory. But after an affair with another campaign staffer and an unexpected pregnancy, she's ended up on the sidelines. (McKay Coppins)

'They Took Old Faithful Down': On Monday night, a group of protesters toppled a Confederate statue in Durham, North Carolina. David A. Graham reports that when the monument fell, there was an "air of euphoria in the crowd."

The Mooch Is Back: In an interview with The Late Show's Stephen Colbert, Anthony Scaramucci, the former White House communications director, tried to restore his image by being charming and funny. But the audience wasn't ready to laugh. (Megan Garber)
Follow stories throughout the day with our Politics & Policy portal.
---
Snapshot
---
What We're Reading
Johnny-Come-Lately: Political analysts say President Trump's drawn-out response to the violence in Charlottesville, Virginia, over the weekend was a way to placate his base. (Eliana Johnson, Politico)
Who Are the Obama-Trump Voters?: Nate Silver explores why voters who supported former President Obama ended up voting for Donald Trump in 2016—and why it could be a challenge for Democrats to win them back. (FiveThirtyEight)
Sound Familiar?: The man accused of plowing his car into a group of protesters in Charlottesville, Virginia, over the weekend has a history of domestic violence—"a common thread linking many mass killers and violent terrorists." (Melissa Jeltsen, HuffPost)
'Cut It Out or Be Destroyed': While the American right has become seduced by the growing alt-right movement, the American left has ignored the escalating violence of the "Antifa" movement within its ranks. Both must be stopped. (Ben Shapiro, National Review)
A New Revolution: The unrest in Charlottesville prompted Robin Wright to ask five historians a question: Will there be another Civil War in America? (The New Yorker)
---
Visualized
'Justifiable' Killings: In the United States, when a white person kills a black man, he or she often won't face legal consequences. These graphics illustrate the deep racial disparity in homicide convictions in the country. (Daniel Lathrop and Anna Flagg, The New York Times)
---
Question of the Week
Often in moments of public crisis, people turn to books or readings to make sense of it. What books or readings do you turn to for comfort or reflection in uncertain times?
Share your response here, and we'll feature a few in Friday's Politics & Policy Daily.
-Written by Elaine Godfrey (@elainejgodfrey)
We want to hear what you think about this article. Submit a letter to the editor or write to letters@theatlantic.com.
Elaine Godfrey
is a staff writer at
The Atlantic
, where she covers politics.