The Atlantic Politics & Policy Daily: Locked and Loaded
President Trump said that the U.S. military was "locked and loaded" in the event of an attack from North Korea.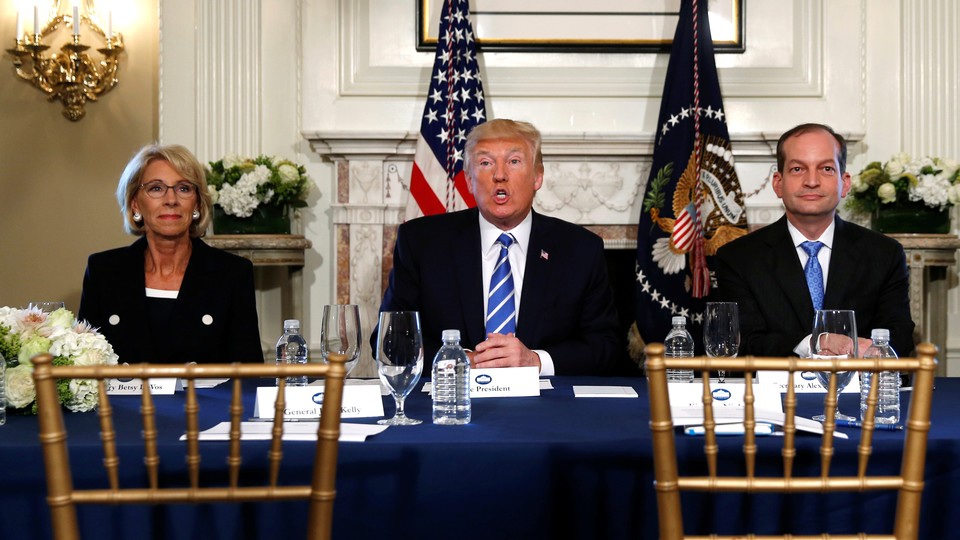 Today in 5 Lines
President Trump said that the U.S. military was "locked and loaded" in the event of an attack, later adding that North Korean leader Kim Jong Un "will regret it fast" if he attacks or issues an "overt threat" to Guam or a U.S. ally. Senate Leadership Fund, a super PAC, expressed interest in musician Kid Rock's proposed Senate run. The House Freedom Caucus filed a petition calling for a House vote to repeal the Affordable Care Act. Reuters reports that Trump will send his son-in-law and adviser, Jared Kushner, to the Middle East soon to help facilitate Israeli-Palestinian peace talks. Trump reportedly plans to return to Washington for a brief visit on Monday, interrupting a two-day trip to New York.
---
Today on The Atlantic
Follow stories throughout the day with our Politics & Policy portal.
---
Snapshot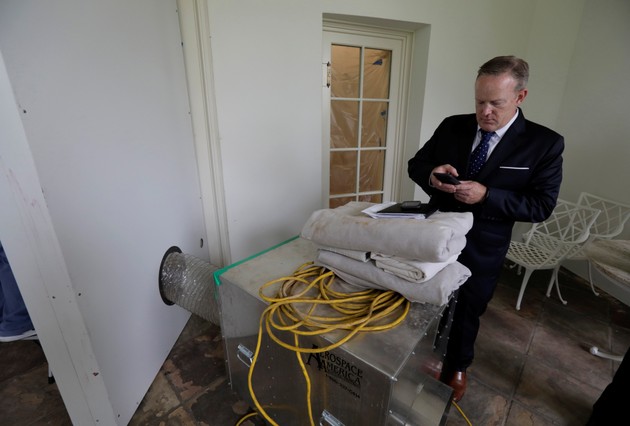 ---
What We're Reading
Not Consulted: President Trump's judicial nominees are reportedly avoiding meetings with Senate Democrats, breaking one of the chamber's longstanding traditions. (Seung Min Kim, Politico)
Dear John Kelly: Two former chiefs of staff offer three pieces of advice on how to run the White House. (Mack McLarty and Andrew Card, The Dallas Morning News)
Money-Maker: The Washington Post reports that, in its first four months in business, The Trump International Hotel in Washington, D.C. has made $1.97 million in profit—a 192 percent improvement over the Trump family's initial projections. (Jonathan O'Connell)
Look Out: Republican senators who have opposed President Trump, like Arizona's Jeff Flake, Nevada's Dean Heller, and even Majority Leader Mitch McConnell, are facing the president's wrath on Twitter and attracting primary challengers. (Alex Pappas, Fox News)
'A Plan for North Korea': Former NATO Supreme Allied Commander James Stavridis has some words of wisdom for President Trump in dealing with North Korea: Act less like Queen Daenerys from Game of Thrones, and more like Cool Hand Luke. (The Boston Globe)
---
Visualized
Bye-Bye, Bear Ears?: Interior Secretary Ryan Zinke is reviewing 27 of the country's national monuments to determine which, if any, should be scaled back or returned to the states. Here are five sites to keep an eye on. (Lisa Friedman, Nadja Popovich, and Matt McCann, The New York Times)
To Repeal or Not to Repeal: This graph uses poll data from the Kaiser Family Foundation to illustrate the massive disconnect between what Democrat and Republican voters want to happen next on health care. (Chris Canipe, Axios)
---
Question of the Week
Last Friday, President Trump headed to his golf club in New Jersey for a 17-day working vacation. This week, we asked where you would vacation if you were president. Here's what you said:
For Emma Salter, there's no question about it: As president, she'd head to northern Michigan.
"I am a proud Michigander and I often miss the Mitten State. It is absolutely picturesque in the homiest of ways. You can meander through Traverse City, visit iconic locations, eat cherries, stop for fudge on Mackinac Island, and visit beautiful wineries."
Stephen said he'd make a point to always vacation at a national park "to draw public attention to our amazing and beautiful national treasures. And, I would prefer to vacation at the parks in the mountains so that I could enjoy fly fishing between tweets."
And John explains why, as president, he'd stick with Camp David in Maryland:
I love the woods, and in terms of getting away from 'it all' I presume there is no better place than a government compound where nearly everyone could be excluded. Another benefit is little or no additional costs to the taxpayer.
John adds, "If Trump doesn't like it there, I'll be happy to go."
Thanks to everyone who submitted responses, and stay tuned for next week's Question of the Week.
-Written by Elaine Godfrey (@elainejgodfrey)