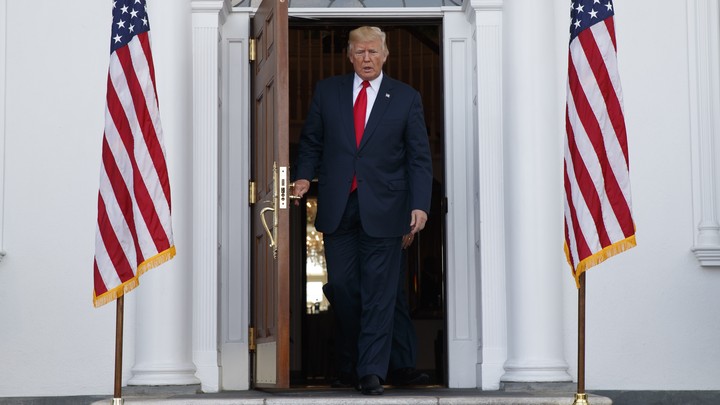 Today in 5 Lines
President Trump continued to publicly criticize Majority Leader Mitch McConnell for the party's failure to repeal and replace the Affordable Care Act. During a brief press appearance, he declined to say whether McConnell should resign, but told reporters they should ask him again down the road. Trump also doubled down on his threats to North Korea, saying that the country should "get their act together or they're going to be in trouble like few nations ever have been in trouble in this world." Trump announced that he is declaring the opioid crisis a national emergency. Senate Armed Services Committee Chairman John McCain declared "America is adrift in Afghanistan," and said that he will seek a vote on his "strategy for success" when the chamber returns from recess.
---
Today on The Atlantic
Follow stories throughout the day with our Politics & Policy portal.
---
Snapshot
---
What We're Reading
Anybody?: The Washington Examiner's Sarah Westwood describes the Trump administration's struggle to find a new communications director: According to one source, "there are very few out there that would want to, honestly, serve in this White House."
A Party Divided: A fight between two California Democrats, an establishment party leader and a local activist, provides "a cautionary tale for a national party debating how to rebuild and seize back power." (Adam Nagourney, The New York Times)
Mike Pence: Deep State?: Recent reports suggest that Vice President Mike Pence is preparing for President Trump's downfall. But is he actively working to make it happen? (Brian Beutler, New Republic)
The Pressure Is On: Special Counsel Robert Mueller is intensifying his investigation into Donald Trump's former campaign chairman, Paul Manafort, by subpoenaing his bank transactions. (Christian Berthelsen and Greg Farrell, Bloomberg)
Being Chelsea Manning: In an interview with Vogue, Chelsea Manning, the former Army analyst who served prison time for disclosing classified documents to WikiLeaks, describes coming out as transgender and defends her choice to leak information. (Nathan Heller)
---
Visualized
Welcome to Guam: On Thursday, North Korea threatened to launch an attack on the island, roughly 2,100 miles southeast of Pyongyang. These photos document daily life on the tiny U.S. territory. (Nancy Borowick and Megan Specia, The New York Times)
---
Question of the Week
Last Friday, President Trump headed to his golf club in New Jersey for a 17-day working vacation. For years, presidents have left the nation's capital for a few days in the summer to head to different destinations around the country: Harry Truman visited Key West, Florida, Ronald Reagan rode horses in California, and Barack Obama went to Martha's Vineyard.
If you were president, where would you vacation—and why?
Share your response here, and we'll feature a few in Friday's Politics & Policy Daily.
-Written by Elaine Godfrey (@elainejgodfrey)
We want to hear what you think about this article. Submit a letter to the editor or write to letters@theatlantic.com.
Elaine Godfrey
is a staff writer at
The Atlantic
, where she covers politics.