The Atlantic Politics & Policy Daily: Fire and Fury
President Trump warned that North Korea "will be met with fire and fury like the world has never seen" if it continues to threaten the United States.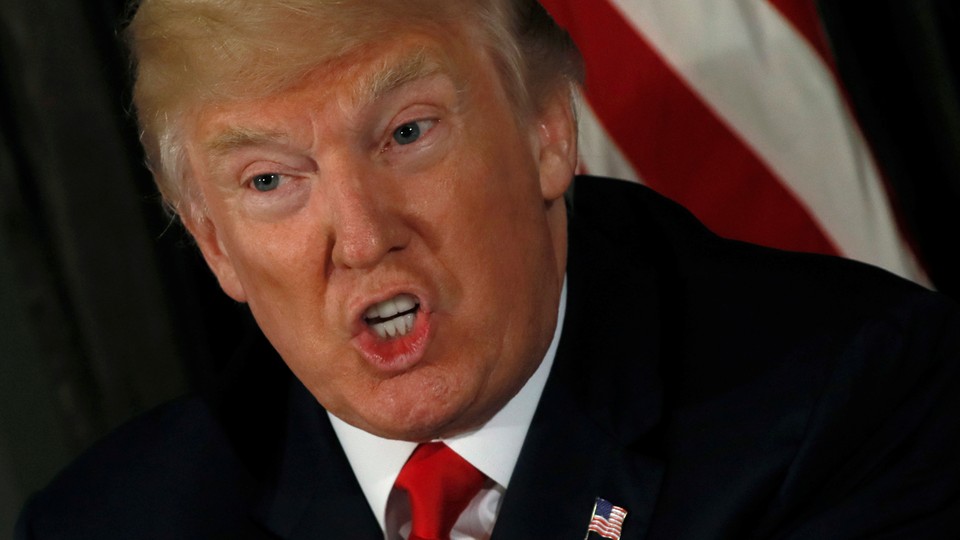 Today in 5 Lines
President Trump warned that North Korea "will be met with fire and fury like the world has never seen" if it continues to threaten the United States. Earlier in the day, North Korea said it would take "physical action" in retaliation against newly imposed sanctions. Trump also vowed that the United States "will win" the fight against the opioid epidemic, but introduced no new policies to do so. Democrats on the House Oversight Committee sent letters to federal agencies requesting documentation of payments being made to the Trump Organization or any Trump-owned properties. The Trump administration is reportedly considering a plan to turn over parts of the U.S. war in Afghanistan to private contractors.
---
Today on The Atlantic
Follow stories throughout the day with our Politics & Policy portal.
---
Snapshot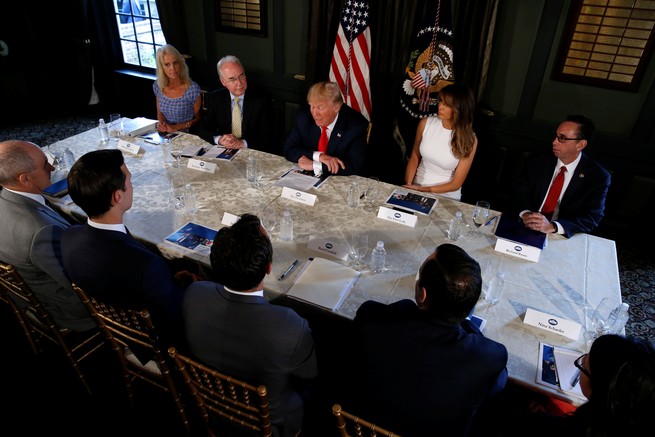 ---
What We're Reading
What If Pence Becomes President?: Recent media reports that the vice president is angling to launch his own presidential bid have Republicans imagining what a Pence presidency might look like. (Jason Zengerle, GQ)
'Evidence for a Changing Climate Abounds': The New York Times reports that scientists are worried the Trump administration will dismiss—or suppress—a draft climate change report, which is currently awaiting approval by the administration. (Lisa Friedman)
Will the Sanctions Work?: The United Nations Security Council voted to impose new sanctions on North Korea after the country test-launched two intercontinental missiles. The new measures could have a significant impact—but only if UN member states implement them. (Adam Taylor, The Washington Post)
The Progressive About-Face on Russia: Russia has attempted to sow chaos in Western democracies for years, argues Victor Davis Hanson, but it wasn't until Donald Trump won in November that Democrats started to care about it. (National Review)
'The Propaganda Document': Vice News reports that twice a day, White House officials present President Trump with a packet containing positive news stories and flattering photos of himself. (Alex Thompson)
---
Visualized
Could You Immigrate?: Two Republican senators recently introduced legislation that would dramatically reduce legal immigration levels. Answer these questions to see if you would qualify to enter under the proposed criteria. (Lisa Marie Segarra and David Johnson, Time)
---
Question of the Week
On Friday, President Trump headed to his golf club in New Jersey for a 17-day working vacation. For years, presidents have left the nation's capital for a few days in the summer to head to different destinations around the country: Harry Truman visited Key West, Florida, Ronald Reagan rode horses in California, and Barack Obama went to Martha's Vineyard.
If you were president, where would you vacation—and why?
Share your response here, and we'll feature a few in Friday's Politics & Policy Daily.
-Written by Elaine Godfrey (@elainejgodfrey)