The Atlantic Politics & Policy Daily: Gym, Trump, Laundry
President Trump heads to New Jersey, where he'll spend a 17-day working vacation at his golf club.
Today in 5 Lines
Attorney General Jeff Sessions said the Justice Department is "reviewing policies affecting media subpoenas" as part of its effort to crack down on leaks. President Trump touted the news of Toyota and Mazda's plans to jointly build a vehicle-assembly plant in the U.S., calling it a "great investment in American manufacturing." He heads to New Jersey, where he'll spend a 17-day working vacation at his golf club. The Labor Department announced that the U.S. economy added 209,000 jobs in July. Martin Shkreli, the former pharmaceutical executive best known for raising the price of a life-saving drug, was found guilty of three counts of securities fraud.
---
Today on The Atlantic
Follow stories throughout the day with our Politics & Policy portal.
---
Snapshot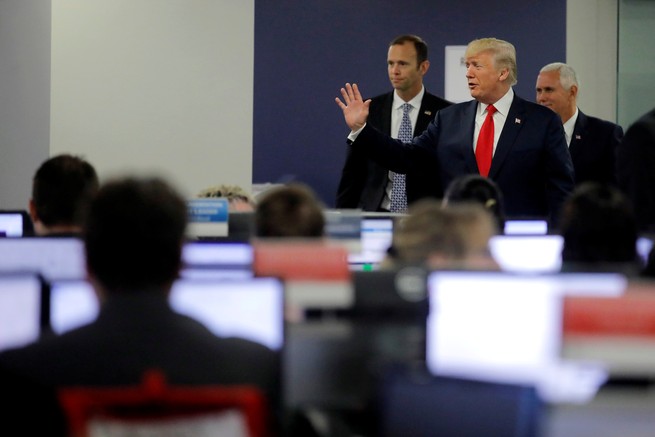 ---
What We're Reading
Easier Than Health Care: House Speaker Paul Ryan told Republican voters in Mukwonago, Wisconsin, this week that he hopes to score some legislative achievements before the 2018 midterms. "If we don't do our job we will depress turnout," he said. (Nico Savidge, Wisconsin State Journal)
The Disadvantaged in Trump's America: Jelani Cobb argues that the Trump administration's actions and beliefs point to an "over-all endeavor to create a kind of racial protectionism, to socially engineer a world in which whites—the unheralded disadvantaged class in America—once again have a deck stacked in their own favor."  (The New Yorker)
ICE Entanglements: Local jails in Yuba, California, have been working with Immigration and Customs Enforcement for years, but as the administration ramps up arrests, some officials worry an increase in detainees will put too much pressure on the system. (Lisa Pickoff-White and Julie Small, KQED News)
Sessions Takes Action: Despite public criticism from the president, Attorney General Jeff Sessions is moving forward with his agenda. "He has a clear ideology, and he is willing to endure some nasty words from President Trump in order to enact it," writes David Leonhardt. (The New York Times)
Leave McMaster Alone: If conservatives want to see the Trump administration succeed, argues Ian Tuttle, they ought to work with National-Security Adviser H.R. McMaster, not against him. (National Review)
---
Visualized
Trump's Map of America: Check out President Trump's take on the United States, where New Hampshire is a "drug-infested den" and Ohio is home to "true American patriots." (Amber Phillips and Shelly Tan, The Washington Post)
Taking Stock of the Economy: President Trump has touted the health of the economy as a sign of his success in office. Take a look at whether those claims are substantiated or not. (Alicia Parlapiano, Nelson D. Schwartz, and Karen Yourish, The New York Times)
---
Question of the Week
After a tumultuous few weeks drafting—and failing to pass—a new health-care plan, Congress is preparing to take up tax reform, which could involve rate cuts for businesses and individuals. This week, we asked our Politics & Policy Daily readers if they agreed with lawmakers' plans to shift to tax reform and, if not, which issues they would rather see lawmakers set their sights on.
Alan agrees that Congress should shift to tax reform—that any more time spent on health care is a waste of time. He wants to see a tax plan that includes realistic ways to pay for expenses, "not pie in the sky growth projections, not fixing highways and turning them into toll roads, not paying for defense or Mexican border walls with funding."
Other readers, though, didn't think that tax reform should be lawmakers' highest priority. Maria Chesser expressed a view shared by many other responders: Congress should tackle infrastructure next instead. Here's what she has to say:
They might actually succeed in building bridges between congressional factions by working together to fund and build actual bridges, roads, etc. Let's all try to agree on building something concrete before tackling yet another philosophically divisive issue, shall we?
Thanks to everyone who submitted responses, and stay tuned for next week's Question of the Week.
-Written by Lena Felton (@lenakfelton) and Taylor Hosking (@Taylor__Hosking)