The Atlantic Politics & Policy Daily: Miller Time
White House adviser Stephen Miller got into a heated exchange with CNN reporter Jim Acosta over a proposal to dramatically reduce legal immigration to the United States.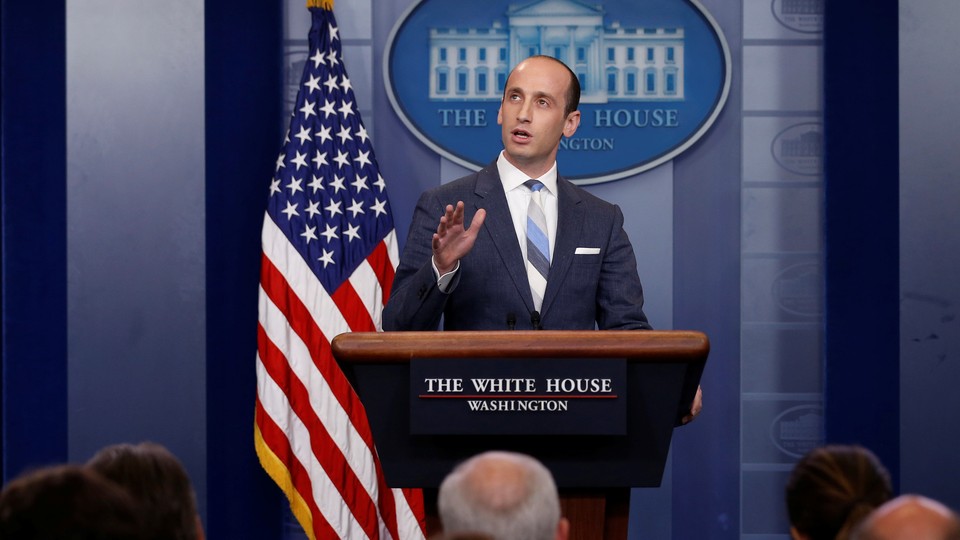 Today in 5 Lines
President Trump signed a bill that imposes new sanctions on Russia, despite calling it "seriously flawed." He, along with two Republican senators, unveiled a plan to dramatically reduce legal immigration to the United States. At a White House press briefing, senior policy adviser Stephen Miller got into a heated exchange with CNN reporter Jim Acosta over the proposal. National-Security Adviser H.R. McMaster removed Ezra Cohen-Watnick, the senior director for intelligence programs. Former FBI Director James Comey signed a book deal; the work, to be published next spring, will detail his experiences in government and his recent clashes with Trump.
---
Today on The Atlantic
More Than Meets the Eye: David A. Graham argues that although it may not seem like it—amid reports of chaos within the White House and legislative failures in Congress—President Trump is "getting some consequential things done."

The Controversial Memo That Cost an NSC Staffer His Job: A top official of the National Security Council was fired last month after arguing in a memo that subversive forces are trying to derail the president's agenda. (Rosie Gray)

Silence and Sanctioning: President Trump's signing of the Russia sanctions bill is just the latest move in what's shaping up to be a very odd policy toward Moscow, writes Krishnadev Calamur.
Follow stories throughout the day with our Politics & Policy portal.
---
Snapshot
---
What We're Reading
Battle on the Horizon: An internal Justice Department announcement, obtained by The New York Times, reveals that the Trump administration plans to investigate "race-based discrimination in college and university admissions," implying a future effort to crack down on affirmative-action admission policies. (Charlie Savage)
Women Rule: While many men have recently departed their jobs at the White House, most of the women have quietly endured. (Annie Karni, Politico)
Beware of the Presidential-Candidate Swarm: Jim Geraghty argues that Democrats' primary field in 2020 could look awfully similar to that of the Republicans in 2016, complete with "another unruly stampede of candidates drowning one another out." (National Review)
Resigning as a 'Civil Duty': Elizabeth "Betsy" Southerland, one of the Environmental Protection Agency's top officials, resigned this week, becoming the latest in a series of protesting federal scientists to do so. (Joe Davidson, The Washington Post)
Lessons from the Nixon Years: Vadim Nikitin warns that it's dangerous to allow a domestic dispute between Congress and the White House bleed into foreign policy. (The Nation)
---
Visualized
Let the Goods Flow: This interactive map, pulling data from 2015, shows how commercial freight travels between states. (Chris Canipe, Axios)
---
Question of the Week
After a tumultuous few weeks drafting—and failing to pass—a new health-care plan, Congress is preparing to take up tax reform, which could involve rate cuts for businesses and individuals. Do you agree with lawmakers' plans to shift to tax reform? If not, what would you rather see them set their sights on—and why?
Share your response here, and we'll feature a few in Friday's Politics & Policy Daily.
-Written by Lena Felton (@lenakfelton) and Taylor Hosking (@Taylor__Hosking)