The Atlantic Politics & Policy Daily: Will Trump Get His Wray?
The Senate is expected to vote to confirm Christopher Wray as FBI director.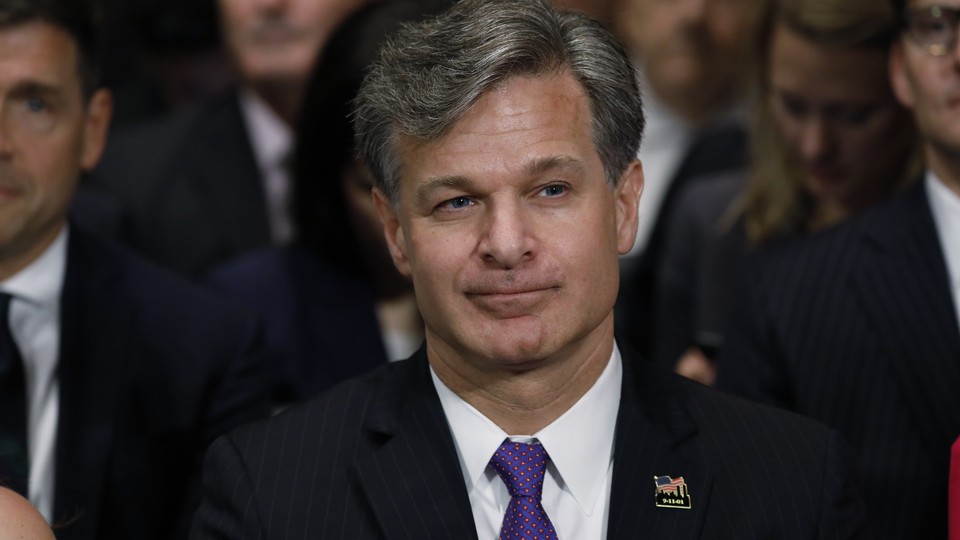 Today in 5 Lines
White House Press Secretary Sarah Huckabee Sanders said President Trump "weighed in" on his son Donald Trump Jr.'s statement about his 2016 meeting with a Russian lawyer, after it was reported that Trump "personally dictated" the statement. Majority Leader Mitch McConnell confirmed that Senate Republicans intend to pass tax reform through reconciliation. The head of the Drug Enforcement Administration issued a memo over the weekend saying that Trump had "condoned police misconduct" during his speech to law enforcement officers in Long Island. The Senate is expected to vote to confirm Christopher Wray as FBI director. Attorney General Jeff Sessions announced that Army Major General Mark Inch will lead the Federal Bureau of Prisons.
---
Today on The Atlantic
Lone Wolf: Republican Senator Jeff Flake published an excerpt of his book, The Conscience of a Conservative, in Politico Monday criticizing fellow party members for falling in line with an unfit president. Conor Friedersdorf unpacks his accusations and suggestions for the party moving forward.

What Went Wrong: David Frum argues that Republicans failed to deliver on health care largely because President Trump "could not say 'no' to the party forces he had bested and beaten in 2015 and 2016."

Guilty or Innocent: On Monday, The Washington Post reported that President Trump dictated the misleading statement that his son, Donald Trump Jr., gave about his meeting with a Russian lawyer. There are two potential explanations for Trump's involvement. (David A. Graham)
Follow stories throughout the day with our Politics & Policy portal.
---
Snapshot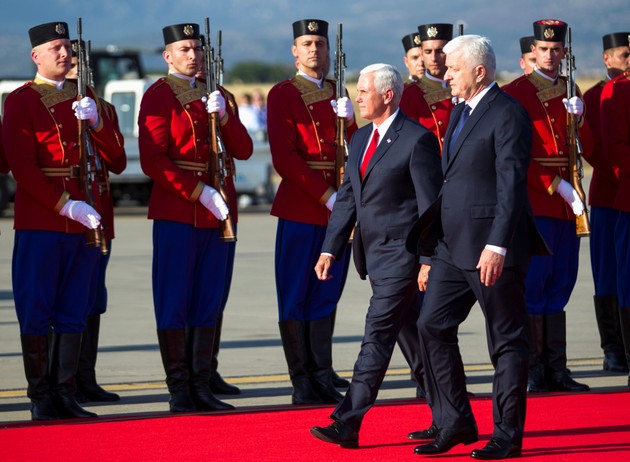 ---
What We're Reading
The Last Option on Health Care: Two Senate Republicans have a proposal that would send federal funding for Obamacare directly to states and let them decide how to spend it. But the plan is a long shot. (Adam Cancryn, Politico)
Leaked: A recording of Jared Kushner's private address to a group of congressional interns offers a peek at the White House adviser's approach to negotiating peace in the Middle East. (Ashley Feinberg, Wired)
Making Fake News?: A lawsuit filed against Fox News Channel alleges that the network worked with a wealthy Trump supporter to create a story about the death of a young Democratic National Committee staffer. (David Folkenflik, NPR)
Punk'd: A prankster from the U.K. was able to solicit email responses from Trump administration officials by pretending to be other officials, like former White House Chief of Staff Reince Priebus. (Jake Tapper, CNN)
At a Standstill: As refugee resettlement becomes increasingly politicized, many groups are more determined than ever to integrate refugees into local communities. But what if they never come? (Dara Lind, Vox)
'Era of the Mooch': The Washington Post presents an oral history of the events of the last week—"as told by senators, Boy Scouts, soldiers, journalists, parents, talking heads, Wall Street traders and the CEO of an arcade-game company in Florida." (Monica Hesse, Ben Terris, and Dan Zak)
---
Visualized
'The Lowest-Profile State Department': Before 2017, the State Department held press briefings on a regular basis. So far, under the Trump administration, the briefings have been fewer and farther between. (Kevin Quealy, The New York Times)
---
Question of the Week
After a tumultuous few weeks drafting—and failing to pass—a new health-care plan, Congress is preparing to take up tax reform, which could involve rate cuts for businesses and individuals. Do you agree with lawmakers' plans to shift to tax reform? If not, what would you rather see them set their sights on—and why?
Share your response here, and we'll feature a few in Friday's Politics & Policy Daily.
-Written by Elaine Godfrey (@elainejgodfrey)