The Atlantic Politics & Policy Daily: 'Texas Can Handle Anything'
During his visit to the Lone Star State, the president praised the disaster-relief efforts.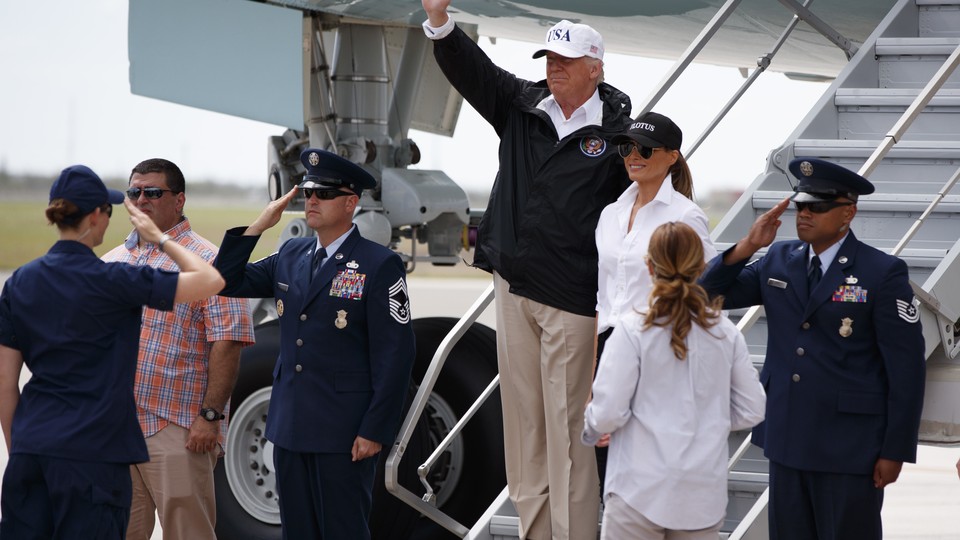 Today in 5 Lines
President Trump traveled to Corpus Christi and Austin, Texas, to meet with officials leading Hurricane Harvey relief efforts. During his visit, Trump praised the disaster response, adding that "Texas can handle anything." During a news conference, Houston Mayor Sylvester Turner confirmed the death of Houston Police Sergeant Steve Perez, who drowned after his patrol car was caught in floodwaters. Earlier in the day, Trump warned that "all options are on the table" after North Korea fired a missile over Japan. Donald Trump Jr. agreed to participate in a transcribed interview with the Senate Judiciary Committee.
---
Today on The Atlantic
Follow stories throughout the day with our Politics & Policy portal.
---
Snapshot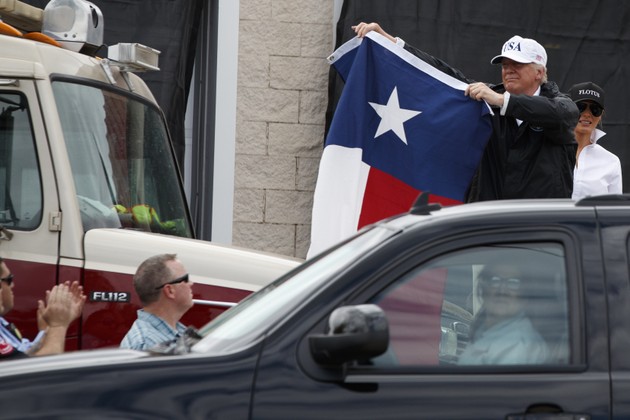 ---
What We're Reading
The Probe Continues: Investigators working for Special Counsel Robert Mueller are reportedly focused on figuring out if President Trump knew about the 2016 meeting between Russians and his son Donald Jr.—and whether he tried to hide it. (Julia Ainsley and Tom Winter, NBC News)
Too Many Cooks?: Swaths of Democratic candidates are eager to run for office in 2018; the problem is, across the country, many are facing competitive primaries that could could complicate their chances of retaking Congress. (Cameron Joseph, Talking Points Memo)
'Undocumented': As President Trump weighs whether to repeal DACA, the Obama-era executive order that offers protections to some young undocumented immigrants, one 27-year-old immigrant worries he'll have to return to "living in fear." (Monica Scott, MLive.com)
Whose Influence Matters More?: President Trump and Majority Leader Mitch McConnell have backed Senator Luther Strange in the Alabama Republican primary. But former Trump adviser Steve Bannon is throwing his weight behind an outsider challenger. (Alex Isenstadt)
The End of the GOP: White identity politics have overtaken the modern Republican Party, argues David Brooks. "It's ironic that race was the issue that created the Republican Party," he writes, "and that race could very well be the issue that destroys it. (The New York Times)
---
Visualized
Before and After: These side-by-side images show the scale of the flooding in the Houston area caused by Hurricane Harvey. (The Washington Post)
---
Question of the Week
Last week, it was rumored that Ohio Republican Governor John Kasich and Colorado Democratic Governor John Hickenlooper were eyeing a joint bid to challenge President Trump in 2020. While Kasich shot down those rumors on Sunday, the hypothetical pairing prompts the question: What's your dream bipartisan match-up to run in 2020?
Share your response here, and we'll feature a few in Friday's Politics & Policy Daily.
-Written by Elaine Godfrey (@elainejgodfrey)