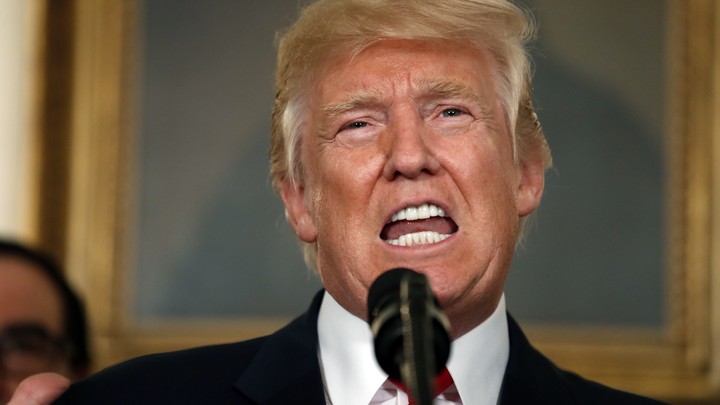 Today in 5 Lines
President Trump specifically denounced "the KKK, neo-Nazis, white supremacists, and other hate groups" for inciting violence in Charlottesville, Virginia, over the weekend—two days after he gave a statement condemning violence "on many sides." Trump attacked Kenneth Frazier, the CEO of Merck pharmaceuticals, on Twitter, after the executive announced he was resigning from a position on the president's Manufacturing Jobs Initiative to "take a stand against intolerance and extremism." He also sent a robocall in support of Alabama Senator Luther Strange, a day ahead of the state's GOP primary. The FBI arrested a man for attempting to detonate what he thought was a bomb outside a bank in Oklahoma City. Trump told Fox News that he is "seriously considering" pardoning former Sheriff Joe Arpaio, who was convicted of disregarding a judge's order to stop conducting anti-immigrant traffic patrols.
---
Today on The Atlantic
'The Statues of Unliberty': There are currently eight statues memorializing Confederate leaders at the National Statuary Hall Collection on Capitol Hill. The same lawmakers who condemned the actions of white supremacists over the weekend have the power to remove them. (Matt Ford)

What Comes Next: A series of upcoming alt-right rallies will reveal whether or not the movement has been reinvigorated after the events that transpired in Charlottesville, Virginia, over the weekend. (J.M. Berger)

Will Alabama Listen to Trump?: Tuesday's Republican primary in Alabama has become a test of Trump voters' loyalties—complicated by the mixed messages the president has sent in recent days. (Molly Ball)
Follow stories throughout the day with our Politics & Policy portal.
---
Snapshot
---
What We're Reading
A Death in Charlottesville: On Saturday, 32-year-old Heather Heyer was killed, police say, after a man drove his car into a group of protesters in Charlottesville, Virginia. Heyer's mother told The Washington Post: "I'm not really surprised my child died this way, because she would stand up for what she believed in." (Ellie Silverman and Michael Laris)
Domestic Extremism: The FBI and the Department of Homeland Security warned of the serious threat posed by white supremacists back in May, according to an intelligence bulletin obtained by Foreign Policy. (Jana Winter)
Downplaying Racism: Charlottesville, Virginia, is a charming college town with a reputation as the happiest city in America. But this weekend's violence serves as "a reminder of how much evil can be obscured by the appearance of good." (Jia Tolentino, The New Yorker)
Wake Me Up When September Ends: Senior White House officials are warning that next month is going to be "brutal" for the Trump administration: Aides hope to nail down President Trump's expectations and plans for several tough issues, including 2018 budget, tax reform, and infrastructure spending. (Josh Dawsey, Politico)
Robert Ritchie 2018?: Michigan officials might not allow musician Kid Rock to use his stage name on the ballot if he decides to run for Senate next year, which could seriously threaten his name-recognition advantage. (Nathan L. Gonzales, Roll Call)
---
Visualized
'The Problem With Confederate Monuments': In this short video, New Orleans Mayor Mitch Landrieu explains why he made the choice to remove the monuments in his city. (Nicolas Pollock and Brianna Pressey, The Atlantic)
---
Question of the Week
Often in moments of public crisis, people turn to books or readings to make sense of it. What books or readings do you turn to for comfort or reflection in uncertain times?
Share your response here, and we'll feature a few in Friday's Politics & Policy Daily.
-Written by Elaine Godfrey (@elainejgodfrey)
We want to hear what you think about this article. Submit a letter to the editor or write to letters@theatlantic.com.
Elaine Godfrey
is a staff writer at
The Atlantic
, where she covers politics.