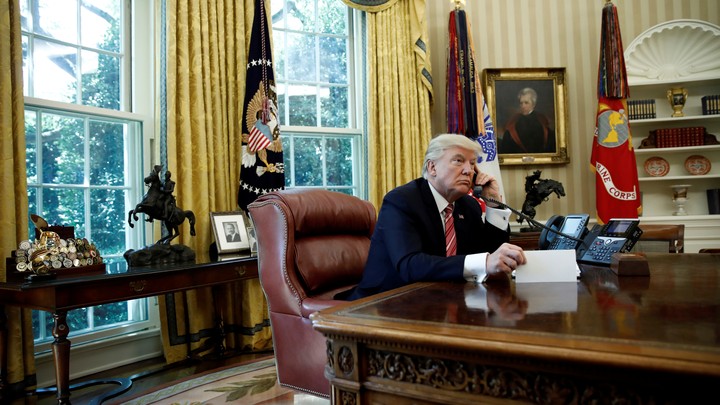 Today in 5 Lines
The Washington Post released full transcripts of President Trump's phone calls with the president of Mexico and the prime minister of Australia. The governor of West Virginia is expected to announce that he is switching parties from Democrat to Republican at a rally with Trump Thursday evening. The Justice Department notified four sanctuary cities that they will be not be eligible for a new crime-prevention program unless they cooperate with federal immigration authorities. Trump announced new efforts aimed at improving veterans' health care. Special Counsel Robert Mueller reportedly impaneled a grand jury as part of the probe into Russian interference in the 2016 elections.
---
Today on The Atlantic
The Dangers of Leaking: Donald Trump may be violating basic norms of government, but the leaking of his phone calls with the president of Mexico and the prime minister of Australia is a shocking and unprecedented act, writes David Frum. And it will likely prevent world leaders from speaking candidly with him in the future.

Republicans, Do This: McKay Coppins talked to Trump's most vocal opponents about what they want to see happen on Capitol Hill.

Filling in the Blanks: Nearly 200 days into Trump's term, the Senate confirmed dozens of the president's stalled nominees, filling out key posts in the administration. (Russell Berman)
Follow stories throughout the day with our Politics & Policy portal.
---
Snapshot
---
What We're Reading
Kelly Takes the Reins: Politico reports that new White House Chief of Staff John Kelly has begun vetting the information that gets to the president in hopes of it leading to better decisions. (Josh Dawsey)
FBI vs. Trump: Top FBI officials have reportedly been warned that they may be questioned as part of the investigation into whether President Trump committed obstruction of justice. (Murray Waas, Vox)
Vloggers From the Right: John Herrman argues that YouTube is providing a platform similar to talk radio for an emerging group of young, far-right personalities. (The New York Times)
The Deported: As the United States steps up its immigration-enforcement efforts, towns like Nogales, Mexico, are struggling to accommodate the rapid influx of U.S. deportees. Here are some of the residents' stories. (John Stanton, BuzzFeed)
The Reinvention of Ted Cruz: John Hart contends that the antagonistic Ted Cruz of 2013 has been replaced by a more persuasive, savvy, and ambitious Cruz 2.0. (Forbes)
---
Visualized
Quick Turnover: Since January, a number of senior staff and officials have either resigned or been fired. For a comprehensive list of who they are and when they left, check out this graphic. (The Wall Street Journal)
Not-So-Final Firings: Across the country, police departments have been forced to reinstate some officers fired for misconduct. The Washington Post crunches the numbers and shares eight cases in which police chiefs had to take officers back. (Kimbriell Kelly, Wesley Lowery, and Steven Rich)
---
Question of the Week
After a tumultuous few weeks drafting—and failing to pass—a new health-care plan, Congress is preparing to take up tax reform, which could involve rate cuts for businesses and individuals. Do you agree with lawmakers' plans to shift to tax reform? If not, what would you rather see them set their sights on—and why?
Share your response here, and we'll feature a few in Friday's Politics & Policy Daily.
-Written by Lena Felton (@lenakfelton) and Taylor Hosking (@Taylor__Hosking)
We want to hear what you think about this article. Submit a letter to the editor or write to letters@theatlantic.com.
Lena Felton
is a former editorial fellow at
The Atlantic
.