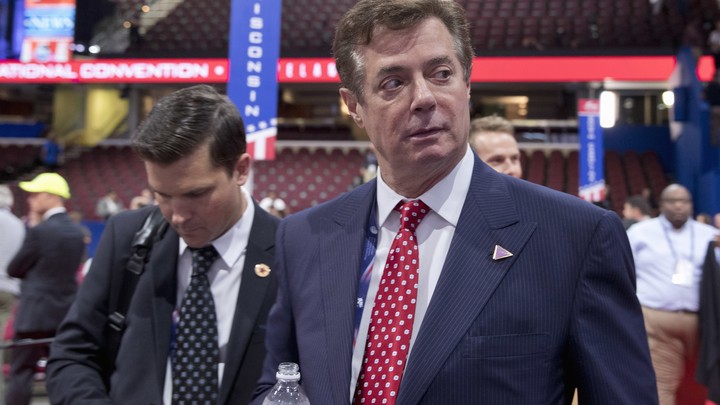 Today in 5 Lines
Republican National Committee Chief of Staff Sara Armstrong is leaving her post for a job at the U.S. Chamber of Commerce. Rescuers have begun a block-by-block search for survivors throughout the Houston area, where 31 people have been confirmed dead since the weekend. The State Department ordered Russia to close its consulate in San Francisco and downsize its presence in Washington, D.C., and New York City. President Trump's lawyers have reportedly met with Special Counsel Robert Mueller and "submitted memos arguing that the president didn't obstruct justice by firing former FBI chief James Comey." Milwaukee County Sheriff David Clarke has resigned.
---
Today on The Atlantic
A Pollster's Lament: Kristen Soltis Anderson, a young Republican pollster, says she's become disillusioned by the GOP's support of President Trump and worries for the future of the party: "I cannot think of a worse possible direction we could be going," she said. (Ronald Brownstein)

Drawing Distinctions: Distinguishing between white supremacists, Black Lives Matter, and Antifa requires considering each group's means and ends. (Conor Friedersdorf)

Forcing Trump's Hand: President Trump is reportedly poised to end DACA, the Obama-era program shielding young undocumented immigrants from deportation. "If he does," writes Molly Ball, "he will have effectively been boxed in by immigration restrictionists—potentially against his own better political judgment."
Follow stories throughout the day with our Politics & Policy portal.
---
Snapshot
---
What We're Reading
Take Note: Former Trump campaign chairman Paul Manafort's notes from a 2016 meeting with Russian officials reportedly contain the word "donations" near a reference to the Republican National Committee. (Ken Dilanian and Carol E. Lee, NBC News)
The Democrats' Dilemma: All of the Democratic Party's most recognizable presidential prospects are in their 70s, while the young, fresh faces of the party are virtually unknown. (Edward-Isaac Dovere, Politico)
Ivanka's Choice: Ivanka Trump said she supports the Trump administration's choice to repeal an Obama-era rule aimed at fixing the gender pay gap. Her critics say she's turning her back on the women she pledged to help. (Sabrina Siddiqui, The Guardian)
'What Heather Heyer Knew': New York's Gail Sheehy describes the 32-year-old's lifelong commitment to social justice, and details the moments leading up to her death on August 12, when a white supremacist drove his car into a crowd in Charlottesville, Virginia.
'A Re-Emerging City': The sun has finally come out after days of rain in Houston, Texas, and the city's residents are attempting to return to some semblance of normalcy. (Monica Davey, The New York Times)
---
Visualized
Fixing Obamacare: A bipartisan group of governors, led by Ohio's John Kasich and Colorado's John Hickenlooper, has proposed adjustments to the Affordable Care Act. Here's what the plan looks like. (Kim Soffen, Reuben Fischer-Baum, and Kevin Uhrmacher, The Washington Post)
---
Question of the Week
Last week, it was rumored that Ohio Republican Governor John Kasich and Colorado Democratic Governor John Hickenlooper were eyeing a joint bid to challenge President Trump in 2020. While Kasich shot down those rumors on Sunday, the hypothetical pairing prompts the question: What's your dream bipartisan match-up to run in 2020?
Share your response here, and we'll feature a few in Friday's Politics & Policy Daily.
-Written by Elaine Godfrey (@elainejgodfrey)
We want to hear what you think about this article. Submit a letter to the editor or write to letters@theatlantic.com.
Elaine Godfrey
is a staff writer at
The Atlantic
, where she covers politics.