The Atlantic Politics & Policy Daily: A Monumental Debate
President Trump railed against the removal of Confederate monuments, while House Minority Leader Nancy Pelosi called on Speaker Paul Ryan to get them out of the U.S. Capitol Building.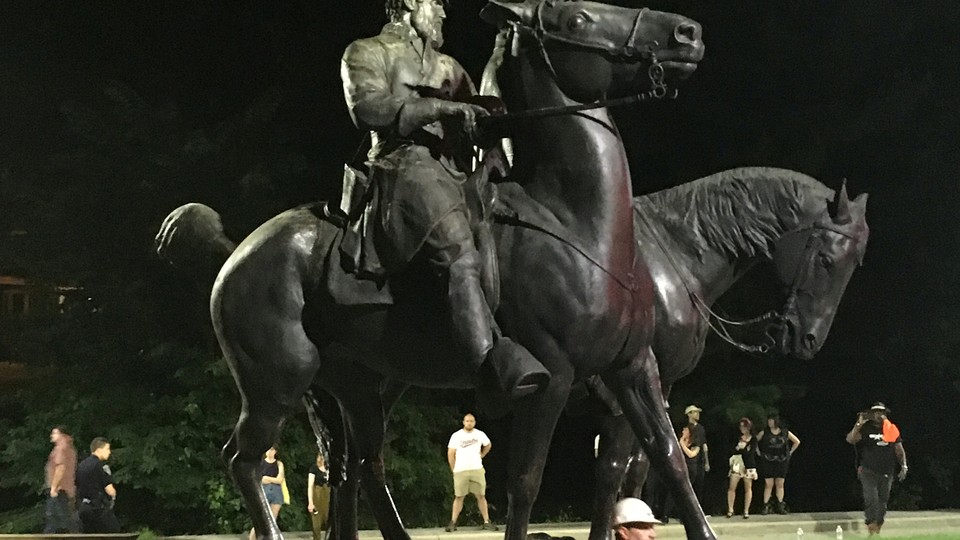 Today in 5 Lines
President Trump railed against the removal of Confederate monuments, tweeting that he is "sad to see the history and culture of our great country being ripped apart." House Minority Leader Nancy Pelosi called on Speaker Paul Ryan to take down the Confederate statues in the U.S. Capitol Building, but a spokesman for Ryan said Congress should leave that decision to the states. In an email to staff, Education Secretary Betsy DeVos condemned the "tragic and unthinkable" events last weekend in Charlottesville, Virginia, and denounced "neo-Nazis and other racist bigots." At least 13 people were killed and 50 injured after a driver plowed into a pedestrian area in Barcelona in what authorities are describing as a terrorist attack. Trump condemned the attack on Twitter, saying the U.S. "will do whatever is necessary to help."
---
Today on The Atlantic
White Supremacists Need Not Apply: Many U.S. military chiefs have issued statements condemning racism and extremism after the unrest in Charlottesville, Virginia. There are two important motivations behind those statements. (Andrew Exum)

Emboldening the Alt-Right: Michael German, a former FBI special agent and counterterrorism expert, tells Clare Foran that President Trump's response to Charlottesville is helping push far-right views into the political mainstream.

The Tax Break Dividing the GOP: After failing to repeal Obamacare, Republicans are turning to tax reform, which is already proving to be an uphill battle. (Russell Berman)
Follow stories throughout the day with our Politics & Policy portal.
---
Snapshot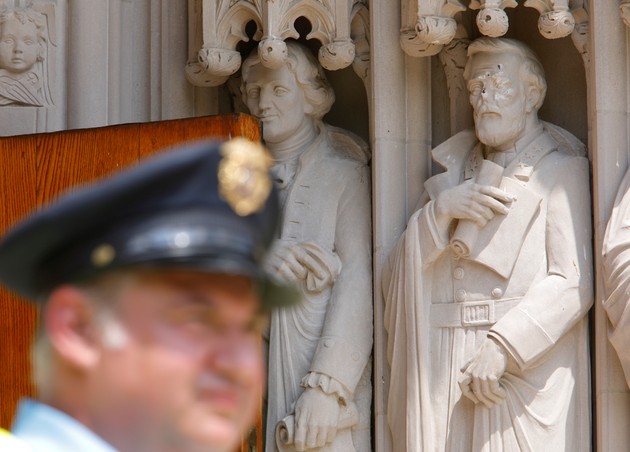 ---
What We're Reading
'Unrepentant': In an interview with The American Prospect, White House Chief Strategist Steve Bannon unleashed on his enemies in the Trump administration—and said the U.S. should be "maniacally focused" on the "economic war with China." (Robert Kuttner)
He's Stubborn: Why did President Trump double down on his statement blaming "both sides" for last weekend's violence in Charlottesville, Virginia? He doesn't like being told what to do. (Nancy Cook and Josh Dawsey, Politico)
At Arm's Length: Senate Majority Leader Mitch McConnell's restraint in his public response to President Trump's unruly press conference shows that Republicans are attempting to distance themselves from the president, while avoiding confrontation. (Heidi M. Przybyla, USA Today)
They've Got to Go: In an open letter, the great-great-grandsons of Stonewall Jackson asked for the removal of Jackson's statue—and all other Confederate monuments—in the city of Richmond. (Jack Christian and Warren Christian, Slate)
Purity Tests: There's a trend of white nationalists taking ancestry tests to prove their racial identity, and many, according to a new study, are finding out they aren't as "white" as they hoped. (Eric Boodman, STAT News)
---
Visualized
One Step Forward, One Monument Built: Take a look at this chart to see the moments in U.S. history when cities and states erected Confederate monuments. (Ryan Struyk and Sean O'Key, CNN)
---
Question of the Week
Often in moments of public crisis, people turn to books or readings to make sense of it. What books or readings do you turn to for comfort or reflection in uncertain times?
Share your response here, and we'll feature a few in Friday's Politics & Policy Daily.
-Written by Elaine Godfrey (@elainejgodfrey)