The Senate Finally Gives Trump His Administration
Democrats relented on confirming dozens of presidential nominees to key government posts, days after the collapse of the Republican effort to repeal and replace Obamacare.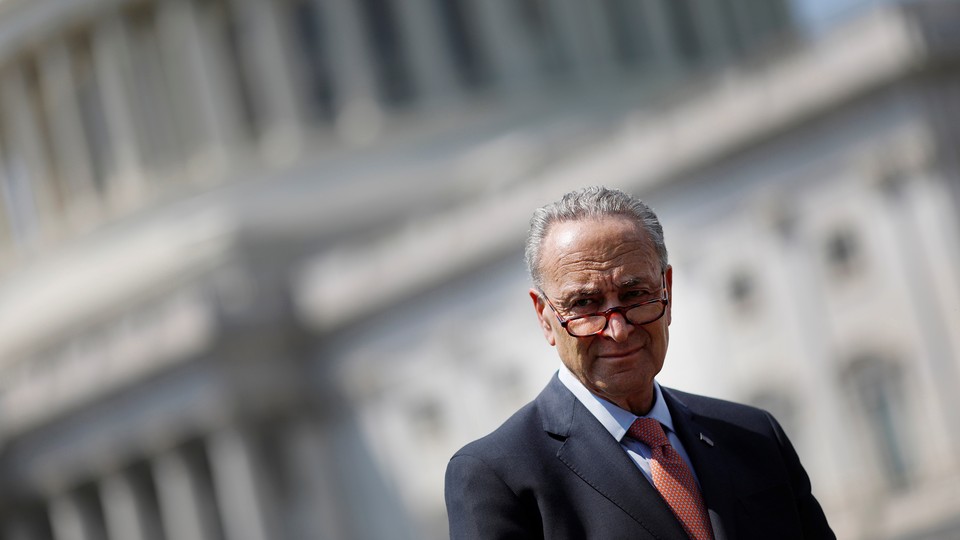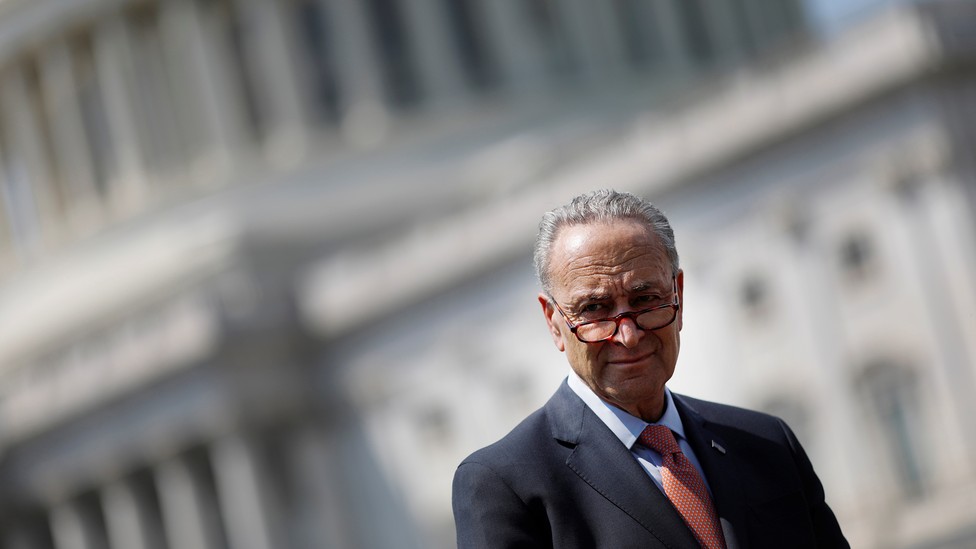 And just like that, Donald Trump finally has the semblance of a presidential administration.
In the span of a few minutes on Thursday afternoon, the Senate confirmed dozens of the president's stalled nominees to key posts in several departments. The departments of Justice, Homeland Security, Veterans Affairs, and Commerce got long-awaited deputy, under, and assistant secretaries. NATO, the United Kingdom, and a bevy of other countries received U.S. ambassadors. And three districts got federal prosecutors months after the president fired nearly all of the U.S. attorneys who served under Barack Obama.
The flurry of approvals marked the Senate's biggest step yet toward filling out an administration that had sat historically empty nearly 200 days into Trump's term. As of July 31, the Senate had confirmed nominees to just 51 out of the more than 1,100 positions that require the chamber's consent, according to a tally kept by the Partnership for Public Service. Each of the previous four presidents had more than 200 nominees confirmed at around the same juncture. The president had already gotten a late start filling his Cabinet; the Senate did not confirm his final top-level choice until just before the 100-day mark in April. And he still needs to nominate many more for his administration to be complete.
"The Senate has confirmed more executive-branch nominees this week than all of the executive-branch nominees confirmed this year—combined," Majority Leader Mitch McConnell said after the Senate actions, which all came by voice vote after Democrats agreed not to raise objections. Almost immediately afterward, senators raced for the airport to begin a monthlong summer recess that had been delayed by a week.
For Democrats, the confirmations were an easy trade to make: They gave Trump his government and got to keep the Affordable Care Act in return. The party had been stalling nominees for months in protest of the GOP's effort to repeal and replace Democrats' prized health law without their input. Having eliminated the 60-vote threshold for executive nominees a few years ago, Democrats in the Senate minority could not block Trump's picks outright. But under the direction of Minority Leader Charles Schumer, they used their power to draw out the process, forcing McConnell to take multiple days to advance a single nominee.
As the GOP's health-care bill floundered, Schumer hinted that Democrats would relent on their obstruction once Republicans abandoned the budget-reconciliation process they were using to repeal Obamacare and return to what legislators refer to as "regular order."
"You can't avoid regular order when you want to and then say Democrats should use regular order whenever you want us to," Schumer said on Thursday. "But now that health care is done I think we can tie the two together—normal way of legislating, [and] clearing noncontroversial nominees as we move forward in September."
In actuality, McConnell hasn't officially given up on jamming through a health-care bill with 50 Republican votes. The GOP has until the end of September to try again under the rules, but once the Kentuckian announced the Senate would move on to other issues, he and Schumer began negotiating which nominees Democrats would allow to be confirmed before the August recess.
The deal came together so quickly on Thursday that aides could not immediately say exactly how many nominees were confirmed. Senator John Cornyn of Texas, the second-ranking Republican, said in a floor speech the total was "roughly 65" and that the Senate might confirm even more before the day was done. Because no roll-call votes are being taken, senators would not necessarily need to be present for more confirmations to occur as long as none planned to object.
None of the initial batch was particularly controversial, and Democrats all but acknowledged they were holding them up as a procedural protest, and not on substantive grounds. (Republicans did the same to many of Obama's nominees over the years.) Those that were confirmed included former Senator Kay Bailey Hutchison as ambassador to NATO; New York Jets owner Woody Johnson as ambassador to Great Britain and Northern Ireland (formally known as the Court of St. James); and Lewis Eisenberg, a longtime GOP donor, as ambassador to Italy.
The Senate still has dozens more nominees to consider, including judicial vacancies and most federal-prosecutor posts. And Trump has hundreds more to nominate, including a pick to replace John Kelly as secretary of homeland security after the retired Marine general took over as White House chief of staff on Monday. According to the Partnership for Public Service, the president has nominated people to fewer than 300 positions—about one-quarter of those he needs to fill. But after the Senate's busy Thursday, Trump's administration is at least not quite so bare.