The Legal Crises to Follow in Hurricane Harvey's Wake
Lawyers in Houston are acting as first responders, connecting victims with insurance issues, among others, to pro bono assistance.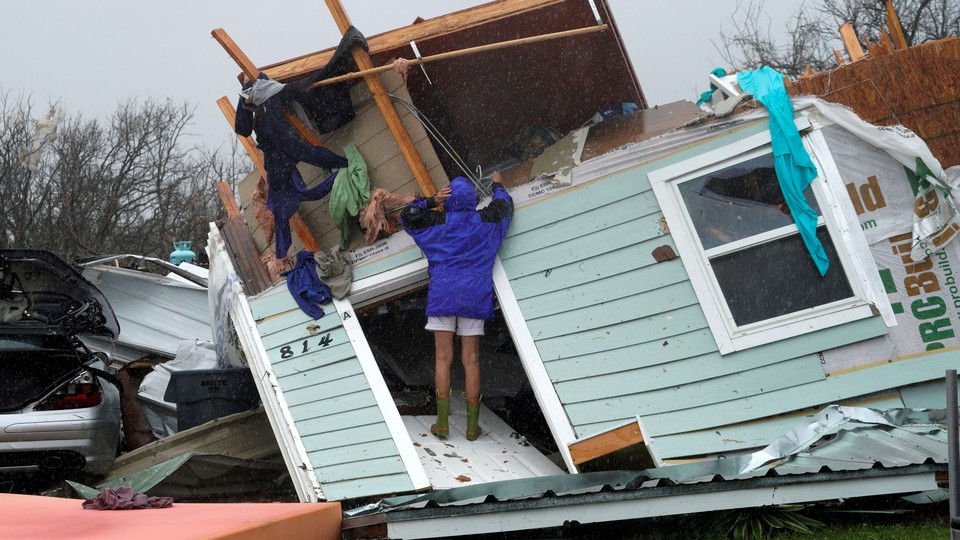 With much of the Houston area still underwater, levees in surrounding counties breached, and stormwater reservoirs overflowing, it might seem an odd time for victims of Hurricane Harvey to think about legal services. But as first responders try to save lives in the middle of an increasingly deadly storm, legal-aid organizations along the Gulf Coast of Texas are already working to assist victims with a process that can be almost as stressful as a natural disaster itself: rebuilding.
Disasters like Harvey can create legal crises for families that last long after the waters recede. Long-term evacuees from neighborhoods like those near the Addicks Reservoir's spillways, which might be flooded for months, are at risk of having their homes auctioned off if they can't move back in soon enough. People who flee can lose track of their mortgage payments and face foreclosure when they return. Evacuees from rental properties and apartments can face evictions, rising rents, and other challenges from unscrupulous landlords.
In addition, people often lose vital documents in floods, and without them might not be able to enroll their children in school or receive medical care. Those with few resources can face personal bankruptcies or even unlawful job terminations if they can't make it back into work. And every property owner will likely face months of dealing with insurers, contractors, small-business-loan authorities, the incredibly dysfunctional National Flood Insurance Program, FEMA programs, or some combination of them.
And filing claims is just the beginning: After Hurricane Katrina, FEMA sent collection letters to thousands of people the agency claimed it had overpaid, and many families had to take insurers to court in order to recover full reimbursements. Even for wealthy residents with private legal representation, the road to rebuilding will be taxing. For people with fewer resources, the task could prove insurmountable without help.
The professionals charged with assisting them through near-unnavigable forests of red tape are facing some of these same issues. When I spoke to Saundra Brown, the manager of the disaster-response unit at Lone Star Legal Aid, she was working from her husband's office, and trying to reestablish the agency's connection to the State Bar of Texas's legal-aid hotline for Houston residents. Amid the flooding on Monday, Lone Star's office in the city's downtown had been rocked by an explosion and a massive fire. Nobody was injured in the blast, but the incident forced Brown's team to improvise as they took calls from similarly displaced people in the region.
"We're continuing to work," Brown told me. "We're just scattered and working out of different offices. Some of us are working out of our homes. But we've got a disaster unfolding. The hotline is already up and running, and it's being answered by various legal aids across the state."
As one of over a hundred civil legal-aid organizations in the United States, Brown's group provides free services to those in need, especially low-income people, children, seniors, and veterans. Funded in part by the congressionally chartered, non-profit Legal Services Corporation, and using resources provided by state bar associations, in times of emergency these legal-aid groups operate hotlines that connect victims with pro bono advice and representation.
Lone Star's hotline has been ringing nonstop since Harvey first made landfall Friday evening. Given the catastrophic and unprecedented flooding, most of the people in and around Houston and Galveston Bay are looking for advice on flood insurance and FEMA assistance.
Farther south, the Corpus Christi office of the Texas RioGrande Legal Aid is also busy fielding calls around the clock. The communities around Corpus Christi, which faced the brunt of Harvey's Category 4 hurricane-strength winds and storm surge—but without the flooding seen throughout the greater Houston area—have some different requests. "A lot of the immediate issues just have to do with basic needs" like food, shelter, and the legal matters underpinning their access to both—like ensuring that immigrants who'd lost documentation could enter shelters, said Tracy Figueroa, the office's team manager of disaster assistance. On Wednesday, the Corpus Christi team's plan was to visit a major shelter in the city to get help for people who've been without phones and electricity for days.
But even residents looking to meet basic survival needs may soon have to consider longer-term issues like insurance claims and FEMA aid. On Monday, Texas Congressman Joaquin Castro, who represents the western half of San Antonio, reminded residents on Twitter to "be sure to file for #Harvey relief before [Friday] Sept 1." He referenced HB 1774, a bill passed by the Texas state legislature that goes into effect next month. It limits the ability of plaintiffs to sue insurance companies if they haven't paid out claims or failed to pay them on time—both somewhat common occurrences during flood and storm disasters. As a state law, HB 1774 doesn't apply to most flood-insurance policies, which are regulated by federal law, but for others it reduces the interest insurance companies must pay on delinquent claims, from 18 percent to 10 percent, and requires plaintiffs to give more detailed advance notice to insurers of their intent to sue.
Most beneficiaries won't ever need to sue, but legal-aid attorneys and hotline workers are encouraging them to begin the process of making claims. They're also pushing beneficiaries to keep as much of a paper trail as possible as a matter of due diligence. "I don't want people to be so concerned about that [September] deadline that they misunderstand and think it's too late to do it if they don't do it today," Figueroa said. Filing before the law goes into effect is "just about putting them in the best position." She said the deadline shouldn't dissuade them from "apply[ing] tomorrow and the day after that and as long as you're allowed to under your policy." Another deadline her organization advises on is the one for FEMA assistance. "We want to make sure people understand there's still quite a bit of time to do that," she said. "It's 60 days from the declaration-of-emergency date [on Monday], so we want to make sure people aren't being discouraged about that."
Although helping people meet immediate needs and file those insurance claims has taken precedence, both Brown and Figueroa said that legal-aid groups' disaster work will continue for a long time, and on a great deal of other issues facing victims of Harvey. "The disaster-recovery process is long," Brown said. "It takes a number of years."
For the most disadvantaged members of the Houston community, those issues span the breadth of Lone Star's and Texas RioGrande's portfolios. In order to be eligible for funds like the Department of Housing and Urban Development's community-development disaster block grants, residents have to be able to show clear title to their land. But when it comes to property long passed down through families—especially in low-income and black communities—bad titles and heirs' conflicts are common. Such issues have already provided opportunities for scammers in Houston-area neighborhoods. Additionally, many residents of these communities are still in the middle of navigating legal issues from the last two major floods since 2015; some lawsuits against landlords are only just emerging from flooding in 2016.
Perhaps one of the biggest deficits in communities that need legal aid is lack of awareness. A 2016 Justice Department and National Science Foundation roundtable report found that "while two-thirds of adults have problems that can be resolved through a legal intervention, very few access the justice system. The research further indicates that the most common reason why people do not access or seek legal assistance is because they are unaware that their problems are legal in nature."
According to Brown, even among those who seek legal help after a disaster, few are aware that it might be available for free. "I truly believe not enough people know about legal aid," Brown told me, "but we've been there every single time."
That's not to say the work is easy, or that the legal-aid safety net can always handle the existing volume of requests. For example, in addition to a damaged office, at the time of this writing, Lone Star's website was down. The organization was still providing updates via Facebook and still operating its hotline, but other in-state legal-aid offices, including Texas RioGrande, had to step in to help field calls from Houston-area residents. Even with their help, the real test of legal aid's capacity will come after the rain stops.
A 2009 Urban Institute study of legal-aid efforts to address the "vast unmet need" in marginalized populations in the wake of Hurricane Katrina found "the legal needs in Gulf Coast communities grew dramatically after [hurricanes], increasing burden on legal-aid organizations that were experiencing their own impacts of the storms." Demand balloons depending on the scope of disruption. In Katrina's deadly aftermath, legal-aid organizations fielded requests for representation for wrongful convictions, domestic violence and other forms of abuse, and the creation of wills.
To assist with what's expected to be an incredibly high demand for legal-aid services, one that's commensurate with the scope of Harvey's destruction, pro bono lawyers and legal-aid groups across the country are gearing up to send resources down to Texas. According to Cheryl Naja, the director of pro bono and community service at the international law firm Alston & Bird, "one of the things that's wonderful about the legal pro bono community is that we are a close-knit community. … As all of this began to unfold, I've reached out just to try to connect with Lone Star Legal Aid; when the explosion took place, we asked, 'How do we help?'"
As a firm with offices in Houston, Alston & Bird will have lawyers working on a pro bono basis and resources for legal-aid assistance. Naja mentioned that members of the national Association of Pro Bono Counsel also stand ready, and have coordinated grassroots fundraising activities to support ongoing legal-aid needs. Figueroa told me that faculty of Loyola University's law school in New Orleans—who themselves found aid and shelter from Houston residents during Katrina in 2005—have similarly pledged help for Texans.
Nobody will know fully what kinds of issues Harvey will create until it's finished dumping trillions of gallons of water on Texas. But after the waters and the sirens recede, the work of the legal-aid community in the state will have only just begun.