Republicans Rebuke Trump All Over Again
The president's return to "both sides" rhetoric on Charlottesville brings a familiar round of criticism from GOP lawmakers practiced in the art of presidential scolding.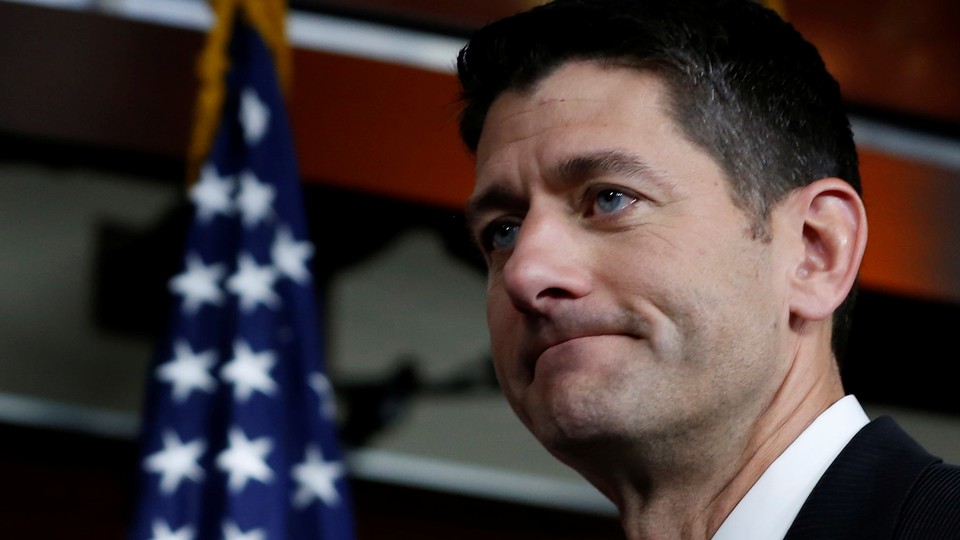 Updated at 9:33 p.m. ET
If President Trump's belated denunciation on Monday of white supremacists, racism, and neo-Nazism brought congressional Republicans a brief period of relief, his press conference on Tuesday gave the party a whole new—if all too familiar—headache.
Trump seemed to return to his rhetoric from Saturday, when after the death of a woman in Charlottesville, Virginia, he blamed "many sides" for the day's strife—a reaction that drew criticism from his fellow Republicans. During his remarks Tuesday, the president defended the white nationalists who'd demonstrated in the small city, and said they included "some very fine people." He laid some of the blame for the violence that broke out at the feet of "alt-left" counter-protesters, and he equated the Confederate General Robert E. Lee with America's Founding Fathers.
After Trump finished speaking, the rebukes from congressional Republicans started rolling in all over again. Some, like Senator Marco Rubio of Florida and Representative Will Hurd of Texas, criticized the president directly in tweets and statements. Others, like House Speaker Paul Ryan, withheld Trump's name even if their target was obvious. "We must be clear. White supremacy is repulsive," Ryan tweeted. "This bigotry is counter to all this country stands for. There can be no moral ambiguity." Lawmakers who followed Ryan's style—the subtweet over the frontal, specific denunciation—included Senator Rob Portman of Ohio and Representative Steve Scalise of Louisiana, the House majority whip still recovering from being shot at a congressional baseball practice in June. "I was clear about this bigotry & violence over the weekend and I'll repeat it today: We must defeat white supremacy and all forms of hatred," Scalise wrote. So, too, did House Majority Leader Kevin McCarthy and Senator Jeff Flake of Arizona, a now-frequent Trump critic.
In a series of tweets, Rubio countered Trump by saying the organizers of the white-nationalist rally were "100 percent to blame" for the terror attack that followed, a reference to the death of Heather Heyer after James A. Fields allegedly drove his car into a crowd of anti-racism demonstrators. (Trump equivocated on whether the attack, whose alleged perpetrator had marched with a fascist group, constituted terrorism.)
Mr. President,you can't allow #WhiteSupremacists to share only part of blame.They support idea which cost nation & world so much pain 5/6

— Marco Rubio (@marcorubio) August 15, 2017
The #WhiteSupremacy groups will see being assigned only 50% of blame as a win.We can not allow this old evil to be resurrected 6/6

— Marco Rubio (@marcorubio) August 15, 2017
In an appearance on CNN, Hurd urged Trump to apologize. "Racism, bigotry, anti-Semitism of any form is unacceptable, and the leader of the free world should be unambiguous about that," he said. Representative Ileana Ros-Lehtinen of Florida, who is retiring next year after more than two decades in Congress, called out Trump on Twitter for his use of the term "both sides" to divvy up blame, just as she did on Saturday.
Blaming "both sides" for #Charlottesville?! No. Back to relativism when dealing with KKK, Nazi sympathizers, white supremacists? Just no.

— Ileana Ros-Lehtinen (@RosLehtinen) August 15, 2017
Democrats, meanwhile, were unsparing in their attacks on a president with whom they have found virtually no common ground. Senator Elizabeth Warren of Massachusetts called Trump's remarks "sick." Senator Brian Schatz of Hawaii went even further: "As a Jew, as an American, as a human, words cannot express my disgust and disappointment," he tweeted. "This is not my president."
Yet in a ritual that has repeated itself many times over during Trump's first seven months in office, it was Republicans who felt the pressure to separate themselves from his latest diatribe. With Congress on recess, the rhetorical handwringing was initially more a trickle than a flood. As Tuesday evening wore on, critical statements both direct and indirect came in from senators John McCain of Arizona, a Trump target himself for his vote on health care; Jerry Moran of Kansas; James Lankford of Oklahoma; Thom Tillis of North Carolina; and Cory Gardner of Colorado, who had been among the first Republicans to slap down Trump on Saturday.
However unified, the GOP oppobrium might not amount to much. Even those Republicans who did call out Trump suggested little remedy or punishment for a president who, again, has deviated wildly from the message many in the party's establishment want to send to the country. The GOP legislative agenda is already sputtering, with the president showing little ability to steer it back on course. What Trump retains is the ability to shock if not surprise with his outbursts, and the Republicans, practiced now in the art of politely scolding their party's leader, respond in increasingly predictable ways: He speaks, they criticize, and everyone waits a few days to do it once again.