'Really Proud of Him': Alt-Right Leaders Praise Trump's Comments
Hard-right activists say they're "energized" by the president's Tuesday press conference, at which he said there were "some very fine people" among the Charlottesville protesters.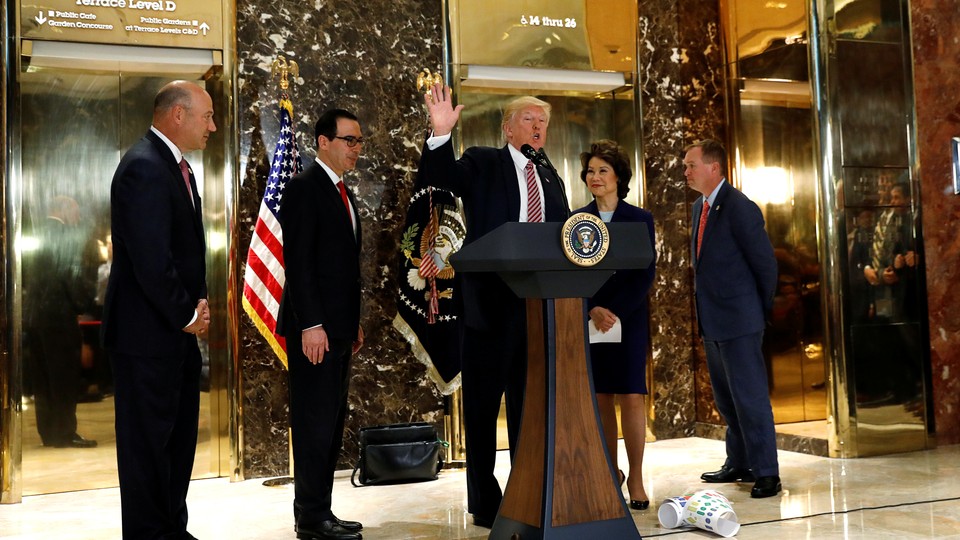 White nationalist and alt-right activists are cheering President Trump for defending white-nationalist protesters and placing equal blame on counterprotesters for the violence that ensued in Charlottesville this past weekend at a press conference on Tuesday afternoon.
"Really proud of him," the alt-right leader Richard Spencer said in a text message. "He bucked the narrative of Alt-Right violence, and made a statement that is fair and down to earth. C'ville could have hosted a peaceful rally — just like our event in May — if the police and mayor had done their jobs. Charlottesville needed to police the streets and police the antifa, whose organizations are dedicated to violence."
Spencer said he didn't necessarily view Trump's remarks as an endorsement of the protesters' goal; the Unite the Right rally was held to protest the removal of a Robert E. Lee statue. "He was calling it like he saw it," Spencer, who was one of the leaders of the protest, said. "He endorsed nothing. He was being honest." Spencer held a press conference in his office and home in Alexandria on Monday in which he said he did not believe Trump had condemned white nationalists in his comments on Monday, in which the president said "racism is evil" and specifically called out white supremacists and the Ku Klux Klan. Trump made those remarks after intense criticism for failing to specifically condemn white-nationalist groups in his initial response.
In his  remarks on Tuesday, made during an appearance in Trump Tower that was supposed to be about infrastructure, Trump doubled down on his initial Charlottesville statement on Saturday in which he blamed "many sides." The president said that some of the protesters were "very fine people," blamed the "alt-left" equally with white nationalists for the violence, and compared pulling down Confederate monuments to removing monuments of the country's Founding Fathers. At Saturday's protests, a woman was killed by a rally attendee who rammed his car into a crowd of counterprotesters, and dozens were injured.
Trump's denunciation of the protesters who opposed the Unite the Right rally has been particularly popular among leaders on the alt-right.
"It is gratifying that there is at least one political figure who recognizes that not everyone who wants to keep the Lee statue is a neo-Nazi or white supremacist, and that many of the counterdemonstrators were violent thugs," said American Renaissance founder Jared Taylor. "We live in astonishing times in which to state the obvious is revolutionary."
Baked Alaska, another alt-right activist who had been given top billing at the rally, tweeted his support of Trump's words.
"Thank you President Trump for condemning the alt-left antifa thugs who attacked us in Charlottesville," he wrote.
"Thank you President Trump for your honesty & courage to tell the truth about #Charlottesville & condemn the leftist terrorists in BLM/Antifa," tweeted the former Ku Klux Klan Grand Wizard David Duke, who also attended the rally.
The alt-right vlogger Paul Ramsey, better known as RamzPaul, tweeted that it was a "good statement" and that "I honestly think he watches some of us."
Other activists in the pro-Trump right-wing media sphere who are adjacent to the alt-right, but don't necessarily use the term to describe themselves, were also thrilled about Trump's comments.
"The madman is back," Jack Posobiec, the activist who played a central role in the Macron Leaks story and whose tweet about violence in Chicago Trump retweeted on Monday night, said in a text. "He is out of DC and getting back into offense mode, where he's at his best by pushing back against fake news and calling out extremists who commit violence on both sides. Antifa should have been included in the initial statement."
The blogger and twitter personality Mike Cernovich, who used to use the term alt-right but now favors "new right," called Trump's remarks "amazing."
"It energized the base," Cernovich said. "Losers like Richard Spencer and David Duke will try to dick ride it, but Trump specifically disavowed neo-Nazis and white nationalists."
Cernovich was referring to a part of Trump's remarks in which he said neo-Nazis and white nationalists should be "condemned totally."
"But you had many people in that group other than neo-Nazis and white nationalists.  Okay?" Trump also said.  "And the press has treated them absolutely unfairly."