Trump Informally Declares the Opioid Crisis a National Emergency
Once the proper paperwork is drawn up, the president's unexpected and off-the-cuff announcement will free up disaster funding for cities and states dealing with the epidemic.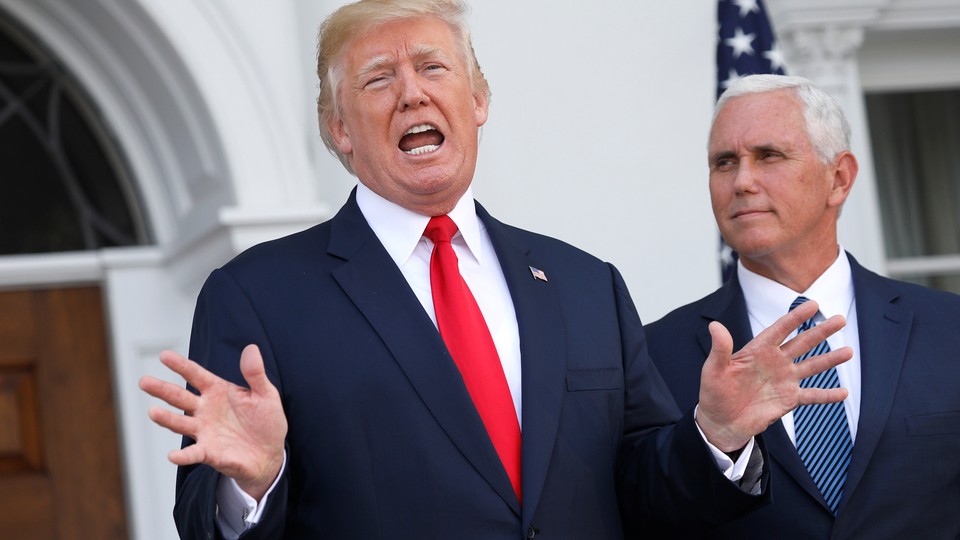 President Trump said Thursday afternoon that he is declaring the opioid crisis a national emergency, implementing the top recommendation from a presidential commission that studied the growing epidemic.
"The opioid crisis is an emergency, and I'm saying officially right now it is an emergency," he told reporters at his golf resort in Bedminster, New Jersey. "It's a national emergency. We're going to spend a lot of time, a lot of effort, and a lot of money on the opioid crisis."
When asked what the emergency powers would entail, Trump declined to offer specifics. "We're going to draw it up and we're going to make it a national emergency," he responded, before pivoting to the scale of the crisis. "There's never been anything like what's happened to this country over the last four or five years. And I have to say this in all fairness, this is a worldwide problem, not just a United States problem. This is happening worldwide. But this is a national emergency and we are drawing documents now to so attest."
None dispute the scale of the epidemic. As my colleague Olga Khazan noted last month, the opioid crisis now kills more than 100 Americans daily. The growing toll led Trump to establish a presidential commission headed by New Jersey Governor Chris Christie to find solutions. The panel, which compared the loss of life to the September 11 terrorist attacks, urged Trump to formally designate it a national emergency to help mitigate the damage.
"Your declaration would empower your cabinet to take bold steps and would force Congress to focus on funding and empowering the executive branch even further to deal with this loss of life," the commission said in its report. "It would also awaken every American to this simple fact: If this scourge has not found you or your family yet, without bold action by everyone, it soon will."
Despite the sweeping name, declarations of national emergencies are largely bureaucratic in nature. According to The Washington Post, the declaration will grant officials greater flexibility to address the crisis: by freeing up federal disaster funds for affected communities, and by allowing federal agencies to waive certain rules and regulations to respond more quickly.
Thursday's move is something of a reversal for the Trump administration, which had indicated earlier this week it would not declare a national emergency. Secretary of Health and Human Services Tom Price downplayed the possibility when asked by reporters about the commission's recommendation on Tuesday.
"Most national emergencies that have been declared in the area of public-health emergency have been focused on a specific area, a time-limited problem—either an infectious disease or a specific threat to public health," Price explained. "The two most recent that come to mind are the Zika outbreak and Hurricane Sandy. So we believe that, at this point, the resources that we need or the focus that we need to bring to bear to the opioid crisis, at this point, can be addressed without the declaration of an emergency. Although all things are on the table for the president."
Other Cabinet members have also taken steps to confront the epidemic. On August 2, Attorney General Jeff Sessions announced the formation of an opioid fraud and abuse detection unit to target pharmacies and doctors committing prescription-related fraud. Sessions also reversed an Obama-era sentencing memo in May and authorized federal prosecutors to seek the maximum possible sentences in drug-related crimes.
A major milestone in the Trump administration's efforts to reduce opioid abuse was Congress's failure to repeal the Affordable Care Act this summer. The landmark health care law's Medicaid expansion gave some of the states hardest hit by overdose deaths broader coverage options for treatment and substance abuse programs. But as my colleague Ron Brownstein noted last month, both the House and Senate repeal bills would have dramatically cut Medicaid and reduced states' ability to respond to the crisis.