Paul Ryan Doesn't Want to Fight With Trump
In keeping with his non-confrontational approach, the House speaker offered the gentlest of criticism during a CNN town hall for the president's response to the violence in Charlottesville.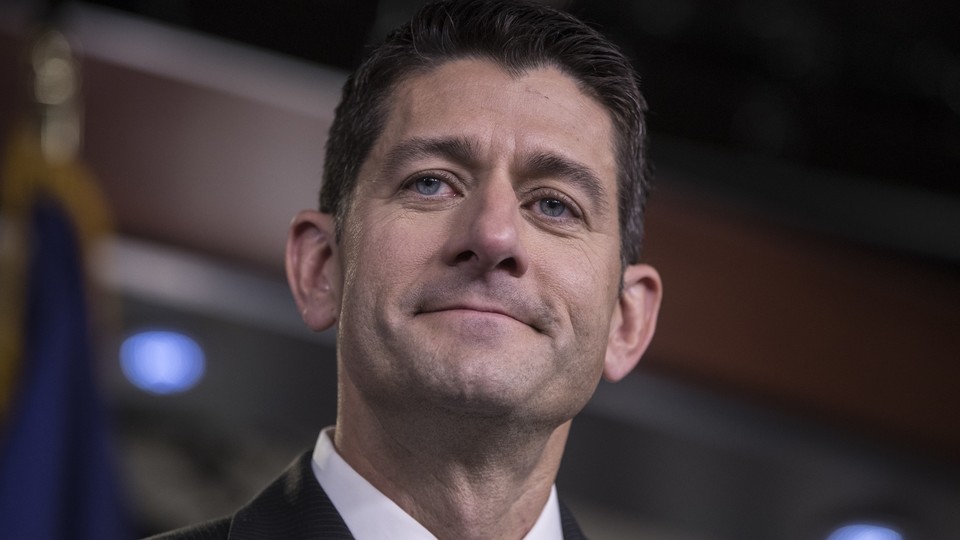 Paul Ryan will distance himself from the president. He'll occasionally offer some polite and always constructive criticism of Trump's most egregious tweets and statements. But the Republican House speaker will not do battle with a man who, as of about a year and a half ago, he wanted to see anywhere but the Oval Office.
That was the main, not-particularly-surprising takeaway from Ryan's CNN town hall on Monday night, an event that Trump upstaged with his last-minute decision to deliver an address to the nation on Afghanistan. Held in the speaker's Wisconsin congressional district, the town hall was ostensibly an opportunity for Ryan to talk up tax reform and remind constituents and the nation at large that House Republicans—if not their counterparts in the Senate—have been more productive this year than the media has given them credit for.
But the event was also the first time in a national setting that Ryan would take questions about the violence in Charlottesville and Trump's widely-criticized, oscillating response. Before Monday night, the speaker had issued multiple statements about Charlottesville, each dutifully denouncing "hate," "bigotry," and "white supremacy." They were all exemplars of the art of implied criticism. Republican lawmakers and party elders had been increasingly calling out Trump for blaming "many sides" in Charlottesville and saying that the white-supremacist demonstrators included some "very fine people." Mitt Romney demanded that the president apologize. Senator Bob Corker of Tennessee said Trump had yet to demonstrate the "stability" or "competence" the presidency required. Ryan, meanwhile, wouldn't mention the president's name.
"There can be no moral ambiguity," the speaker tweeted last Monday. "There are no sides. There is no other argument," he wrote in a lengthier Facebook post a week later, hours before the CNN appearance. Ryan's target was clear, yet still, he did not name Trump. He wanted people to think—and write—that he was criticizing the president, even though he wasn't actually criticizing the president. It was the kind of rhetoric usually reserved for the shadowboxing of early primary campaigns (at least until a certain pugnacious real-estate developer came on the scene), when candidates try to score points off their opponents without directly attacking them.
On Monday night, Ryan knew he wouldn't be able to keep up the act. Whether the questions came from a constituent or CNN moderator Jake Tapper, the speaker would have to address Trump's response to Charlottesville directly. What would he say? How hard would he hit the president?
Not very hard, it turned out.
It was Eric Kramer, a financial analyst from Racine, who asked the obvious question: "Are you willing to come out and forcefully condemn Trump's statement, such as Bob Corker and Mitt Romney have?"
This was slow-pitch softball, and Ryan was cocking his bat. "Let me get into this," he began.
What followed was a grounder to second base. Ryan proceeded to offer a familiar mix of praise and polite criticism for the president, hailing his scripted remarks on Charlottesville ("pitch perfect," Ryan declared) while knocking the ones that seemed to represent Trump's true feelings about the protests. "I think he made comments that were much more morally ambiguous, much more confusing," Ryan said about Trump's defense of white supremacist demonstrators at a Trump Tower press conference a week ago. "And I do think he could have done better. I think he needed to do better."
He added: "So I do believe that he messed up in his comments on Tuesday, when it sounded like a moral equivocation, or at the very least moral ambiguity, when we need extreme moral clarity."
That was as far as Ryan was willing to go. "Morally ambiguous," "needed to do better," and "messed up." He quickly pivoted off Trump to a broader point about the nation's collective need to "unify and stand up against this repulsive, this repugnant, vile bigotry."
"It should not be about the president," Ryan said. "This is not about Republicans or Democrats." He praised Trump's remarks denouncing hate at the top of his Afghanistan speech, but when Tapper asked him if the president had "done enough," Ryan deflected. "I don't think any of us have done enough," he replied.
An even more revealing moment occurred a few minutes later. Of all the questions Ryan faced during the hour-long town hall, none elicited a more passionate response from the speaker than one in which he was asked whether he would support a formal censure of the president, which some Democrats have proposed. "I will not support that," Ryan declared. "That would be so counterproductive. If we descend this issue into some partisan hack-fest, into some bickering against each other, and demean it down to some political food fight, what good does that do to unify this country?"
If he wasn't explicit enough initially, Ryan added that a congressional censure would be "the absolute worst thing we could do."
There are plenty of purely political and practical reasons why Ryan would want to take it easy on Trump. For one, though the president is broadly unpopular, he's still more well-liked than the speaker—both among Republicans and voters as a whole. A Bloomberg poll taken in July found that just 34 percent of respondents had a favorable view of Ryan compared to 41 percent for Trump. Second, Ryan has been clear that his priority is passing the GOP's legislative agenda and getting Trump to sign it into law. That hasn't been easy to begin with, and he well knows that getting into a spat with the president won't improve the chances for enacting tax reform or anything else this fall.
If that weren't enough, Ryan can look to his counterpart across the Capitol, Senate Majority Leader Mitch McConnell, for a recent example of how a public fight with the president works out for the combatants. McConnell had the temerity to suggest that Trump had "excessive expectations" for how quickly Congress could act and to wish that the president was "a little more on message." The result was days worth of retorts from Trump, who attacked McConnell over the Senate's failure on health care on Twitter and on television. Already reeling from the legislative setback, McConnell has seen his standing in his home state of Kentucky fall to an approval rating of just 18 percent, according to a survey by the liberal firm Public Policy Polling. (Trump's approval rating in the state, by contrast, is 60 percent.) McConnell is more secure in his leadership position in the Senate, and the last thing Ryan needs is a clash that would fuel speculation about his future as speaker.
Ryan's handling of Trump is a source of consternation for the president's more vocal critics, who view the speaker as a would-be ally unwilling to confront the president's most galling violations of norms. Yet the speaker's careful style has been remarkably consistent, dating back to when Trump's nomination as the Republican standard-bearer was not yet a done deal. In March 2016, Ryan delivered an entire speech implicitly rebuking Trump to congressional interns, hailing the idealism of politics while denouncing "ugliness" in politics and those who resort to "insults" against their opponents. Yet then as now, when Trump was clearly the insult king of American politics, Ryan refused to utter his name.
When a questioner brought up "bullying" on Monday night and asked Ryan how he reconciled "the words and the actions of the current administration when talking to your children," the speaker replied that the query was "very vague." He appeared to be the only one in the room who didn't get that the man was referring to Trump and his tweets.
Perhaps Ryan is just trying to take the high road by not engaging directly with Trump, demonstrating his own restraint as an example to others. There are those who hold a much less charitable view of the speaker, who view him as a "craven" politician whose lofty rhetoric across a whole range of issues disguises a cold-hearted approach to governing and social policy. But Ryan's caution also risks alienating his many fans in the Republican establishment, who see him as an avatar of moral leadership and someone who is revolted by the president's low-road political style—if only he could bring himself to say it.