The Chilling Effects of Openly Displayed Firearms
Charlottesville marks a new era of even bolder assertion of the right to threaten violence for political purposes.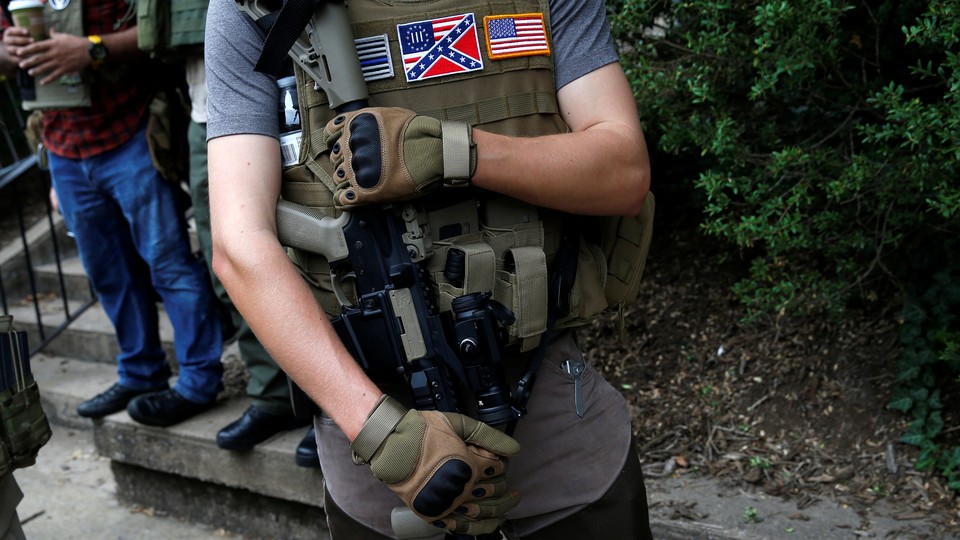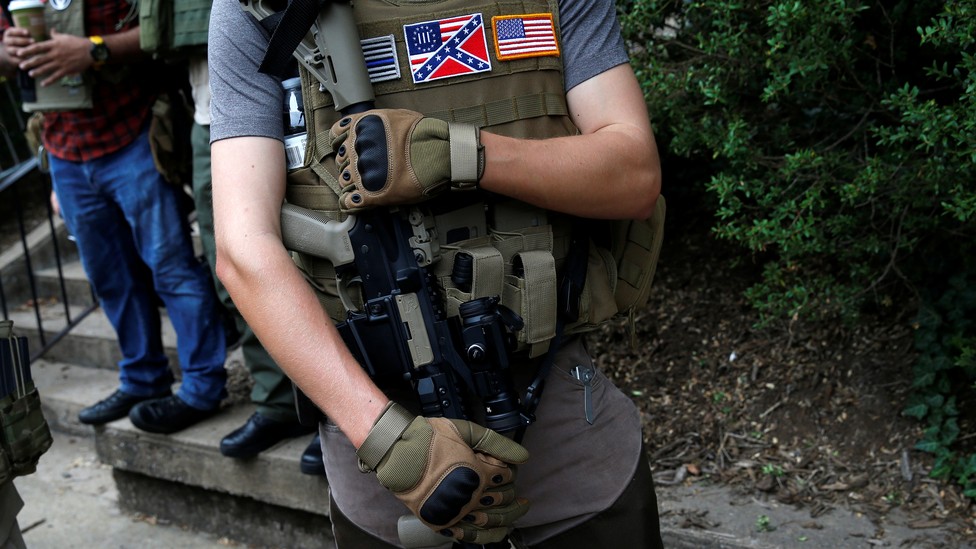 It could have been so much worse.
Like ISIS attackers in Europe, the Charlottesville murderer used a car as his assault weapon. But Charlottesville this past weekend was crammed with anti-social personalities carrying sub-military firearms. It could just as easily have been one—or more—of those gun-carriers who made the decision to kill. If so, Americans might this week be mourning not one life lost to an attack, but dozens.
As recently as 2009, the nation retained a capacity to be shocked when individuals carried weapons to political events. Such was the case in Phoenix, Arizona, on August 18, 2009:
A man toting an assault rifle was among a dozen protesters carrying weapons while demonstrating outside President Obama's speech to veterans on Monday, but no laws were broken. It was the second instance in recent days in which weapons have been seen near presidential events.
The man who followed Obama with a rifle in Arizona was sending a wordless message. Not so the man who had showed up a few days before at an Obama event in Portsmouth, New Hampshire. With a handgun strapped to his thigh, he carried a placard reading: "It is time to water the tree of liberty!"—a reference to Thomas Jefferson's famous remark about the periodic need for revolutionary bloodshed.
A decade ago, such incidents still occurred rarely enough that onlookers could be surprised and upset by them. But the presence of a president did at least ensure that the preponderance of firepower lay with the lawful authorities.
Not so a decade later.
In June, a rumor spread via Facebook that protesters planned to rally at a park in Houston, Texas, to demand the removal of a statue of Sam Houston. Hundreds of supporters of the statue rallied; a large number of them carrying rifles, some wearing body armor.
Hermann park, the site of the statue, is one of the city's most visited parks. The Houston Zoo is located within it; the Houston Children's Museum stands just a few blocks away. On weekends, the park is typically crowded with young families. Yet some dozens of Texans decided that this would be an appropriate place to plan a gunfight. And of course they were entirely within their rights, as those rights are understood in 21st-century America. Texas law forbids citizens to carry deadly weapons "in a manner calculated to alarm." Otherwise, long arms may be shouldered by virtually anyone in almost any place. It might be thought that bringing a rifle into a playground is itself "calculated to alarm." But over the past generation, gun carriers have become much more assertive—and the authorities much more accommodating.
Charlottesville, however, marks a new era of even bolder assertion of the right to threaten violence for political purposes. Gun carriers at the so-called "Unite the Right" rally acted more like a paramilitary force than as individual demonstrators. They wore similar pseudo-military outfits, including body armor. They took tactical formations to surround the site of the expected confrontation. According to Virginia Governor Terry McAuliffe, "They had better equipment than our state police had." (The state police have disputed that claim.)
The carrying of firearms by random citizens into public places is typically defended as a contribution to public safety. If criminals must reckon with the possibility of armed resistance, they will hesitate to commit crimes—or so goes the theory. It's a hard theory to prove or disprove, because the thing to be measured—"defensive gun use"—is so subjective. An altercation erupts after a traffic accident. One motorist raises his voice. The other displays a weapon. Has the weapon carrier prevented a crime? Or has the law empowered a subset of Americans to intimidate their neighbors? The Florida man who shot 17-year-old Jordan Davis dead for playing his music too loud also claimed he was acting in self-defense. If widespread gun carry enhances safety, why are countries that forbid it so much safer than the United States?
Whatever its merits, however, the theory of the crime-reducing effects of citizen carry applies only to concealed carry. Society receives the putative benefit of citizen carry only if the potential criminal does not know which potential victim might be armed.
Open carry has no such justification—and until recently, it has not needed it. Until recently, almost all states forbade the open carry of handguns. Although many Western states ignored the open carry of long guns, they did so not as a matter of policy or right, but as a left-over from their rural origins. A rancher moving about his lands may want to carry a shotgun or rifle in case predators attack his livestock. Is he supposed to put a bag over his gun? Are hunters supposed to carry their rifles in a locked case until they literally see the deer?
Today in Arizona, however, 89.8 percent of the population dwells in urban areas, a higher percentage than in Connecticut; Texas's population has become 84.7 percent urban, higher than Delaware. Hunting is declining. The most popular rifle in the United States is the AR-15, a look-alike of the military-grade M-16 that can be used for hunting purposes only by the most skilled marksmen. Fewer and fewer American households own long guns at all. Gun sales are up because a few gun enthusiasts are accumulating miniature arsenals: In 1994, the average gun-owning household owned four weapons; by 2015, the average gun-owning household owned eight.
Over that same period, American political culture has become more polarized. Those polarities have become more extreme. And on the political right especially, the rhetoric has become more indulgent of—if not more enthusiastic about—political violence.
Sometimes the indulgence of violence is spoken in tones of regret, as in this column by radio host Dennis Prager in May 2017:
Left-wing thugs engage in violence and threats of violence with utter impunity. They shut down speakers at colleges; block highways, bridges, and airport terminals; take over college buildings and offices; occupy state capitals; and terrorize individuals at their homes.

In order to understand why more violence may be coming, it is essential to understand that left-wing mobs are almost never stopped, arrested, or punished. Colleges do nothing to stop them, and civil authorities do nothing to stop them on campuses or anywhere else. Police are reduced to spectators as they watch left-wing gangs loot stores, smash business and car windows, and even take over state capitals (as in Madison, Wisconsin).

It's beginning to dawn on many Americans that mayors, police chiefs and college presidents have no interest in stopping this violence. Left-wing officials sympathize with the lawbreakers, and the police, who rarely sympathize with thugs of any ideology, are ordered to do nothing by emasculated police chiefs.

Consequently, given the abdication by all these authorities of their role to protect the public, some members of the public will inevitably decide that they will protect themselves and others.
Sometimes it is gleeful, as in this August monologue by one of Trump's favorite radio hosts, Michael Savage:
That is what's going to happen in this country. You have not yet seen mob violence in this country. You've seen some mob violence instigated by George Soros's mobs. … But you haven't seen the thing I'm telling you is coming in this country. … We've had it up to here. We've put up with your garbage in the universities. We've put up with your filth coming out of your filth factories in Hollywood. We've put up with your hatred that comes out of your newspapers. We've put up with your filth and your hatred coming out of CNN. But if you do the next step and steal our president, I warn you. You've seen nothing yet. You will see the 'Day of the Locust' in this country.
Sean Hannity tells his audience of a "soft coup" against  Trump: "sinister forces aligning in a clear and present danger." Newt Gingrich describes a "clear-cut cultural civil war."
These talkers only intend to rev people up. It's shtick—"performance art," as Alex Jones's lawyers have argued in defense of that inflammatory radio host. They don't take themselves seriously, and would surely be horrified if anybody else did. And surely the vast majority of Americans do see through the performance. But not all. A poor fool with a gun fired a shot into a Washington pizza restaurant crowded with children because some cynic saw the chance of a dishonest dollar in sending him there—and so it may be again on a more horrifying scale next time.
What can be done? We can begin by acknowledging that America's ranching days are behind it. Within metropolitan areas, there is no reason—zero—that a weapon should ever be carried openly. The purpose is always to intimidate—to frighten others away from their lawful rights, not only free speech and lawful assembly, but voting as well. This happened in Loudon County, Virginia, on Election Day 2016:
A man wearing a Donald Trump shirt and carrying a weapon stood outside a voting location in Loudon County, Virginia. ... 'I had my 9-year-old son with me. I felt intimidated,' [Erika] Cotti said. 'And I had to explain to my 9-year-old why a man with a 357 magnum is standing outside the polling station.'

Cotti said the man offered her a Republican sample ballot, which she declined.

'He's like, "Who are you going to vote for, crooked Hillary?" And I was like, "That's really none of your business,"' Cotti said, adding that the man was standing in the sidewalk outside of the office when they left and blocking their path.
Virginia is an open-carry state. Any adult can show a legally acquired loaded handgun just about anywhere; people with a concealed-carry permit can openly carry rifles with large-capacity magazines. Some Virginia cities have passed laws purporting to bar guns, but the state's permissive carry laws explicitly preempt local ordinances.
But take care: As David Graham has observed here at The Atlantic, the right to carry arms is America's most unequally upheld right. Ohio is an open-carry state. Yet Tamir Rice, a black 12-year-old, was shot dead in Cleveland within seconds of being observed carrying what proved to be a pellet gun. John Crawford was shot dead for moving around an Ohio Walmart with an air rifle he had picked up from a display shelf. Minnesota allows concealed-carry permit-holders to open carry if they wish—yet Minnesotan Philando Castile was killed after merely telling a police officer he had a legal gun in his car.
On the other hand, every white man who played vigilante in Charlottesville this weekend went home unharmed to his family, having successfully overawed the police—and having sent a chilling message of warning to lawful protesters.
No other democracy on Earth tolerates such antics. When libertarian-minded Americans lament the over-militarization of police, they might give some thought to what it takes to police a society where potential lawbreakers think it their right to accumulate force that would do credit to a Somali warlord. And not only accumulate it, but carry that force into public to brandish against fellow citizens who think differently from their local paramilitaries.
At Charlottesville, blessedly, no gun went off. But at Dallas last year, the guns did.
Police came under fire from an African American who believed himself to be resisting governmental abuse and tyranny—which, according to many a gun-rights advocate, is one of the reasons to have an armed populace.

Attempting to locate the sniper, Dallas law enforcement had to contend with some 20 people who were marching in a larger protest against police brutality while openly carrying rifles and wearing body armor, as was their right under Texas law.
It's not necessary to live like this. No other advanced democracy does. As Americans critically self-examine the forces in their society that enabled the tragedy in Charlottesville, they might give a thought as well to the permission they allow the even graver tragedy that might have happened—and that sooner or later, surely will.