Mueller Closes In on Manafort
The special counsel's team executed a search warrant on the former Trump campaign chair's home.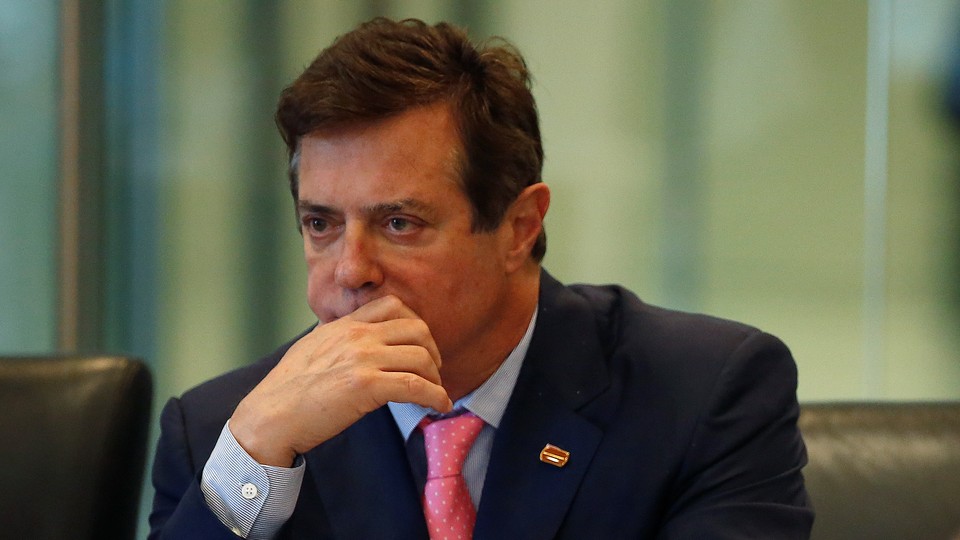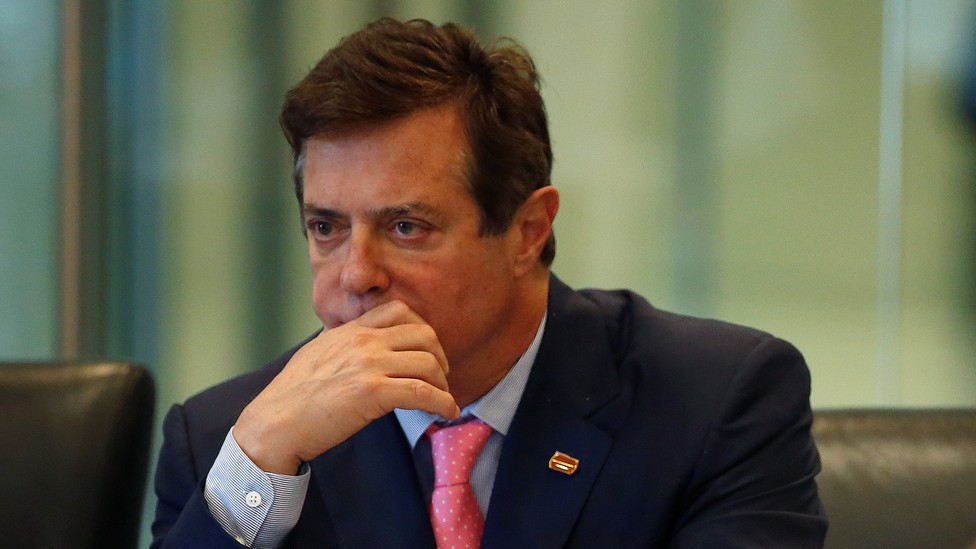 Updated at 3:05 p.m. ET
FBI agents directed by Special Counsel Robert Mueller raided a home owned by Paul Manafort last month in the latest sign that the Russia investigation is taking an aggressive new posture toward the former Trump campaign chairman.
According to The Washington Post, federal agents appeared with a search warrant at an Alexandria, Virginia, home owned by Manafort on the morning of July 26 without advance notice. The Post described the warrant as "wide-ranging" and said Mueller's team left Manafort's home with various records. The New York Times subsequently reported that investigators were looking for "tax documents and foreign banking records."
"FBI agents executed a search warrant at one of Mr. Manafort's residences," a spokesperson for Manafort said in a statement. "Mr. Manafort has consistently cooperated with law enforcement and other serious inquiries and did so on this occasion as well."
To obtain a search warrant, federal agents must affirm to a judge that they believe there is probable cause that criminal evidence will be found during the search. That affirmation can include evidence and testimony. Warrant applications of this kind are usually granted, and they do not always indicate whether criminal charges will eventually be filed.
Stephen Vladeck, a University of Texas law professor, said that while it's unclear what the raid means for the broader Russia investigation, it represents a "pretty big development" in Manafort's legal situation.
"Clearly, the FBI was not satisfied with whatever cooperation Manafort has been providing, and convinced a federal judge that there was probable cause to believe they'd find evidence of a crime in his house," Vladeck said. "That gets us much closer to specific criminal charges against a specific individual than we've been at any previous point in the proceedings."
The raid targeting Manafort came one day after he met with Senate Intelligence Committee staffers as part of the congressional probe into Russian electoral interference. He previously pledged to cooperate with both the congressional and federal investigations, and has voluntarily turned over some documents to both teams. Pursuing a search warrant against him suggests, at minimum, that investigators want further records from him.
Manafort himself is close to the center of those inquiries: He served as the Trump campaign's chairman during its pivotal summer months and was present at the now-infamous June 2016 meeting between Donald Trump Jr. and a Russian government lawyer who promised damaging information about Hillary Clinton. Manafort has denied any wrongdoing.
Trump brought Manafort aboard in March to focus on delegate-counting efforts during the primaries and to navigate his upstart campaign through one of the most contentious Republican national conventions in decades. He resigned from the Trump campaign last August amid questions about his work advising the Party of Regions, a pro-Kremlin Ukrainian political party that held power there until 2014. Among the news reports that led to his departure was a Times story on ledgers detailing more than $12 million in unofficial cash payments earmarked for Manafort from the party. It's not clear whether he ever received any of the funds; Ukrainian prosecutors said last month they found no evidence of illegal payments made to Manafort.
His work with the Party of Regions also apparently caught the attention of federal investigators, even before the Russia investigation began. Two weeks after Mueller's appointment in May, he also took over a separate federal probe into Manafort's Ukrainian business dealings. Manafort filed paperwork in July to retroactively register with the Justice Department as a foreign lobbyist under the Foreign Agent Registration Act; his spokesman told Politico he began the process last September.
News of the Manafort raid comes one week after The Wall Street Journal revealed the Russia investigation had moved before a grand jury earlier this summer, and that Mueller had begun issuing subpoenas through grand juries in eastern Virginia and Washington, D.C. Both revelations indicate the investigation is entering advanced stages, although it's unclear how long it will take Mueller and his team of prosecutors to decide whether any criminal charges should be filed.
It's also unclear when the White House became aware of the FBI raid on Manafort's Alexandria home. A few hours after the raid, Trump suggested that Andrew McCabe, the then-acting director of the FBI, had acted improperly in a previous investigation he oversaw. "Why didn't A.G. Sessions replace Acting FBI Director Andrew McCabe, a Comey friend who was in charge of Clinton investigation but got big dollars ($700,000) for his wife's political run from Hillary Clinton and her representatives," he wrote on Twitter. The tweets came as part of a weeks-long campaign of criticism against Attorney General Jeff Sessions that has since abated.