How Trump's Reaction to Charlottesville Threatens the GOP
Over and over again, the president has explicitly identified his party with white backlash—just as the most diverse generations in American history are gaining power in the electorate.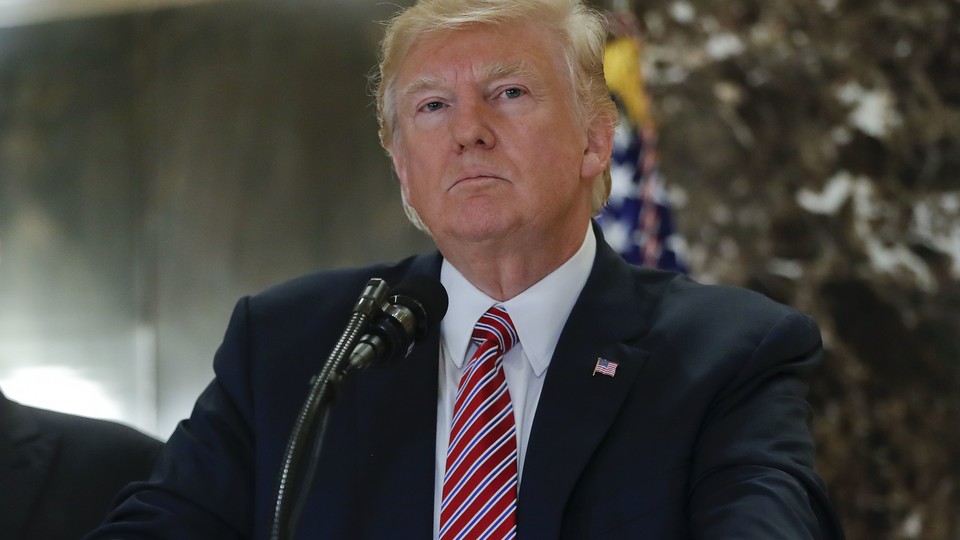 From his first days as a presidential candidate, the gravest political risk Donald Trump has presented the GOP is that he would stamp it as a party of racial and social intolerance precisely as the most diverse and inclusive generations in American history—the Millennials and the post-Millennials behind them—are growing into decisive roles in the electorate.
After Trump's morally stunted response to the recent violence in Charlottesville, that wolf is now at the party's door.
Trump's election "may be one of the most costly presidential victories in history for a political party, because [it is leaving] a crimson stain on the party," said Peter Wehner, the former director of strategic planning in the George W. Bush White House. "I don't think it … will be easy to get away from."
Through Trump's first months, the danger of him branding the GOP as intolerant has steadily smoldered, as he's rolled out polarizing policies on undocumented and legal immigration, crime and policing, affirmative action, and voting rights. He's also moved to reverse protections for transgender Americans in schools and the military.
But Trump's belligerent response to the unrest in Virginia has detonated this slowly burning fuse. His pointed refusal to unambiguously condemn the white-supremacist and neo-Nazi groups who gathered there may crystallize, in a way no policy debate could, the picture of him as racially and culturally biased, particularly among younger voters. "The truth is, I bet that Millennials have not paid that much attention to the policy stuff he's done," said Andrew Baumann, a Democratic pollster who has extensively surveyed the generation. "But I think Charlottesville is a whole different thing. This is a watershed moment."
The president's reaction to Charlottesville closely followed the template he established for dealing with white supremacist David Duke during the 2016 GOP primaries. In late February of that year, Trump refused to directly disavow Duke, a former Ku Klux Klan grand wizard, when pressed by Jake Tapper during a CNN interview held two days before the largest concentration of Southern primaries. Only after those states had voted, and white nationalists had exulted in Trump's evasive initial response, did the presidential contender explicitly renounce Duke's support.
At first, Trump employed the same two-step on Charlottesville. His initial statement, on Saturday, drew cheers from white nationalists when he refused to criticize them by name. Within two days, Trump had once again bowed to bipartisan condemnation by issuing a stronger and more explicit statement. But Trump quickly diluted his rebuke when he immediately issued a flurry of racially provocative tweets—and then virtually erased it when he reverted to blaming groups on "both sides" during a chaotic press conference on Tuesday.
Trump's remarks on Charlottesville have provoked a much stronger backlash than his comments about Duke did. That's partially because a president's words carry more weight than a candidate's. But the broader criticism he faced this week from Republican elected officials—as well as from the procession of corporate and labor leaders who resigned from his manufacturing advisory board—signals that all the controversies the president has ignited have taken a cumulative toll. Trump abruptly terminated his two principal business-advisory panels—the manufacturing group and the Strategic and Policy Forum—via tweet on Wednesday morning, after participants in the latter panel had already decided to disband over the controversy.
The stampede away from Trump from business leaders generally sympathetic to his economic agenda dramatically illuminates how much they fear being associated with his social and racial views. That concern may be a canary in the coal mine for politicians: As Baumann notes, the consumer base for most companies skews younger than the electorate, which means business executives must be even more cognizant about youth opinion than elected officials are.
Even before Charlottesville, Trump faced gale-force skepticism from the Millennial generation. In an early August Quinnipiac poll, only one-fourth of them nationwide approved of his job performance, while two-thirds disapproved (fully 59 percent strongly). Just one-fourth said he shared their values; almost two-thirds said he wasn't honest and didn't care about average Americans.
Because Trump retains some irreducible support among younger whites, particularly those without college degrees, Baumann said the Charlottesville firestorm would likely do more to harden, rather than expand, that Millennial resistance. "I think he's really cemented these views of Millennials, and I have a hard time believing there is much he can do to reverse that," Baumann said.
The big question for Republicans is how far this damage extends beyond Trump. Long before he emerged, the party had moved right on issues like immigration and voting rights. But Trump has identified the GOP much more explicitly with themes of white backlash.
Though several Republicans criticized Trump's initial Charlottesville remarks—and more condemned white nationalism without directly addressing the president—only a tiny handful (arguably just Arizona Senator Jeff Flake and Ohio Governor John Kasich) have ever hinted they consider him unfit to serve. On most issues, Republicans remain committed to working shoulder-to-shoulder with Trump. That increases the chances that voters will view the party as an extension of his values and beliefs.
Trump's racially confrontational posture helped the GOP solidify crushing advantages last year among the blue-collar, older, evangelical, and non-urban whites that express the most unease in polls about demographic change. And Republicans won't pay the full price next year for Trump's positioning if Millennials don't improve their previously anemic turnout in midterm elections.
But by 2020, the highly diverse Millennials will clearly pass the predominantly white baby boomers as the largest generation of eligible voters. That Millennial advantage will widen over the next decade, and it will be reinforced when the first post-Millennials—the generation born after 2000 that's even more racially diverse—file into the voting booth.
In a measure of the growing headwinds the party could face, Kristen Soltis Anderson, a prominent Republican pollster who has written a book on Millennials, told me this week that the absence of effective resistance from party leaders or voters to Trump's posture has left her increasingly pessimistic the GOP can set a direction that will appeal to young people like her.
"Given a lot of the data I've seen since the start of the Trump presidency, I wouldn't blame a young person who is just becoming interested in politics who thinks the GOP … is comfortable with white supremacists," she told me in an email. "Not just because of perceptions of what Trump believes, but because of the accurate perception that a majority of Republican voters stand with him, even on his most controversial views."
Trump is immersing the GOP in the darkest impulses of America's past precisely as the nation's future is hurtling into view. For Republican leaders, the political, as well as moral, price of tolerating Trump's intolerance is only likely to grow.