Congress Prepares to Open Its Wallet for Texas
With Republicans in power, the money will likely flow without a fight.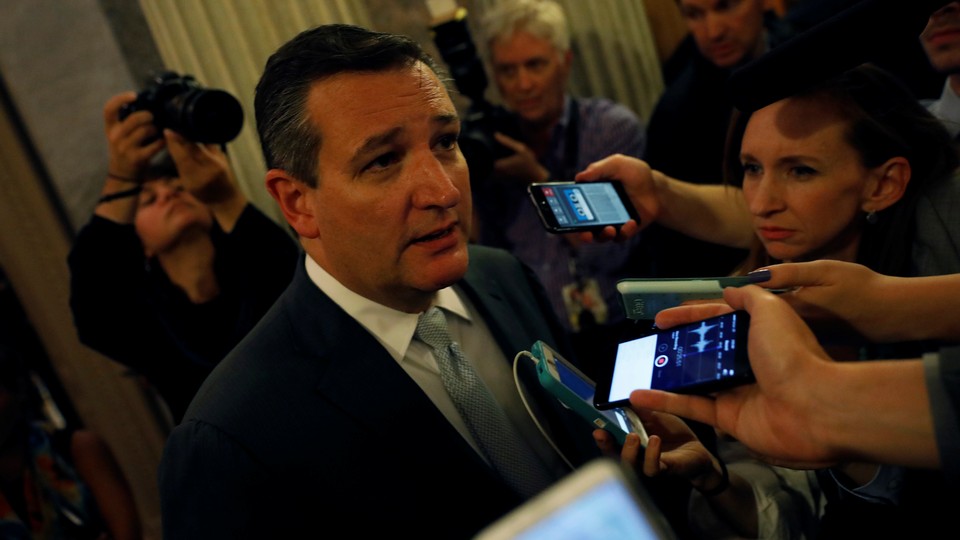 The flood waters in Houston have yet to recede, and it might take days or weeks to assess the full damage wrought by Hurricane Harvey. But Texas lawmakers are already sure of one thing: They're going to need more money from Congress.
Calls for the House and Senate to approve an emergency spending package for Texas and possibly Louisiana began quickly on Monday following the weekend's deluge, even as officials acknowledged they have no idea yet how much cash they'll need. Representative Sheila Jackson Lee, a Democrat who represents a large portion of Houston, said in an email she'd be working with other Texas lawmakers to draft a request based on discussions with local leaders. "What they say will influence the amount of the funding request we introduce," Jackson Lee said. "But based on early estimates, the amount of the initial request will likely be in the multibillion-dollar level. As we recover, there may be more needed. Together, we will get through this, whatever it takes."
In television interviews, Republican Senator Ted Cruz said he'd gotten assurances directly from President Trump that the administration would support additional aid to the state, where flooding has submerged the nation's fourth-largest city in several feet of water. "He just said, 'Ted, what do you need? What does the state need? The answer is yes,'" Cruz recalled in an interview Monday on Fox News.
At a press conference later in the day, Trump said the government had enough money for the immediate rescue efforts but that the total price tag for Texas's recovery would be "many billions of dollars." Congress has a packed agenda in September and needs to raise the debt ceiling and fund the entire federal government, among other must-pass items. Trump has already complicated those efforts by threatening a government shutdown if Congress does not approve money for a Southern border wall. But on Monday, he said Texas's needs were separate and would not get in the way.
"I think it will happen very quickly. It will go very fast," the president said.
With the fiscal year ending in just over a month, FEMA has about $1.8 billion left in its disaster-relief account, and Trump has issued formal designations allowing that money to be used. But officials have already warned that the recovery of Houston and low-lying areas of southeast Texas will take years. Brock Long, FEMA's administrator, said on Monday afternoon that the region faced "one of the largest housing-recovery missions the nation has ever seen."
From a political standpoint, Texas is in luck. As the country's most populous Republican-dominated state, it wields considerable power in a national government run by the GOP. Texas's senior senator, John Cornyn, is the second-ranking Republican in the Senate leadership, and its 36-member House delegation includes 25 Republicans and several committee chairmen. A senior member of the House Appropriations Committee is Representative John Culberson, who also represents part of Houston and told Bloomberg Television on Monday that a supplemental spending bill would be needed in the coming weeks.
"We will help those affected by this terrible disaster," said AshLee Strong, a spokeswoman for House Speaker Paul Ryan, although she noted that the Trump administration must first submit a formal request for emergency funds. Democrats signaled they would offer little opposition, having criticized the GOP for holding up disaster-relief packages in the recent past. "Republicans must be ready to join Democrats in passing a timely relief bill that makes all necessary resources available through emergency spending," House Minority Leader Nancy Pelosi said. "American families deserve to know that their government will be there for them when disaster strikes, without question and without hesitation."
Texas will likely get its money from Congress, but not before its most conservative lawmakers get an earful from fellow Republicans still sore from the last debate over a major natural disaster nearly five years ago. Conservatives, including Cruz, initially held up a $50 billion relief package for New York and New Jersey after Superstorm Sandy, infuriating lawmakers from those states. "I won't abandon Texas the way Ted Cruz did New York," Representative Peter King of New York tweeted on Sunday. New Jersey Governor Chris Christie chimed in Monday, calling the Texas Republicans who opposed the Sandy measure "hypocrites," according to the Star-Ledger. Asked about the criticism, Cruz on Monday told CNBC that the "political sniping" should wait until after the crisis in Texas is over. But he said he opposed the legislation in early 2013 because it included billions in "pork-barrel spending" unrelated to the storm.
At the time, some conservatives also wanted to enact spending cuts elsewhere in the budget to pay for the additional funds going to the Northeast. There has been little talk of that happening this time around. After Sandy had lashed and flooded the coastline of the Eastern Seaboard, Christie and local Republicans warned their counterparts in the Gulf that their turn to ask for federal help would come again, just as it had a decade earlier following Hurricane Katrina. "It was just a matter of time," Christie said on Monday. On that score, he was proven right.