Hillary Wants to Preach
Religion is playing a big role in Clinton's post-election tour. What does she have to gain from sharing her faith now?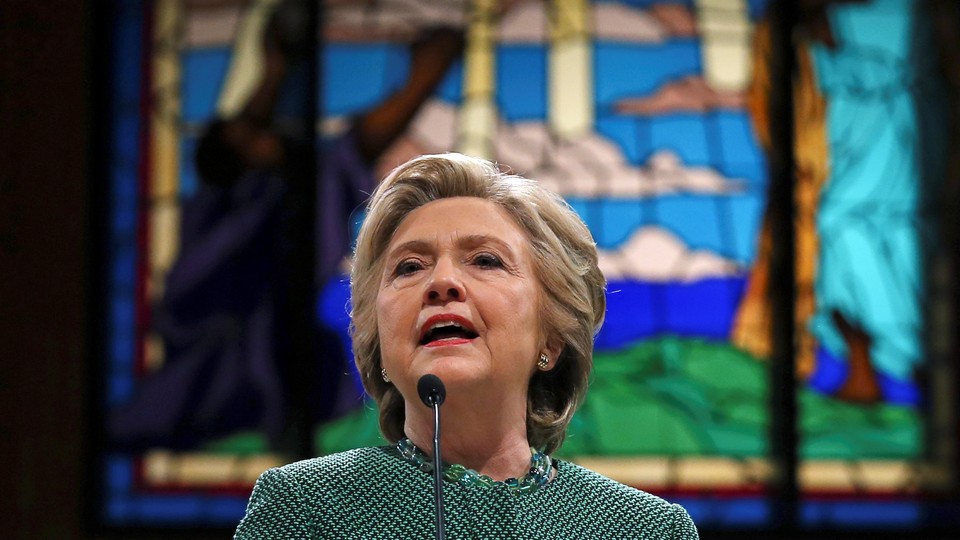 Hillary Clinton wants to preach. That's what she told Bill Shillady, her longtime pastor, at a recent photo shoot for his new book about the daily devotionals he sent her during the 2016 campaign. Scattered bits of reporting suggest that ministry has always been a secret dream of the two-time presidential candidate: Last fall, the former Newsweek editor Kenneth Woodward revealed that Clinton told him in 1994 that she thought "all the time" about becoming an ordained Methodist minister. She asked him not to write about it, though: "It will make me seem much too pious." The incident perfectly captures Clinton's long campaign to modulate—and sometimes obscure—expressions of her faith.
Now, as Clinton works to rehabilitate her public image and figure out the next steps after her brutal November loss, religion is taking a central role. After long months of struggling to persuade Americans that she is trustworthy, authentic, and fundamentally moral, Clinton is lifting up an intimate, closely guarded part of herself. There are no more voters left to lose. In sharing her faith, perhaps Clinton sees something left to win, whether political or personal.
Two books are slated to come out of Clinton world early this fall: What Happened, Clinton's personal account of the election, and Strong for a Moment Like This, Shillady's book of devotionals. Shillady, who runs the United Methodist City Society in New York, wrote the book at Clinton's suggestion; he said his is the only book for which Clinton has agreed to write a foreword. Clinton and her staffers read and approved the copy ahead of time.
Strong for a Moment Like This emerges from a project Shillady started shortly after Clinton said she was running for president in 2015. Every morning, he would get up at 4 a.m. to pick out a bit of Scripture and write a quick devotional for Clinton to use in the day ahead. Sometimes, he asked fellow pastors to contribute a devotional to the project, including the more than 100 women clergy who formed a group called "We Pray with Her." Shillady includes bits of his email correspondence with Clinton, such as her delight at a new prayer or parable, or thank-you notes following get-togethers with Methodist clergy. Sometimes, Shillady said, he would get a call from Clinton's chief speechwriter, Dan Schwerin, who wanted to work something from the day's devotional into his boss's remarks. In her concession speech, Clinton quoted a verse from Galatians: "Let us not grow weary in doing good, for in due season, we shall reap if we do not lose heart." Shillady had sent her that verse in a devotional a few weeks earlier, he said.
The book offers a rare window into the way Scripture appears to have shaped Clinton on the campaign trail—as it has throughout her life. Hillary Rodham grew up attending First United Methodist Church in the conservative suburb of Park Ridge, Illinois, often taking field trips into Chicago with her youth pastor to see figures like Martin Luther King Jr. While other girls were flipping through beauty mags, she was reading about Vietnam and poverty in a now-defunct magazine for Methodist students called motive. (The title was always styled with a lower-case m.)
Clinton brought her faith with her as she entered political life, in times both good and bad. During the Clinton administration, the family attended Foundry United Methodist Church in Washington, D.C. Mike McCurry, who served as Bill Clinton's press secretary during the early Monica Lewinsky years and now teaches at Wesley Theological Seminary, told me "her faith and her ability to think about forgiveness … was a very, very important part of how she dealt with that family crisis." A well-worn Bible was always on the Clinton family's dining room table during that time, he said.
Strong for a Moment Like This suggests Clinton was thinking about biblical themes throughout 2015 and 2016, as well. The title is drawn from the Book of Esther, which tells the story of a young woman who must stand up to corrupt political figures in order to save her people. The female clergy who contributed to the book seemed particularly preoccupied with the strong women of the Bible: Esther makes a number of appearances in their devotionals, as do Shifra and Puah, the midwives who covertly save Moses from death in the Book of Exodus. Shillady said Clinton particularly enjoyed stories about women and female voices.
Some leaders were more willing to believe Trump is a Christian "without ever professing Jesus as his Lord and Savior."
Yet early in her career, Clinton learned the dangers of speaking publicly about her religious beliefs. When she was First Lady, progressives roundly mocked her moralism, and conservatives doubted her sincerity. After getting widely panned for a speech about America's "crisis of meaning" in 1993, Clinton waited nearly a year to talk about spirituality again—and did so, she said, "with some trepidation."
On the campaign trail, Clinton would talk about prayer or witness her faith when asked, and spoke about religion when she visited black churches. But she largely relied on secular terms. One of her favorite expressions was, "Do all the good you can, by all the means you can"—a phrase often misattributed to the founder of Methodism, John Wesley, that might not sound religious to those who don't know the history. Clinton did not revive her decades-old rhetoric about "spiritual renewal" and "[filling] that sense of emptiness with the Word." Instead, she spoke neutrally about kindness, love, and respect. "Hillary finds it hard to talk about religion a lot," McCurry said. She "comes from the Methodist tradition, which, like many more liberal, mainstream Protestant denominations, is a little more buttoned up."
Her move may have been strategic, but it also may have cost her. As primary season approached last year, nearly half of Americans described Clinton as not very or at all religious or said they didn't know what her religion was. The conservative commentator Erick Erickson pointed out that some leaders were more willing to believe Trump is a Christian "without ever professing Jesus as his Lord and Savior" than they were to believe Clinton's stated faith in the gospel.
The big swing states that Clinton lost in November—Pennsylvania, Wisconsin, Michigan—are strongholds of white, working-class voters, many of whom are mainline Protestants and Catholics. Clinton did not focus on faith outreach to these groups: Her campaign declined a speaking invitation at Notre Dame, for example, reasoning that white Catholics weren't her target audience.
"The challenge was a little less with the campaign and more with the progressive infrastructure," said Joshua DuBois, who led faith outreach for the 2008 Obama campaign and served as the head of Obama's Office of Faith Based and Neighborhood Partnerships. He wrote his own version of Shillady's book in 2013, about "the daily readings that inspired President Obama." Clinton's supporters "too often felt like there had to be a binary choice between engaging religious Americans and Secretary Clinton being a strong progressive," DuBois said. He was skeptical that reaching out to religious groups would have changed the outcome of the election, but "could Secretary Clinton potentially have gained a few more votes on the margins by having some Catholics events in Michigan or Wisconsin, or evangelical round tables in those places?" he said. "Perhaps."
"It was just baffling to me that so many other Americans ... didn't accept that she was Christian."
Shillady said Clinton could have talked about her faith more during the campaign, but largely blamed commentators for ignoring that aspect of her identity. "It's been there all along," he said. "The general public didn't necessarily want to accept the fact that she's a Christian because there's so many critics out there about the Clintons." Kristin Du Mez, a professor at Calvin College who is working on a book about Clinton's faith, agreed. "When I would hear Hillary speak, knowing that she was a Methodist, I just heard so many resonances—about education, about women's rights, about the importance of community," she said. "Because of that, it was just baffling to me that so many other Americans not only didn't know she was Methodist, but didn't accept that she was Christian."
Clinton might argue that her politics were the ultimate expression of her faith. Methodists helped lead the early 19th-century Social Gospel movement, a faith-based campaign for greater aid to the poor and vulnerable. "Historically, Methodists have been very comfortable talking about policy issues in terms of their faith," said Heath Carter, a professor at Valparaiso University in Indiana. But "for them … it's possible to talk about the reasons why you might support a policy without specifically citing theological doctrines." As Shillady put it, Clinton "doesn't wear her religion on her sleeve, she just practices it. She follows the edict of what's attributed to St. Francis: 'Preach the gospel always, and if you need to, use words.'"
Shillady insists his book is not intended to be political. "It's an inspirational book," he said. "I do not believe that she encouraged me to write this book in any way to change the image of her. She really found [the devotionals] so helpful to her in the midst of the contentious campaign that she felt that people would find some hope … from it." Perhaps it's inspirational literature fit for an age of toxic partisanship: Tucked among the passages on hope, blessings, and prayer are subtle shots at Trump, like a tweet bragging about his court defeats on the travel ban or a call for him to step up and condemn the wave of bomb threats against Jewish Community Centers earlier this year. Shillady paraphrased the theologian Karl Barth, saying he wrote with "a newspaper in one hand and the Bible in the other"; he wanted to show that he was crafting the devotionals in response to current events. But many of the news clippings and tweets peppered in the margins date from after the conclusion of the project. They seem carefully curated to vindicate not just Clinton's faithfulness, but her political record as well.
Once a politician has spent as many years in the public eye as Clinton has, always trailed by a faint cloud of real or imagined scandal, it becomes impossible to distinguish the authentic from the tightly controlled public image. It's ironic that Clinton has chosen this period in her life—on the heels of failure, fading out of public life—to celebrate a part of herself that she cherishes, just as millions of other Americans cherish their faith. Perhaps, after being unwilling to wield her faith as a voter-recruitment tool, she's willing to sacrifice her privacy in a final bid for public redemption.
Or perhaps she is settling into an alternate path, one she's apparently fantasized about in secret for a long time.
"Given her depth of knowledge of the Bible and her experience of caring for people and loving people, she'd make a great pastor," Shillady told me. No, she probably won't go to seminary, he said. No, she probably won't pursue an official lay position in the Methodist church, like deaconess. (I reached out to Clinton's spokespeople for comment, but didn't hear back.) "I think it would be more of … her guest preaching at some point," he said. "We have a long history of lay preachers in the United Methodist Church."
Since the election, "I think her faith is stronger," Shillady added. "I haven't noticed anything different, except that I think she is more relaxed than I've ever seen her." Maybe after all these years of hard-scrabble politics, Clinton is finally becoming a more straightforward version of herself: a woman whose fondest ambition is teaching scripture in church.