Arrests Begin Following Durham Confederate Statue Toppling
Moments after a press conference demanding amnesty for protesters, sheriff's deputies arrested Takiyah Thompson, who placed a rope around a Confederate monument Monday night.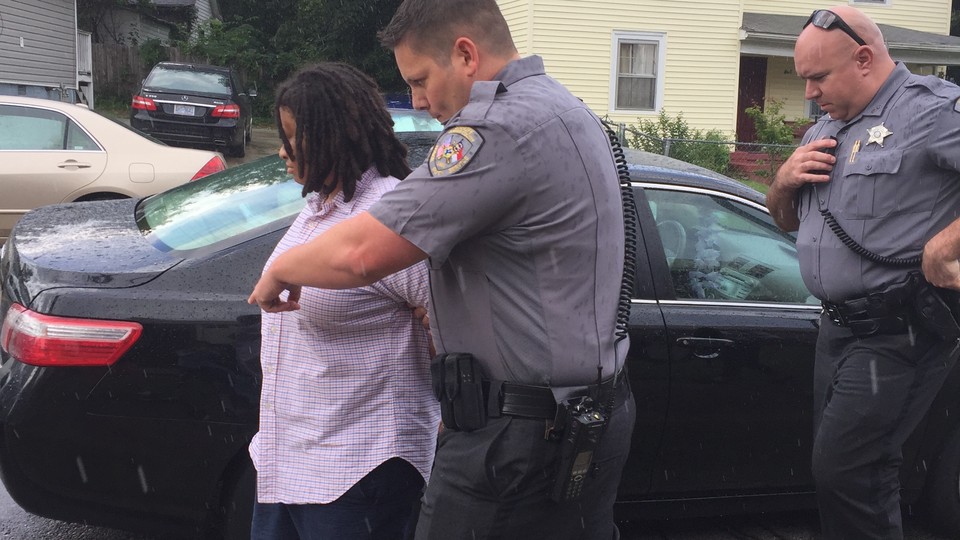 DURHAM, N.C.—Sheriff's deputies have begun arresting protesters who tore down a monument to Confederate veterans in front of the old Durham County courthouse Monday night.
Takiyah Thompson, who climbed a ladder and put a rope around the statue before a crowd tugged it off its base, was arrested by deputies around 4:45 p.m., immediately following a press conference at North Carolina Central University, in which she had defended her actions and others demanded amnesty for all involved.* A spokesperson for the sheriff's office confirmed that deputies had begun executing warrants, but she did not immediately know how many.
"I did the right thing," Thompson said during a Workers World Party press conference on the steps of a building at the historically black college. "Everyone who was there—the people did the right thing. The people will continue to keep making the right choices until every Confederate statue is gone, until white supremacy is gone. That statue is where it belongs. It needs to be in the garbage."
Thompson was one of several speakers at the press conference. Loan Tran said the group was demanding amnesty for all those involved in the project, including that the sheriff's office and district attorney drop all charges. They also wanted meetings with the county commission, and criticized Governor Roy Cooper, a Democrat, for his statement Monday night that summarily pulling down statues was the wrong way to deal with them.
"That statue glorifies the conditions that oppressed people live in and it had to go," Thompson said.
Local officials have protested that they had no power to pull the statue down, even if they wanted to, citing a state law passed in 2015 that says no historical monuments can be permanently removed without permission from the state. But Tran said that excuse was unacceptable. She demanded that commissioners call for symbols to come down, and she said her group would work with them to discuss some ideas, though she didn't say what.
The county's response has been somewhat bifurcated. On the one hand, the county commission released a statement after the protest that condemned racism but neither mentioned the statue nor criticized its removal. Sheriff Mike Andrews, however, promised during a press conference earlier on Tuesday to bring felony charges against those who pulled the statue down. "Let me be clear, no one is getting away with what happened," Andrews said.
Cooper, meanwhile, offered a more aggressive statement late Tuesday afternoon on Medium, demanding that the General Assembly repeal the law preventing removal of monuments.
"Cities, counties, and the state must have the authority and opportunity to make these decisions," Cooper wrote. "Second, I've asked the Department of Natural and Cultural Resources to determine the cost and logistics of removing Confederate monuments from state property as well as alternatives for their placement at museums or historical sites where they can be studied in context."
Cooper also said legislators should reject a bill, currently under consideration, that would grant immunity to drivers who strike protesters in streets.
Even as the WWP was holding its press conference, a whisper went around organizers as word of raids by officers spread. Not long afterward, Thompson was taken into custody by deputies and bundled into an unmarked car. Officers said they had a warrant but did not display it.
Moments earlier, Thompson had been arguing that today's police are agents of white supremacy—in a lineage with Confederate soldiers, and in an alliance with the Ku Klux Klan.
"The statue in Durham, North Carolina, said 'to the boys who wore the gray,'" she said. "If we understand history, we know that those boys who wore the gray, today they wear blue, and they wear sheets over their heads."
---
* This article originally misspelled Takiyah Thompson's first name as Taqiyah. We regret the error.