Should the Democratic Party Reject Pro-Life Candidates?
Its current platform upholds "safe and legal" abortion, but some activists want its leaders to draw a line at supporting those who would legislate based on their beliefs.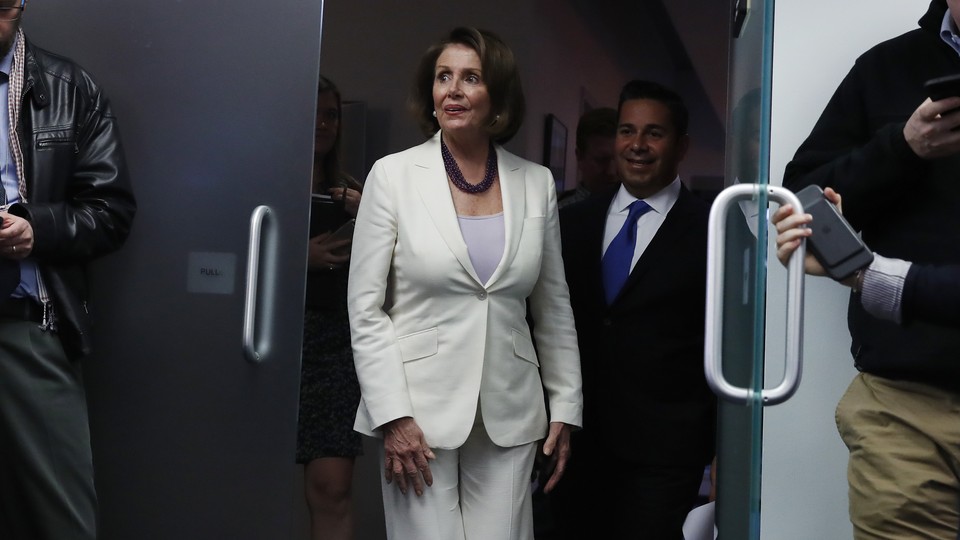 During the 2016 election, the Democratic Party endorsed an end to a longstanding ban on federal funding for abortion—one aspect of a platform that NARAL Pro-Choice America praised as "the best ever for reproductive freedom." After President Trump's election, the Women's March, which advocated for access to abortion, galvanized the party's base. Now, however, the party is facing criticism from some pro-choice activists who say it's sidelining their agenda.
Last week, Democratic Congressional Campaign Committee Chair Ben Ray Luján refused to rule out helping pro-life Democrats win election to the House, saying instead that there will be no "litmus test" on abortion in 2018. The comments provoked swift backlash: Ilyse Hogue, the president of NARAL, denounced the approach as "an ethically and politically bankrupt strategy." Feminist writers accused the party of selling out women and making "a disastrous mistake."
The party's willingness to support pro-life candidates isn't novel, and prominent Democrats, along with the Democratic National Committee, have echoed the idea that there should be no litmus test. But that message is at odds with the direction pro-choice activists believed the party had been headed: They want to build on the gains their movement made in the platform by electing a firmly pro-choice majority to the House. Some activists fear, however, that the party is now treating abortion as a negotiable issue, rather than a core priority, as it attempts to broaden its appeal and win back seats in the midterm elections next year.
"The Democratic Party has a power vacuum, and the core concern is that the party would errantly move away from a commitment to women's human rights as it tries to rebuild," Erin Matson, a former vice president of the National Organization for Women and self-described reproductive-rights activist based in Virginia, said in an interview.
Democratic leaders, for their part, have repeatedly affirmed both the platform and the party's pro-choice ethos. But ​some ​activists want more than that. They want the party ​to tell its 2018 candidates that they must uphold the pro-choice policy agenda embedded in the platform if elected—and they believe the party should withhold support from any candidate who isn't willing to do that.
"The Democratic Party has and will always include people who don't personally believe that abortion is an option for them or their families. But the Democratic Party should draw the line on supporting legislators or candidates who seek to impose their personal views on their constituents and the country," Sasha Bruce, NARAL's senior vice president for campaigns and strategies, told me in June, after DNC Chair Tom Perez met with a group of pro-life Democrats in Washington. Tensions over how far party leaders will go to welcome, or reject, pro-life Democrats have simmered since Trump's election, boiling over in April over a mayoral race in Nebraska and again last week with the latest controversy over whether the party should have a litmus test.
The fact that the 2016 platform calls for an end to the Hyde Amendment, which bars federal funding for abortion in most cases, and the Helms Amendment, which restricts the use of U.S. foreign aid for abortion, is a sign of the influence pro-choice activists wield within the Democratic Party. The election of more pro-life Democrats to the House, however, might make it harder to enact that agenda into law.
"We were excited to see the repeal of the Hyde Amendment included as part of a political party platform, and to go from that to now seeing the Democratic Party trying to appeal to people who support anti-abortion restrictions is a huge concern for us," Yamani Hernandez, the executive director of the National Network of Abortion Funds, a non-partisan organization that advocates for abortion access, said in an interview. "It's surprising, and disappointing."
Responding to the backlash, the DCCC has emphasized that its mission is to win back the House precisely so that Democrats can legislate on the party platform. "Protecting a woman's health care, her right to choose, and her economic security are fundamental tenets of the Democratic Party, and as long as Republicans control Congress and the White House those values are constantly at risk," DCCC spokeswoman Meredith Kelly said in a statement.
Any talk of general-election matchups is largely hypothetical, with the midterms more than a year away. The DCCC doesn't typically make endorsements or provide financial backing in primaries, and Kelly emphasized that "primary voters and local groups will ask candidates where they stand on the issues and select their nominees." However, that doesn't mean the committee is hands-off until then: It has already started recruiting candidates that it hopes will run in 2018—people who, according to Kelly, "are authentic and represent the values of the party." A DCCC aide added that the committee "is not proactively looking for candidates with poor records on choice and abortion rights."
The organization also seems intent on distancing itself from pro-life activists. Kristen Day of Democrats for Life of America, a nonprofit organization that bills itself as the pro-life "wing" of the Democratic Party, told me the "lines of communication are open" between her group and the campaign committee, and she believes they'll be able to work together. But Kelly pushed back against that idea: "The DCCC has no interest in working with Democrats for Life of America, despite their attempts."
High-profile pro-choice activists and their progressive allies have framed the party's unwavering support for abortion access as an electoral necessity, and argued that backing away from a staunchly pro-choice agenda could cost it crucial support. A coalition of progressive groups—including Democracy for America, MoveOn Political Action, and Indivisible Project—issued a statement of principles last week arguing that access to abortion is "not a secondary issue," and warning that "to organize, mobilize, and win elections we must field candidates who understand the integral nature of these core values."
Meanwhile, pro-life Democrats have argued the opposite. The last time Democrats took control of the House was in 2006, with a mix of liberal and moderate-to-conservative candidates winning election. The DCCC chairman at the time, current Chicago Mayor Rahm Emanuel, rejected litmus tests, and pro-life Democrats have pointed to that victory to make the case that the party should not demand ideological purity. Now, some pro-life Democrats are arguing that expanding their ranks within the party could be key to victory next year. "We are going to need pro-life candidates in some of the districts that we need to win the House," Illinois congressman Dan Lipinski, who identifies as pro-life, said in an interview.
It's unclear how voters would react to a litmus test on abortion, but there is widespread agreement among Democratic voters that access to it should be legal. According to a survey conducted in June by the Pew Research Center, 75 percent of Democrats said that abortion should be legal in all or most cases. Pew also found in a 2016 survey that a majority of Democrats, at 84 percent, and Republicans, at 53 percent, believe that the Supreme Court should not overturn Roe v. Wade, the landmark decision legalizing abortion nationwide.
But widespread agreement isn't the same as total consensus. The 2017 Pew survey found that 22 percent of Democrats said that abortion should be illegal in all or most cases. A larger percentage of Independent voters, a group that the Democratic Party may target in the midterms, said the same at 38 percent. The survey also showed that support for legal abortion is higher among liberal Democrats, at 91 percent, than among conservative-to-moderate Democrats, at 61 percent, for legal abortion.
Democrats in Congress have not made defending abortion access a centerpiece of their pitch to voters ahead of 2018. Their new agenda, released last month, focuses on jobs, wages, and expanding economic opportunity—a set of priorities developed in response to voter concerns in House swing districts, a Democratic congressional aide told me. Though the proposal, called "A Better Deal," isn't intended to be a comprehensive set of principles for the party, that it doesn't mention abortion did not go unnoticed.
"When the Democrats unveiled their 'Better Deal' last week, they focused on economic policies related to job creation, wages, and income inequality. That's all well and good, but they left abortion rights off the table, and what is abortion if not an economic issue?" Laura Moser, a 2018 Democratic House candidate in Texas, recently wrote in Vogue, echoing an argument Clinton made on the campaign trail. However, that criticism wasn't universal. NARAL's Hogue signaled support for the congressional plan on Twitter, calling it an "important step forward" in outlining the importance of "un-rigging political, economic systems for everyone."
Democratic leaders will likely continue to walk a fine line on abortion. Senate Minority Leader Chuck Schumer has called the Democratic Party a "big tent," even as he's characterized it as "strongly pro-choice." House Minority Leader Nancy Pelosi has said that "of course" it's possible to be pro-life and a Democrat. The DNC has also attempted a balancing act. In April, Perez said that "every Democrat, like every American, should support a woman's right to make her own choices about her body and her health," but the DNC later clarified that it does not support an abortion litmus test. In the run-up to 2018, pro-choice activists will be watching closely to see how leaders ​respond if any pro-life candidates gain traction—searching for signs that the party's center of gravity might be shifting further in their favor, or against it.