Could Police Have Prevented Bloodshed in Charlottesville?
Neo-Nazis and counter-protesters alike think that local and state police should have done a better job keeping violence from breaking out over the weekend.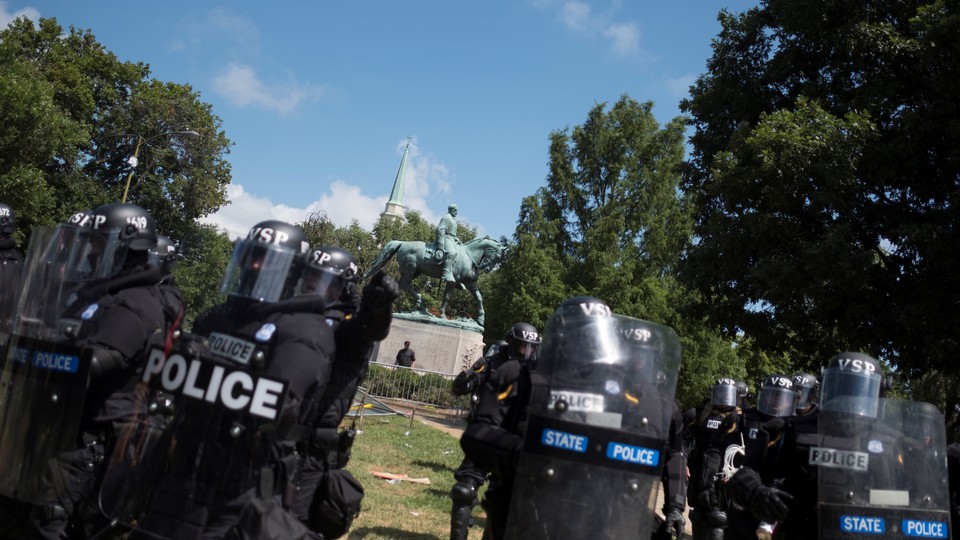 Speaking after violent protests tore through Charlottesville, Virginia, this weekend, Governor Terry McAuliffe lamented that some things were out of the control of police.
The prime culprits for the death of a woman in a car crash—as well as other crimes, including the beating of a young black man—are, of course, the apparent neo-Nazis and white supremacists who perpetrated those crimes. But the job of the Charlottesville police and Virginia State Police was to prevent violence like this, and some observers, including both white supremacists and counter-protesters, are charging that law enforcement didn't do enough to avoid bloodshed.
"There was no police presence," one woman told the Times. "We were watching people punch each other; people were bleeding all the while police were inside of barricades at the park, watching. It was essentially just brawling on the street and community members trying to protect each other."
De'Andre Harris, who was beaten bloody by apparent white supremacists with wooden poles, and other eyewitnesses told the Los Angeles Times that a group of police had been nearby but hadn't broken up the fight. Eventually, another officer came to his aid.
"They were trying to kill me out there," Harris said. "The police didn't budge, and I was getting beat to a pulp."
The professor, theologian, and activist Cornel West said that only militant leftist gangs had avoided worse bloodshed. "The police didn't do anything in terms of protecting the people of the community, the clergy," he told The Washington Post. "If it hadn't been for the anti-fascists protecting us from the neo-fascists, we would have been crushed like cockroaches."
But the complaints didn't just come from the counter-protesters. Jason Kessler, who organized the "Unite the Right" march, also complained about the policing. "Police stood down and refused to separate the counter-demonstrators, and now people are dead," Kessler said in video Saturday. "They were not prepared. Their No. 1 priority was shutting down the alt-right."
Richard Spencer, the notorious alt-right leader, also said police had failed to protect him and his cohort. "We came here as a demonstration of our movement," he said. "And we were effectively thrown to the wolves."
The failure to maintain order is particularly surprising because, although the violence this weekend took much of the nation by surprise, Charlottesville had a dress rehearsal of sorts on July 8. That day, a Ku Klux Klan chapter from North Carolina held a rally that, like Saturday's march, was billed as a protest of Charlottesville's decision to remove a statue of Confederate General Robert E. Lee from a park in town. Around 30 Klan members marched, while about 1,000 counter-protesters showed up.
Such a situation creates a dilemma for police: Few cops, especially in a progressive bastion like Charlottesville, are eager to defend the Klan or neo-Nazis, but if they don't place themselves between the groups, they run the risk of fights breaking out. And at the July rally, that meant holding back the counter-protesters, who far outnumbered the Klan. Some of the counter-protesters scuffled with police, officers used pepper spray and tear gas to disperse them, and 22 people were arrested.
After the rally, many anti-Klan protesters in Charlottesville harshly criticized the police approach. "The brutality enacted by the Charlottesville police on the Charlottesville community sits in stark contrast to the [patience] provided to the KKK," activist Mimi Arbeit said.
Another protester said police had been far too quick to fire tear gas. "Charlottesville residents can't clear out of a Dave Matthews show in under an hour, yet the police declared a peaceful crowd to be an unlawful assembly within minutes of the KKK's departure. This is an ineffective police strategy that only leads to escalation and the likelihood of violence," said Emily Gorcenski.
Perhaps the Charlottesville police had the July experience in mind and opted to take a more hands-off approach this time around. Or perhaps they were just overwhelmed by the larger size of the rally—some 500 neo-Nazis and white supremacists, 10 times larger than the Klan march, plus hundreds of counter-demonstrators. That's a large crowd anywhere, but it's especially large for Charlottesville, which has fewer than 50,000 residents and a police department of fewer than 130 officers who don't typically deal with events this size. (Police Chief Al Thomas has not been commenting.)
There were a variety of extenuating factors in this case. Mayor Mike Signer had sought to move the rally away from Emancipation Park (formerly Lee Park) near the popular pedestrian Downtown Mall and shops, to McIntire Park, a little farther north, in the belief that crowd control would be easier. But on Friday night a judge blocked that, saying it infringed on Kessler's free-speech rights. That gave the city less time to prepare for a clash in closer quarters.
Meanwhile, many people besides police were carrying weapons, including rifles. Virginia is an open-carry state, so people can tote their guns publicly. At least some of those carrying guns were members of the anti-racist militia Redneck Revolt. According to ProPublica, some militia members helped to break up fights. Speaking about the militia members, McAuliffe told the Times,"They had better equipment than our state police had."
The governor declared a state of emergency in the late morning, before the car attack, but there was a key gap between the declaration and the arrival of riot police, as the Times narrated:
The moment the emergency was declared, police officers started announcing on loudspeakers that the gathering was an unlawful assembly, and called for the crowd to disperse, cutting off the rally before it officially began. Both Mr. Moran and Mr. McAuliffe said the police needed time to get the demonstrators out of the park, and off the streets, before riot police officers could move in.

As the riot police pushed protesters back, Ms. Caine-Conley and her fellow clergy members were regrouping inside the restaurant. Suddenly, a woman rushed in, screaming that there had been a terrible car crash on Water Street nearby.
One relatively obvious but important point is that once things are out of control, it's very hard to get them back under control without serious violence. It's useful to compare what happened in Charlottesville with tense situations in other cities in recent memory, and in particular to riots in Baltimore after the death of Freddie Gray in 2015 and protests at the Republican National Convention in Cleveland in 2016.
In the case of Baltimore, police errors seemed to have helped ignite violence by cutting off bus service from a crucial hub, stranding teenagers, and then appearing with overwhelming force, upsetting the assembled crowd. Once protests began, however, the police largely melted away, keeping a distant cordon and in some cases allowing a small number of looters to run wild.
A year later, when the GOP came to Cleveland for Donald Trump's formal nomination, worries of violence ran high, especially given declared plans by staunch opponents and critics of Trump. In that case, as in Charlottesville, the city tried to push protests away from the city's downtown, but was overruled by a judge. Initially, it seemed like there might be no serious protests at all, but midway through the convention chaos threatened to break out in Public Square. A large plaza was filled with Trump diehards, Revolutionary Communists, Wobblies, and Alex Jones disciples. As in Charlottesville, there were plenty of heavily armed men in quasi-military gear, toting rifles. But just as confrontations between the groups seemed near to getting out of hand, police swooped into the square in huge numbers, using bicycles to create cordons between rival factions. The threat of violence soon passed, and no pepper spray or tear gas was needed.
Lieutenant Joseph Hatter, a Charlottesville police commander, told The Washington Post that officers had intended to keep the marchers and counter-demonstrators separate to avoid clashes. "It didn't work, did it? I think there was a plan to have them separated," he said. "They didn't want to be separated."
There were some victories. Not a single shot was fired by police or any protesters. And as McAuliffe noted, in an off-key remark, there was also no property damage in Charlottesville.
Car attacks are indeed difficult to stop, as the struggles of police in much larger cities like New York, London, and Paris, which are far more accustomed to big crowds and counterterrorism than Charlottesville, have shown. It's impossible not to wonder if better crowd control by the police could have prevented the fatal attack.
In any case, far-right groups are planning more marches in the weeks ahead, and many other cities and towns are considering or have announced plans to remove Confederate statues. That means that Charlottesville will not be the last small town to face a challenge like Saturday's, and that police departments will have to learn to do a better job of keeping order and preventing bloodshed, while also protecting free speech even by hateful, and hated, groups.
For decades, plans by groups like the Klan and neo-Nazis to march have been the subject of pitched battles, as towns try to bar them from coming, often to be rebuked by courts. In 1978, the U.S. Supreme Court ruled that Nazis could march in Skokie, Illinois, saying that flying the swastika did not constitute fighting words. Arrests at Klan-related rallies—both of Klansmen and of their critics—are not uncommon. But in recent decades, bloodshed like what occurred in Charlottesville is rarer. (Of course, Klan members and other extremists have committed incredible acts of violence, including countless lynchings of black people, away from their marches.)
At the time of the July rally, Signer pleaded with people not to come to protest the Klan and to ignore them instead, while saying that those determined to come should remain peaceful.
The Klan didn't secure that gift in July, but when Kessler and the neo-Nazis came back to collect it on Saturday, police couldn't figure out how to stop them.