Will Congress Remove Confederate Statues From the Capitol?
After Charlottesville, Democratic lawmakers have called for their expulsion, but Republicans haven't joined in.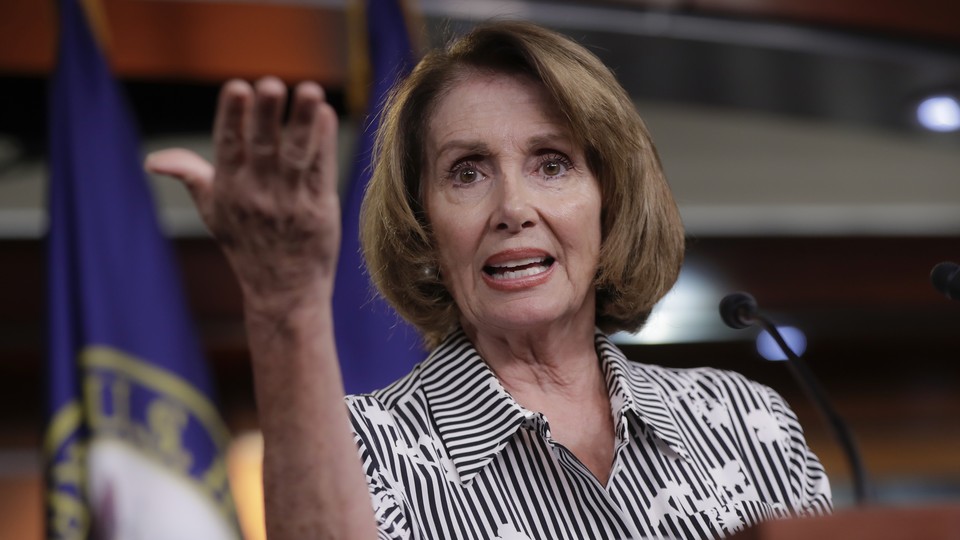 More than 150 years after Ulysses S. Grant's forces captured the Confederate capital, some members of Congress are trying to eject Robert E. Lee and his allies from Capitol Hill.
House Minority Leader Nancy Pelosi on Thursday backed the growing calls to remove a group of Confederate statues from the Capitol building complex. "The Confederate statues in the halls of Congress have always been reprehensible," she said in a statement. "If Republicans are serious about rejecting white supremacy, I call upon Speaker Ryan to join Democrats to remove the Confederate statues from the Capitol immediately."
Eight Confederate leaders are honored in the National Statuary Hall Collection. Among them are depictions of Confederate President Jefferson Davis, Vice President Alexander Stephens, and Lee. (Some also count West Virginia's John Kenna, who served in a Confederate Army unit when he was 16 years old, and Louisiana's Edward White, whose wartime service record is incomplete, as Confederates.)
Congress created the collection in 1864. The original law authorizing it allowed each state to place two statues in the collection; an amendment passed in 2000 allows the states to replace them at their discretion. That doesn't mean Congress has no control, however: Because the collection was created under federal law and rests on federal property, lawmakers could theoretically amend the original statute to forbid Confederate statues and order the removal of any already present.
New Jersey Senator Cory Booker announced Wednesday night he would draft a bill to excise them from the Capitol building. "This is just one step," the Democrat wrote on Twitter. "We have much work to do." (The text of the bill is not yet available, according to his congressional office.)
Booker's efforts look poised to face an uphill battle in Congress: No Republican members have yet backed the statues' removal, and House Speaker Paul Ryan said through a spokesman that the matter should be left to the states that placed them there.
The Confederates joined the collection between 1909 and 1931 at the behest of "redeemed" Southern state legislatures. Their arrival mirrored a nationwide burst in rebel memorials' popularity, and many still survive to this day. As I noted earlier this week, the statues' inclusion in the Capitol carried powerful symbolic overtones during a period of rising black political activism and violent repression. Placing sculptures of Davis and Lee on Capitol Hill amounted to a symbolic consecration by white-supremacist politicians of their triumph over Reconstruction-era efforts to build a multiracial democracy in the South.
The civil-rights movement of the 1950s and 1960s swung the pendulum back toward equality by dismantling de jure racial segregation across the country. But the statues remained. Even after Barack Obama's election as president, Democratic majorities in the House—led by then-Speaker Pelosi—and Senate took no steps to remove them. On its own, Alabama replaced its selection of Confederate officer Jubez Early in 2009 with a statue honoring Helen Keller.
This week's push against rebel statuary and monuments, both in the Capitol and elsewhere, came after violence erupted at a white-supremacist rally in Charlottesville, Virginia, last weekend. A man rammed his car into a group of counter-protesters, killing one woman and injuring dozens of others. (Two Virginia State Police officers later died when their helicopter crashed while they monitored the protests.)
Since then, multiple cities and states have taken steps to remove Confederate symbols in their public spaces. City workers in Baltimore, Maryland, quietly removed four monuments in the dead of night after the city council unanimously voted to dismantle them. Officials in Birmingham, Alabama, covered a Confederate monument with tarp and plywood, prompting a lawsuit from the state attorney general. Protesters in Durham, North Carolina, took matters into their own hands Monday night by toppling a bronze statue of a Confederate soldier with ropes—a scene evoking the collapse of Eastern European dictatorships.
But those efforts have come under intense criticism from President Trump, who on Tuesday launched into a defense of the white-supremacist protesters in Charlottesville. "Many of those people were there to protest the taking down of the statue of Robert E. Lee," the president said at a press conference. "This week, it is Robert E. Lee. And I notice that Stonewall Jackson is coming down. I wonder, is it George Washington next? And is it Thomas Jefferson the week after? You know, you have to ask yourself, where does it stop?"
Trump reiterated those themes in a series of messages on Twitter on Thursday. "Sad to see the history and culture of our great country being ripped apart with the removal of our beautiful statues and monuments," he wrote, later adding that "the beauty that is being taken out of our cities, towns, and parks will be greatly missed and never able to be comparably replaced!" His remarks have energized white-supremacist and neo-Nazi groups and drawn criticism from the rest of the political spectrum.
He was not alone in viewing the statue battle in relation with the trajectory of American history. "We will never solve America's race problem if we continue to honor traitors who fought against the United States in order to keep African Americans in chains," Louisiana Representative Cedric Richmond, the chairman of the Congressional Black Caucus, told ABC News on Tuesday. "By the way, thank God, they lost."