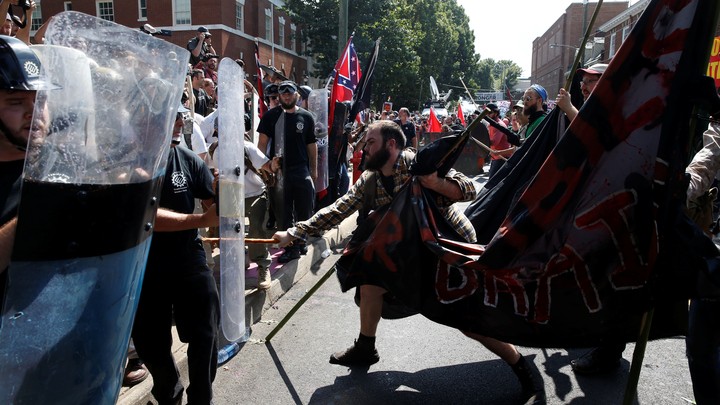 Updated at 8:50 p.m. ET
American political leaders reacted with outrage and condemnation on Saturday after violence erupted at a white nationalist march on the University of Virginia's campus in Charlottesville.
Virginia Governor Terry McAuliffe declared a state of emergency on Saturday morning at the request of Virginia State Police after Friday night skirmishes between hundreds of white nationalists and neo-Nazis who held a torchlit march at a controversial statute of Robert E. Lee on the university campus and dozens of counter-protesters.
Members of Congress denounced the violence on Saturday, which erupted at one of the highest profile white-nationalist events in more than a decade. "The views fueling the spectacle in Charlottesville are repugnant," Speaker Paul Ryan wrote on Twitter. "Let it only serve to unite Americans against this kind of vile bigotry." Mitch McConnell, the Senate Majority Leader, said the "hate and bigotry" espoused by the march's participants "does not reflect American values."
The hate and bigotry witnessed in #Charlottesville does not reflect American values. I wholeheartedly oppose their actions.

— Leader McConnell (@SenateMajLdr) August 12, 2017
Senate Minority Leader Chuck Schumer went further and demanded President Trump condemn the protests. "Of course we condemn ALL that hate stands for," Schumer wrote on Twitter. "Until [the president] specifically condemns alt-right action in Charlottesville, he hasn't done his job." Nancy Pelosi, the Democratic House leader, urged Americans more broadly to rebuke the protesters in Charlottesville.
Our nation is defined by the march of progress. Our strength lies in our diversity. We must reject hate. #Charlottesville

— Nancy Pelosi (@NancyPelosi) August 12, 2017
Trump, whose candidacy received enthusiastic support from far-right groups, also criticized the march. "We ALL must be united & condemn all that hate stands for," he wrote on Twitter. "There is no place for this kind of violence in America. Let's come together as one!" In a subsequent tweet, the president said he was working at his golf resort in Bedminster, New Jersey on veterans' health care issues, adding, "but Charlottesville sad!"
We ALL must be united & condemn all that hate stands for. There is no place for this kind of violence in America. Lets come together as one!

— Donald J. Trump (@realDonaldTrump) August 12, 2017
Am in Bedminster for meetings & press conference on V.A. & all that we have done, and are doing, to make it better-but Charlottesville sad!

— Donald J. Trump (@realDonaldTrump) August 12, 2017
At a brief press appearance at Bedminster on Saturday, Trump said he condemned "in the strongest possible terms this egregious display of hatred, bigotry, and violence, on many sides," repeating the last phrase twice. He did not explicitly condemn white nationalists beyond his general remarks, and an anonymous White House official told reporters "the President was condemning hatred, bigotry and violence from all sources and all sides. There was violence between protestors and counter protestors today."
His equivocation drew a stern response from Virginia Attorney General Mark Herring, a Democrat. "The violence, chaos, and apparent loss of life in Charlottesville is not the fault of 'many sides,'" he said on Twitter. "It is racists and white supremacists. lawmakers, including members of his own party." Oregon Senator Ron Wyden criticized the president's remarks in even stronger terms, saying they "only serve to offer cover for heinous acts."
What happened in Charlottesville is domestic terrorism. The President's words only serve to offer cover for heinous acts.

— Ron Wyden (@RonWyden) August 12, 2017
Some Republican lawmakers also chastised Trump's response in implicit and explicit terms. "Mr. President—we must call evil by its name," Colorado Senator Cory Gardner wrote on Twitter. "These were white supremacists and this was domestic terrorism." Florida Representative Ileana Ros-Lehtinen said "there are no other 'sides' to hatred and bigotry." Florida Senator Marco Rubio also noted it would be "very important for the nation to hear [President Trump] describe events in #Charlottesville for what they are, a terror attack by [white supremacists]." Utah Senator Orrin Hatch invoked the death of his brother during World War II to implicitly criticize the president.
We should call evil by its name. My brother didn't give his life fighting Hitler for Nazi ideas to go unchallenged here at home. -OGH

— Senator Hatch Office (@senorrinhatch) August 12, 2017
Rubio was among the elected officials sought to downplay the protesters' influence and power. He described them on Twitter as "agitators in search of relevance & publicity for a vile cause very few people support." He urged the public to respond with unity. "Can't ignore them, but also don't give them relevance they crave," Rubio added. "Only way they win is if they can turn the rest of us against each other."
Former presidents also spoke out. "Even as we protect free speech and assembly, we must condemn hatred, violence and white supremacy," Bill Clinton wrote on Twitter. Barack Obama responded to the violence with a series of tweets quoting former South African President Nelson Mandela.
"No one is born hating another person because of the color of his skin or his background or his religion..." pic.twitter.com/InZ58zkoAm

— Barack Obama (@BarackObama) August 13, 2017
"People must learn to hate, and if they can learn to hate, they can be taught to love..."

— Barack Obama (@BarackObama) August 13, 2017
"...For love comes more naturally to the human heart than its opposite." - Nelson Mandela

— Barack Obama (@BarackObama) August 13, 2017
Vermont Senator Bernie Sanders drew links between the Charlottesville violence and a nationwide increase in hate crimes over the past year, which some experts have attributed to Trump's election as president. "While this incident is alarming, it is not surprising," Sanders said on Twitter. "Hate crimes and shows of hostility toward minorities have recently been surging. Now more than ever we must stand together against those who threaten our brothers and sisters."
Others were even more pugnacious. John Dingell, a retired Michigan congressman and one of the last World War II veterans to serve in the House of Representatives, said he would fight Nazis again "if I have to."
I signed up to fight Nazis 73 years ago and I'll do it again if I have to.

Hatred, bigotry, & fascism should have no place in this country.

— John Dingell (@JohnDingell) August 12, 2017
Virginia's congressional delegation, for its part, tried to distinguish between the protesters and the state's residents. "The Virginians I know and represent love their families and support their neighbors regardless of the color of their skin, religion, or political affiliation," Representative Dave Brat said in a statement. "People who came to VA to spew hate & incite violence have no place here," Senator Tim Kaine, the former Democratic vice-presidential nominee, wrote on Twitter. "We stand for inclusion and will not go backwards. Praying for peace."
We want to hear what you think about this article. Submit a letter to the editor or write to letters@theatlantic.com.
Matt Ford
is a former associate editor at
The Atlantic
.