'Free Speech' Event in Boston Met by Massive Counter-Protest
The Boston Police Department said that 33 people have been arrested in connection with the rally and counter-demonstrations on Saturday.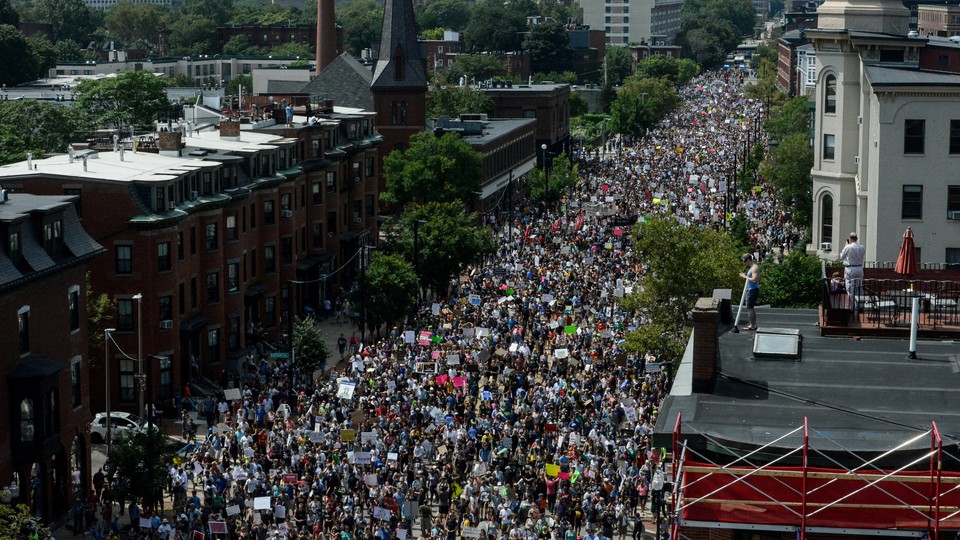 A crowd of counter-demonstrators estimated in the thousands showed up in Boston on Saturday to protest a controversial "free speech" event, scheduled a week after a white-nationalist rally in support of a Confederate monument in Charlottesville, Virginia, led to fatal violence, including the death of one woman.
The Boston rally concluded earlier than anticipated and was declared officially over by the Boston Police Department by 1:30 p.m. ET. President Trump tweeted at 3:22 p.m. that there appeared to be "many anti-police agitators" in the city, though later he said that he wanted "to applaud the many protesters in Boston who are speaking out against bigotry and hate."
The city's Democratic mayor, Marty Walsh, responded to another tweet from the president commending him and local law-enforcement officers by saying: "Today, Boston stood for peace and love, not bigotry and hate. We should work to bring people together, not apart." Massachusetts Senator Ed Markey, also a Democrat, said on Twitter that he "couldn't be more proud of" the city. "Peaceful, moral, resistant," he tweeted. "That is our city and commonwealth."
It's not clear whether there was a direct connection between the organizers of the "free speech" event in Boston and the white-nationalist "Unite the Right" rally that took place in Charlottesville.
Last week, more than a dozen people were injured and counter-protester Heather Heyer was killed when a car, allegedly driven by James Fields Jr., who was seen rallying with white supremacists earlier that day, rammed into a crowd in the small Virginia city. The president has drawn criticism from both parties for how he handled the aftermath of that event, including remarks he made Tuesday when he said that "both sides" were to blame for the violent clashes in Charlottesville, and that there were "very fine people" on both sides of the protest. Those remarks were seen as drawing a moral equivalence between white supremacists and the anti-racist protesters who showed up in opposition.
The Boston Police Department said on Twitter that 33 people were arrested in connection with Saturday's rally and counter-protests. Police Commissioner William Evans said there were "a couple assault-and-batteries on police officers." Earlier in the day, the department said on Twitter that rocks had been thrown at some officers, and there were other tense moments throughout that prompted police intervention.
Evans nevertheless called it a "great day for the city," saying that overall "no one got hurt. No one got killed" and there was "no significant, at all, property damage to the city.
"We probably had 40,000 people out here, standing tall against hatred and bigotry in our city, and that's a good feeling," the commissioner said, adding that "99.9 percent of the people here were for the right reason and that's to fight bigotry and hate."