The Far Right's Day in Boston
Participants in a "free speech" rally in Boston say they aren't white nationalists, but claim there is a "war against whites" in America.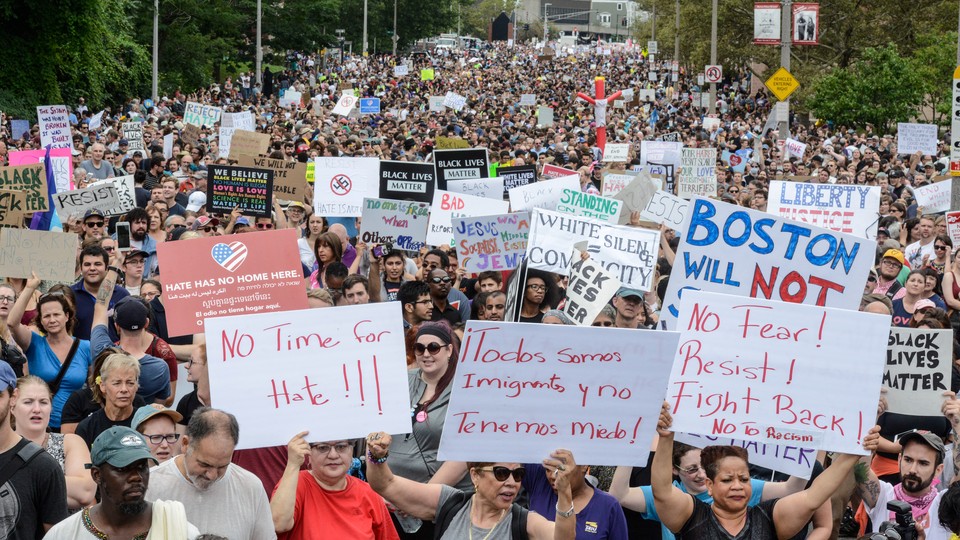 WOBURN, Mass. — Kyle Chapman was sitting in a dimly lit Irish pub about 20 minutes outside of Boston, where Saturday afternoon's so-called "Free Speech Rally" had just been shut down by tens of thousands of counter-protesters.
"The white man is one of the most discriminated against people in this entire country right now," he explained.
Chapman—a muscly right-wing organizer who went viral earlier this year after video footage showed him swinging a heavy wooden stick at liberal Berkeley demonstrators—had been scheduled to speak at the rally on Boston Common. But organizers ended up pulling the plug early, he said, when the crowd of counter-protesters grew too large. After being escorted to safety by police, he and other attendees retired here to lick their (metaphorical) wounds.
"I was definitely concerned for my safety and the safety of the other attendees," Chapman said. "The barricades [that police] set up were four-foot barricades and … there would have been no way to stop the alt-left domestic terrorists if they decided to attack us."
There had, in fact, been a smattering of violent incidents in the midst of the sprawling protests outside the event—mostly egged on by the minority of "antifa" agitators in the crowd. Beyond that, police said the demonstrations were overwhelmingly peaceful: About 33 arrests had been made out of a crowd of 40,000. After last week's white nationalist rally in Charlottesville, Virginia turned fatal, local police here had come prepared for the worst. But the scene in Boston was starkly different.
People spread out blankets on the grass and munched on snacks, cheering on the upbeat counter-protesters—who, by some estimates, outnumbered the free speech rally-goers by more than a thousand to one—as they marched down Charles Street. Some dressed up for the occasion: A middle-aged guy with a man bun  sported a tank top with "Resistance" spelled out across his chest in glittery gold; a group of women wearing pointy black hats and matching veils silently roamed the Common carrying a sign announcing themselves as "Witches against white supremacy." Protesters carried posters that read, "Not in my city," and joined in periodic chants of, "Fuck the Nazis!"
As with most large political demonstrations, the scene took on an absurdist quality at times. At one point, Black Lives Matter activists lit a flag on fire, prompting a tattooed onlooker in a Red Sox cap to launch into a profanity-laced rant about the lack of patriotism on display. A heated argument followed between him and a few other bystanders, which went on for several minutes before someone pulled the tattooed ranter aside and asked, "You know that was a Confederate flag, right?"
"It was a Confederate?"
"Yeah."
He paused for a moment to process this information, and then smiled sheepishly. "Shhh," he said, pressing a finger to his lips. He then returned to his argument.
Organizers were adamant in the days leading up to the Free Speech Rally that they were not supporting white nationalism, and disapproved of the beliefs that were showcased in Charlottesville. They said they would throw out anyone who showed up in neo-Nazi garb, or brought signs advocating for white supremacy.
At the same time, the small group that gathered on Boston Common clearly shared some ideological sympathies with the alt-right movement—a dynamic that could make it increasingly difficult to untangle the extremist racial elements from the broader American right.
Chapman, for example, told me he did not under any circumstances consider himself a white nationalist. "But I can tell you that there is a war against whites," he said. "Whites are discriminated against en masse. I personally have been the victim of multiple hate crimes. As a people, we do have our own grievances, we do have our own story to tell." Until it becomes safe to discuss that reality in mainstream political circles, he argued, victimized whites will continue to gravitate toward the alt-right.
Chapman says "free speech" is his primary concern, and added that it was the one reason libertarians like himself would come to the defense of Richard Spencer and his ilk. "I don't really know them personally, and I don't know if they're bad people personally," he said. But "they had the right to assemble and exercise their First Amendment rights in Charlottesville. And those rights were intentionally suppressed."
Joe Biggs—a former InfoWars writer who was among the first proponents of the "Pizzagate" conspiracy theory that claimed a Clinton-linked pedophile ring was operating out of a Washington, D.C. pizzeria—was also among the scheduled speakers who didn't get to deliver his remarks before the rally was shut down. He fumed that the mainstream media was to blame for perpetuating a false narrative that they were white supremacists. ("I think I've dated one white woman in my entire life," he said in an attempt to demonstrate his lack of prejudice, noting that his wife is Guyanese.) But even if they were, he argued, the First Amendment would protect them. "Hate speech is allowed!" he said.
But Biggs's free-speech zealotry wasn't completely without limit. When I asked whether he considered Saturday's massive gathering of counter-protesters a victory for free speech, he thought about it. He mused that if they were so offended by the rally, they could have just stayed away. And while he said he supported their right to stand outside and demonstrate their disapproval, the protesters had gone too far.
"When you sound like an angry, violent mob, you've lost the high ground," he said, "and now you're just scum."