Bannon Is 'Going Nuclear'
The ousted White House chief strategist is back at Breitbart News, and he's planning to make mischief.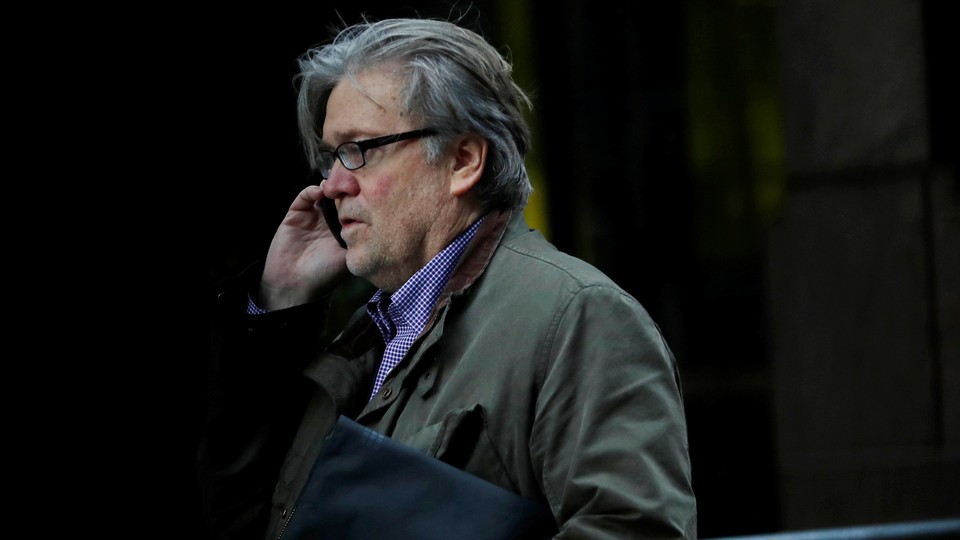 Updated on August 18 at 6:25 p.m. ET
In firing Steve Bannon, President Trump has lost his chief ideologue, the man who channeled his base and advocated for the populist-nationalist policies that helped propel Trump to victory.
But he has gained an unpredictable and potentially troublesome outside ally who has long experience running a media organization, and an even longer list of enemies with whom he has scores to settle both outside the administration and inside. "Steve is now unchained," said a source close to Bannon. "Fully unchained."
"He's going nuclear," said another friend. "You have no idea. This is gonna be really fucking bad."
Bannon had in recent days mused about leaving, according to people who have spoken with him; he has expressed to friends that he feels the administration is failing and is a sinking ship. And last week, he told people in a meeting that he would have 10 times more influence outside the White House than inside it.
Breitbart News announced on Friday evening—in a post lauding him as a "populist hero"—that Bannon had returned to the site as the executive chairman and had led the evening editorial meeting. He met with Alex Marlow, Breitbart's editor in chief, on Sunday and Monday, according to a source close to Bannon. Under his prior leadership, Breitbart morphed into an aggressive pro-Trump outlet, voicing many themes of his campaign even before he declared his candidacy. Since Trump took office, it has often seemed to function as a PR shop for Bannon's faction of the White House. It has frequently run stories attacking his rivals, including, most recently, National Security Adviser H.R. McMaster and National Economic Council chair Gary Cohn.
Already, Breitbart is on a war footing. "It may turn out to be the beginning of the end for the Trump administration, the moment Donald Trump became Arnold Schwarzenegger," editor Joel Pollak wrote on Friday, referring to the actor-turned-California governor, who won office as a populist outsider and exited with a 23 percent approval rating.
Bannon's next steps are being worked out with Robert and Rebekah Mercer, the billionaire Republican donors who have been some of Trump's most important supporters and Bannon's consistent patrons. Two of Bannon's friends told me Bannon met with Bob Mercer this week in New York while Trump was in town.
"First he's gonna figure things out with Bob and Bekah," said one Bannon ally earlier on Friday.  "Breitbart's certainly the likely landing spot." This ally said that Bannon may also move to a Mercer-funded outside group, or even start a new one.
Another friend of Bannon's doubted this: "Why would he help them from the outside at this point? Run the outside group and then Jared Kushner takes credit?" Two sources close to Bannon said that he has for some time complained about Kushner being an issue in the Russia investigation; one of the sources said Bannon regards Kushner as "the weak link" in the White House when it comes to the investigation.
Bannon's animus towards the "globalists" in the administration is well known. Now, from the outside, he no longer has any reason to play nice.
Another source close to Bannon said that he remains loyal to Trump himself. But "when Steve feels the Trump administration is wrong, will he point to the people he has the inside knowledge about who are pushing for certain policies? I assume he will."
Bannon's behavior in the past week signaled that he wasn't planning to stay long. According to one source close to Bannon, he "made a point that he didn't want to go to Bedminster" with the president, staying in Washington last week and then coming to New York earlier this week.
Bannon gave a head-scratching interview to the progressive American Prospect this week in which he undermined Trump's posture towards North Korea, saying he doesn't believe there is a military solution. He also attacked his enemies in the administration by name, including Cohn. Bannon allies at first told reporters that he did not intend for his phone call to Prospect editor Robert Kuttner to be an interview; then, Bannon told The Daily Mail it was done intentionally to take heat off of the president during the Charlottesville controversy. He then went on the record twice more with different publications, which is rare for him, and this morning he did not accompany Trump to a meeting with his national-security staff at Camp David.
Apart from its impact on the broader political landscape, Bannon's exit will be extremely consequential to the inner workings of the White House, which has been marked by infighting between his nationalist faction and the more moderate influences who have been brought in. In his departure, the nationalists lose their leader while some of Trump's key campaign promises—the border wall, for example—still go unfulfilled. Bannon famously kept a whiteboard full of those promises in his office, checking them off as they were fulfilled.